Pavers vs Gravel: Comparing Costs and Benefits
Pavers and gravel are both attractive options for driveways, patios, and walkways. They are durable, relatively easy to maintain, and require similar ground work before installation. Gravel is typically significantly less expensive to install; however, paving stones actually increase the value of your property.
If your budget allows, pavers are likely going to look like the obvious choice, but both options have pros and cons, and each might be the better choice for a particular project. We created this pavers vs gravel guide to help you determine which will work best for you.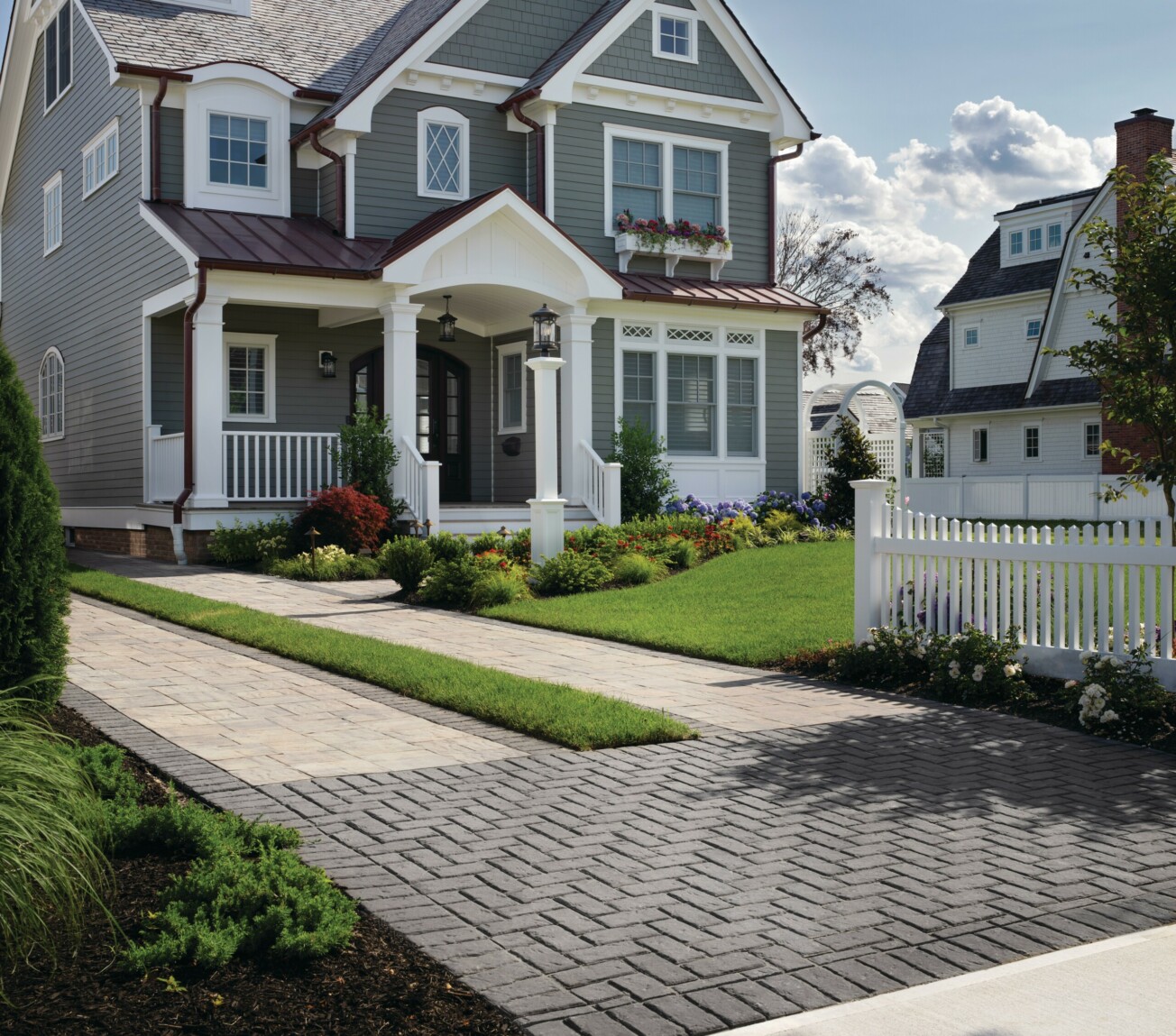 Pavers for Patios, Walkways, and Driveways
Paving stones are a beautiful addition to any outdoor living area, can instantly increase property value, and are a low-maintenance, long-lasting option with exceptional durability and longevity. A wide variety of colors and styles make it easy to find an option that will match your landscape design or the architecture of your home, and the design and pattern possibilities are nearly endless. However, with all of these pros to look forward to, it should be noted that the upfront cost of installing paving stones will be more expensive than choosing gravel.
Here are some of the pros and cons of using pavers for your outdoor living areas to help you determine if paving stones are the right choice for your project.

Pros of Using Pavers
Incredible longevity when properly installed

Increases property value

Styles and colors to match any landscape and architecture

Complements most architectural styles

Damaged pavers can be replaced easily and affordably

Low-maintenance hardscape option

Slip resistant and skid resistant

Durable

Visually appealing

Allows for good drainage when properly installed

Cons of Using Pavers
More expensive upfront cost than most hardscape options

More difficult for homeowners to install as a do-it-yourself project
Pavers do require some maintenance and may require repairs over the years, but it is not really enough to consider it a con, since it is less maintenance than other hardscape options would require. For example, you may need to pull the occasional weed that makes its way through the joint sand, will want to have your pavers power washed every year or so, and will get the best longevity if you regularly have them sealed. If a paver is cracked, stained, or chipped, you may need to replace it, but you can do so easily and affordably. It might even be covered by a warranty offered by the manufacturer or installation company.
If you are having your pavers installed by professionals, expect to pay at least about $16.50 per square foot for proper installation. To get a better idea of what your project would cost, use our paver cost calculator. You can also learn more about the installation process and costs with our pavers installation price guide.

Gravel for Patios, Walkways, and Driveways
If you are drawn to the aesthetic of French country homes, English cottages, and Mediterranean villas, you probably like the look of gravel. Gravel, when well selected and properly installed, can be exceptionally attractive for use in patios, driveways, walkways, or areas in your yard that need good drainage. Aside from its visual appeal, there are some strong pros to choosing gravel, as well as some cons that should be considered before making a choice.
Let's take a look at some of the pros and cons to help you decide if gravel is right for you.
Pros of Using Gravel
Improves drainage

Satisfying sound that many people find appealing when walking or driving on it

Helps prevent

runoff and erosion

Crunching sound can alert you to wildlife or intruders in your yard

One of the most affordable materials for driveways, patios, and walkways

Many homeowners can install gravel as a do-it-yourself project

Complements various architectural styles, including contemporary, modern, traditional, and Mediterranean
Cons of Using Gravel
Not comfortable for bare feet

Some types can be slippery when wet

Difficult to roll portable grills, strollers, wheelchairs, wheelbarrows, and anything else with wheels through most types of gravel

Requires regular maintenance, such as raking in traffic areas or areas frequented by dogs or kids

Smaller types are easily tracked inside and can scratch flooring

Difficult to pull out chairs or scoot chairs close to tables

Needs geotextile weed blocker but can still require regular weeding

Gets stuck in shoes and tires

Heavy rain can move it out of its boundaries

Often escapes borders and needs to be swept or picked up

Does not help prevent tracking mud in the house

Is dustier and dirtier than other hardscape options

Will likely need to add gravel regularly to maintain depth and visual appeal

Can damage patio furniture

Choking hazard for young children and pets
Gravel looks good in photos and has an appealing price point, which entices many homeowners to choose this material. However, after living with it for a while, many folks find that gravel requires more maintenance than they thought and that it is a pain to return wayward pieces back to their patios or driveways constantly.
To try to avoid some of the cons listed above, you can use smaller gravel or gravel types that lock together well to make it easier to roll wheeled objects over it, or you can opt for larger types of gravel to prevent it from getting tracked into your home.
If you like the look of gravel but are concerned about the maintenance or the chance of it getting tracked into the house and scratching your floors, you can get the look you want by combining it with larger pavers – such as flagstones – in walkways. Placing pavers, stepping stones, or concrete slabs for folks to walk on, and then using gravel around the pavers, will allow you to enjoy the look without some of the issues that commonly come with a gravel landscape.
The cost of installing gravel hardscapes depends on which type of gravel you choose and whether you are going to complete it yourself or hire professionals. In California, you can expect to pay between about $15 and $75 per yard of gravel, which comes out to $1 to $3 dollars per square foot. This is just for the gravel and does not include excavation, base materials, compaction, and the labor for spreading the gravel.

Which Should You Choose?
Pavers are the easy answer for folks who want a low-maintenance hardscape and who have the budget for a paving stone installation. However, this does not mean they are always going to be the right choice. Which you choose will depend on your budget, how you want to use your outdoor living areas, and the look you are hoping to achieve.If you love the look and cost of gravel, but appreciate the aesthetic of paving stones and their ability to increase your property value, you might consider using both. For example, perhaps you could save money and mix things up a bit by using gravel around your fire pit or between raised garden beds. Or you could use large paving stones as stepping stones surrounded by gravel to combine the looks. Another option would be to do a paving stone patio for your main outdoor living area, and one or more smaller patios with gravel to increase the visual interest of your yard.