Furnishing Indoor/Outdoor Rooms: Ideas and Inspiration
A couple of years ago, my brother and his new wife moved into a swank Brooklyn Heights duplex with an expansive roof-top deck. Unsure how to decorate the vast outdoor space, my sister-in-law reached out to a national home and garden show and thrillingly, was chosen for a deck makeover segment.
The designers came out and did their thing in a whirlwind few days, ending with the big "reveal" you had to see to believe: sleek white couches flown in from Italy graced the space grounded with an outdoor rug, while white planters dotted the concrete and a large wooden table sat next to a new stainless steel grill. Then the pièce de résistance: an enormous painting rested against the railing separating my brother's deck from the neighbors, affording a small amount of privacy.
It was lovely. Except for one thing – this was New York and white couches and oil paintings wouldn't last long in the elements, especially when the deck was exposed to the sky. My brother still grumbles about having to pull the furniture in whenever there's a hint of rain or snow. Even so, he's so far refused to send all that furniture to me in San Diego, where it would surely weather better, right?
Either way, with the influx of shows like the one that featured my brother and sister-in-law, and a look at the most recent home decorating magazines, it's hard to miss the nationwide trend toward indoor/outdoor rooms. In fact, last year, according to a survey from HGTV and Casual Living magazine, 87 percent of the 5,000 Americans interviewed said an outdoor room in their homes was "important or very important." Another 15 percent said they were in the process of creating one.
If you're one of those planning to add an indoor/outdoor room, upgrade one you already have, or just redecorate it, we have some suggestions and pointers to help you along.

Before You Start — 
Remember where you live
All-white couches on an open deck in New York City? Don't do that. But here in San Diego? You probably don't want to do that either, unless you're in a covered space, which is common with most indoor/outdoor rooms (it is a room after all). The frenzy for indoor/outdoor rooms is picking up around the country, and so the right furnishings will vary by your area's climate. If you live in the land of 365-days-a-year-sun, you may want to complete your room with misters or fans to keep you cool, for instance. You might also want to incorporate some of your area's influences in your design. Using a Mexican clay chiminea  to accent your space for example, or as was the case with one home in the Northeast, using reclaimed rail ties as table legs.
Consider your home's decor
Remember that your indoor/outdoor room is an extension of your home, so you'll probably want to carry your design scheme through to your outdoor areas. This could be as simple as choosing your home's primary color and extending it to your indoor/outdoor room or just mirroring the "vibe" of your home outside. For instance, if you have a beach house, your outdoor furnishing will most likely make the most sense if they're also beachy.
Don't be afraid to mix it up
Matchy-matchy is OK, but it's safe. Infusing your space with unexpected touches – a chandelier or tree stump side table adds some personality and pizzazz to an otherwise bland indoor/outdoor room. Be sure the decor reflects your personality though and doesn't try to be something it's not.
Consult the designers
Designers may think of something you wouldn't, which is likely because they know the most current designs and furnishing options. If you want to do design your space yourself, first do your homework. Look at other outdoor spaces – both commercial and residential – to get a feel for what's out there. Scout out outdoor areas at hotels, at new home models and in home decor stores. Also check magazines and the Internet for ideas.
Know how you'll use the space
Do you want to entertain? Spend more time with family? Do it all? The answers to these questions help narrow your choices down to a workable amount. If you want to "do it all," for example, then you can designate areas in your indoor/outdoor room that accommodate all your needs (e.g., a large dining table and conversation seating for entertaining and family time; a hammock for relaxation).
List the details
What looks best expresses your personality? What's your color scheme? How will you unify your home with your outdoor space? Write these down on a piece of paper or stick them in your smartphone because these details are crucial to your furniture selection.
Set your budget
I know, I know – boring. But with all the options out there for indoor/outdoor spaces, you'll need to know your ceiling price and don't go above it. You'll want to add on the pizza oven, built-in fire pit and sliding glass doors – and if that's in your budget, go for it – but remember adding on can be a slippery slope if you don't have a firm grasp on exactly how much you want to spend. Your budget will also help you choose which material to look for, whether it's wood, stone, wrought iron, etc.
Now, For The Fun Part —
What's your pleasure? Do you want to go zen? Sophisticated? Exotic? Read on for suggestions by theme.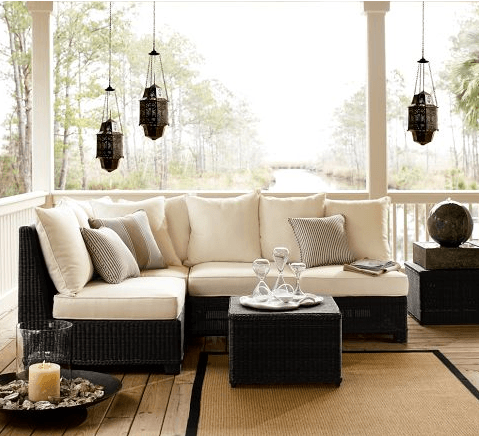 Zen
Achieve a zen look with simple furniture and clean lines. Much of zen is Asian-inspired and makes use of natural elements, so accent your space with stone sculptures and water features like fountains. Here is where more of an organic look is front and center. Knobby wood tables, tree stump stools, and comfortable but minimalist furniture adds to the tranquil feel you're going after. You could even add an outdoor daybed or wide cushioned couch set with pillows in varying muted patterns.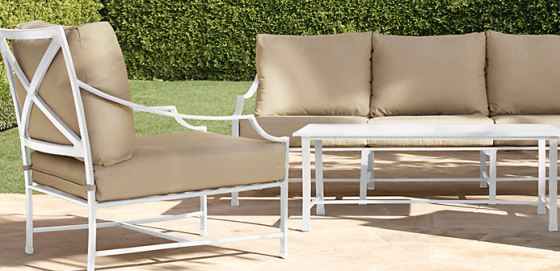 Sophisticated
Again this look translates to clean lines and also calls for a more limited color palate to keep the look understated and elegant. Wrought iron is a good material for the sophisticated look, as is the aforementioned white furniture. Chandeliers work nicely for this decor, and you can consider adding long, white curtains to the room. Look for metal designs with sleek angles and accessorize with an abstract patterned rug or one in a bold color that matches your home's decor. A stone fireplace and metal candelabras bring this look home.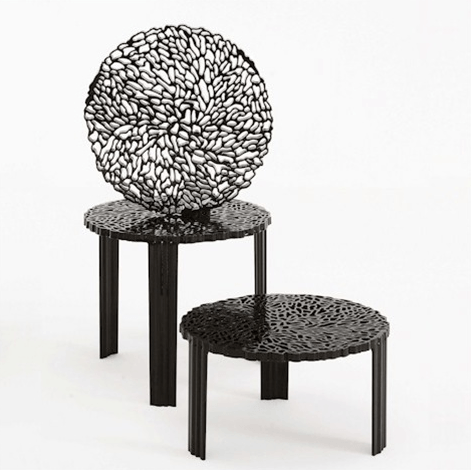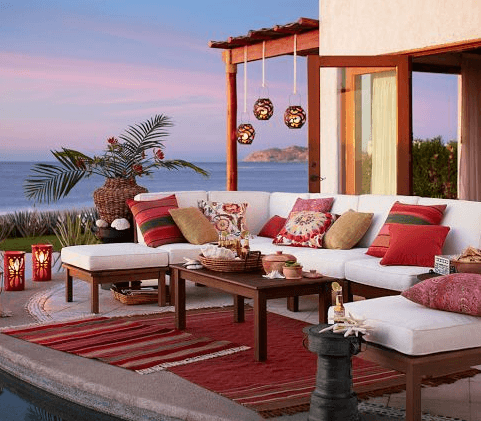 Exotic
This look tends to complement Mediterranean and Spanish-style homes (like the kind you find in San Diego) well. Furniture in this category is rustic and typically made of wood or iron. Wicker and teak also work well. Hanging Moroccan lanterns, gauzy curtains and bright, silk pillows in warm oranges and reds are the perfect accessories. Add tropical plants in terra-cotta pots and even hammocks or areas set apart by cabana-like areas if you have the space. you might also try ornate metal mirrors suspended from iron chains to give the room extra exotic flair.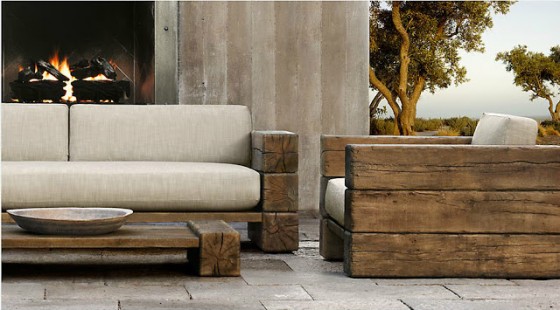 Rustic
Wood, lots of wood, is key to this look. Also, stone. Rough, unfinished edges and blocky furniture are classic rustic, as is anything made of reclaimed materials. Stone-top dining tables, nubby wood side tables, and raw beams sing rustic and accents such as metal lanterns or strung lights with exposed bulbs add the chorus. Use natural fibers in your pillows and and other fabrics to up the rustic ante.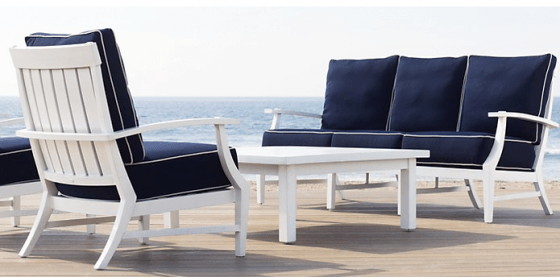 Beachy
Try wicker, seagrass or teak furniture here. Bright blues, sandy browns and bright whites are the colors to achieve a beach-inspired look and comfy armchairs, bright planters, and ceiling fans made the perfect accent pieces. Try a few lounge chairs set up in a corner or a "daybed chair" if your room is big enough and if you really want to get fancy, find yourself a shell fountain or water feature. Paper lanterns or metal and glass hurricane lamps give your beach-inspired room a breezy touch.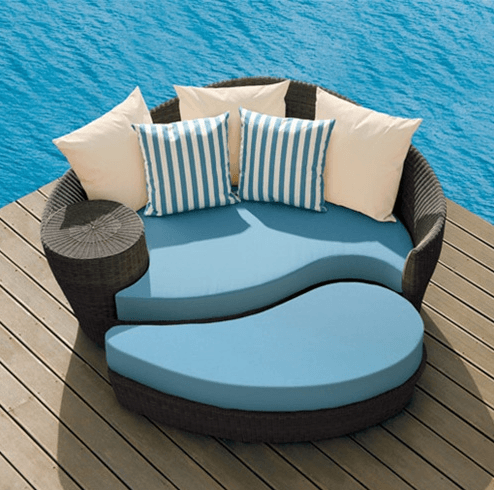 Cool Touches —
Whatever your decor, special touches like speakers and TVs can transform your space into a true outdoor room. All-weather LCD TVs and wireless outdoor speakers designed to blend into your landscape are popular choices and available from a variety of stores and online. Of course, you'll want to hire pros to install electrical and audio equipment to ensure the best possible placement.
As always, indoor/outdoor rooms can also come complete with built-in grills and kitchen appliances for outdoor cooks and entertainers. Fire pits around which your guests gather are perfect for cooler nights and unique pieces like lazy susan or Benihana-inspired tables make outdoor gatherings extra special.
Like I mentioned above, misting systems can be installed for cooling on extra hot days (August in San Diego, anyone?) and heat lamps for breezy nights.
Your Turn…
With the recent increased urge to bring everyday living outside, indoor/outdoor rooms don't appear to be losing popularity anytime soon, and like for the inside of your house, the sky really is the limit as to what you can do with your space.
What would be in your dream outdoor room? Let us know in the comments below…