How to Remove Mold & Algae from Paving Stones, Bricks & Concrete
Mold generally occurs in damp areas. It is, at best, an unsightly nuisance and, at worst, a health hazard. If you have mold growing on concrete driveways, brick walkways or paving stone patios around your home, the first thing to do is to make sure your children and pets do not have access to the area until you can remove the mold.
Why Remove Mold?
Mold spores can cause a variety of physical symptoms, including shortness of breath, aggravated asthma, sinus congestion, coughing, itchy eyes and much more.
Of course, there is a difference between common molds (like we see on food and sometimes on structures) and the toxic black mold that we hear about on the news. If you think you have toxic black mold growing on your paving stones, concrete or bricks, it is best to bring in mold remediation experts who can safely remove this potential health hazard.
If you have a bit of mold or algae on your exterior surfaces and would like to take care of it yourself, here are some basic algae and mold removal tips to help you get the job done.
Supplies for Removing Mold & Algae
Gloves
Eye protection
Dust mask
Stiff push broom or deck brush
Pressure washer
Vinegar or bleach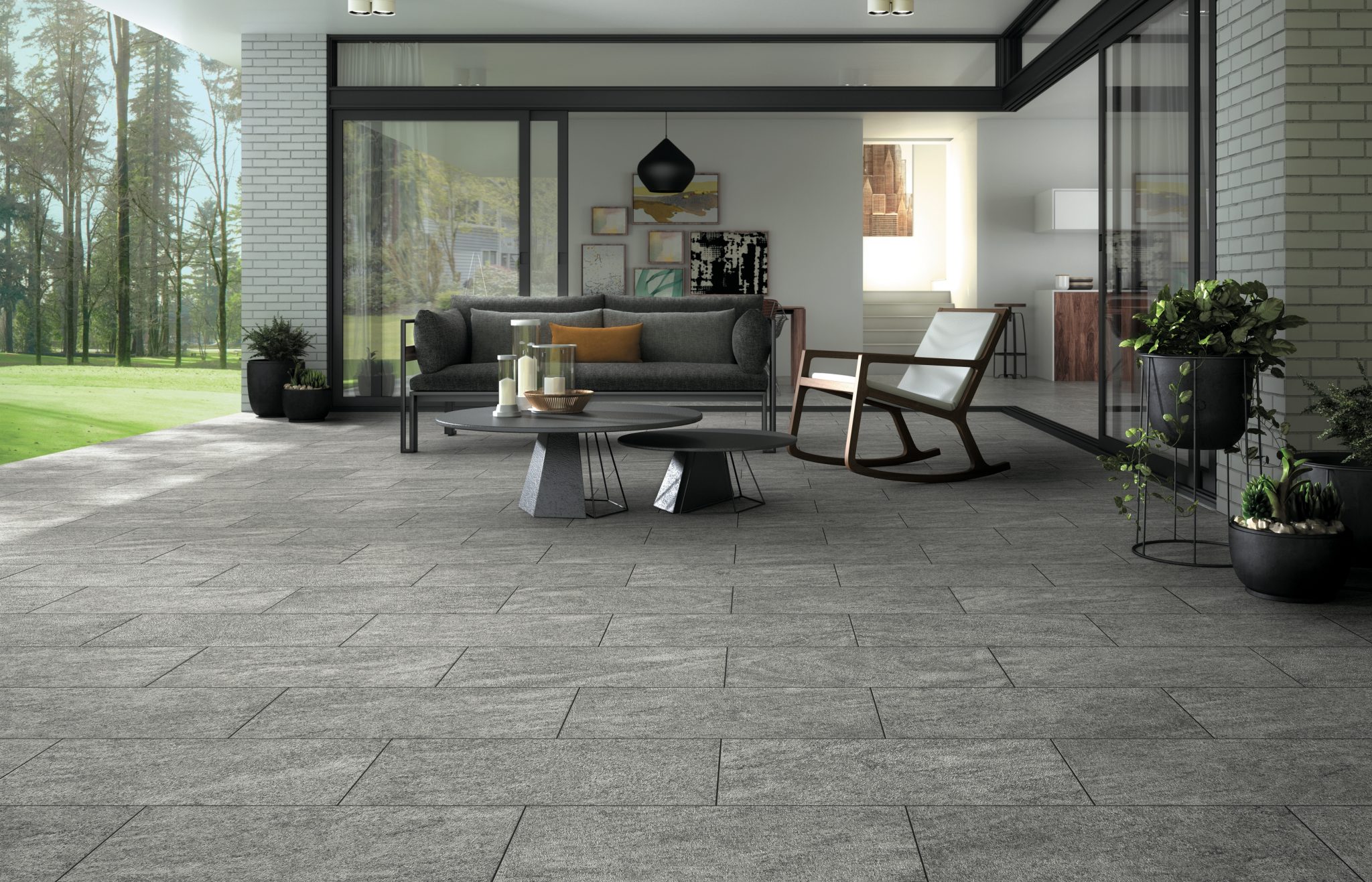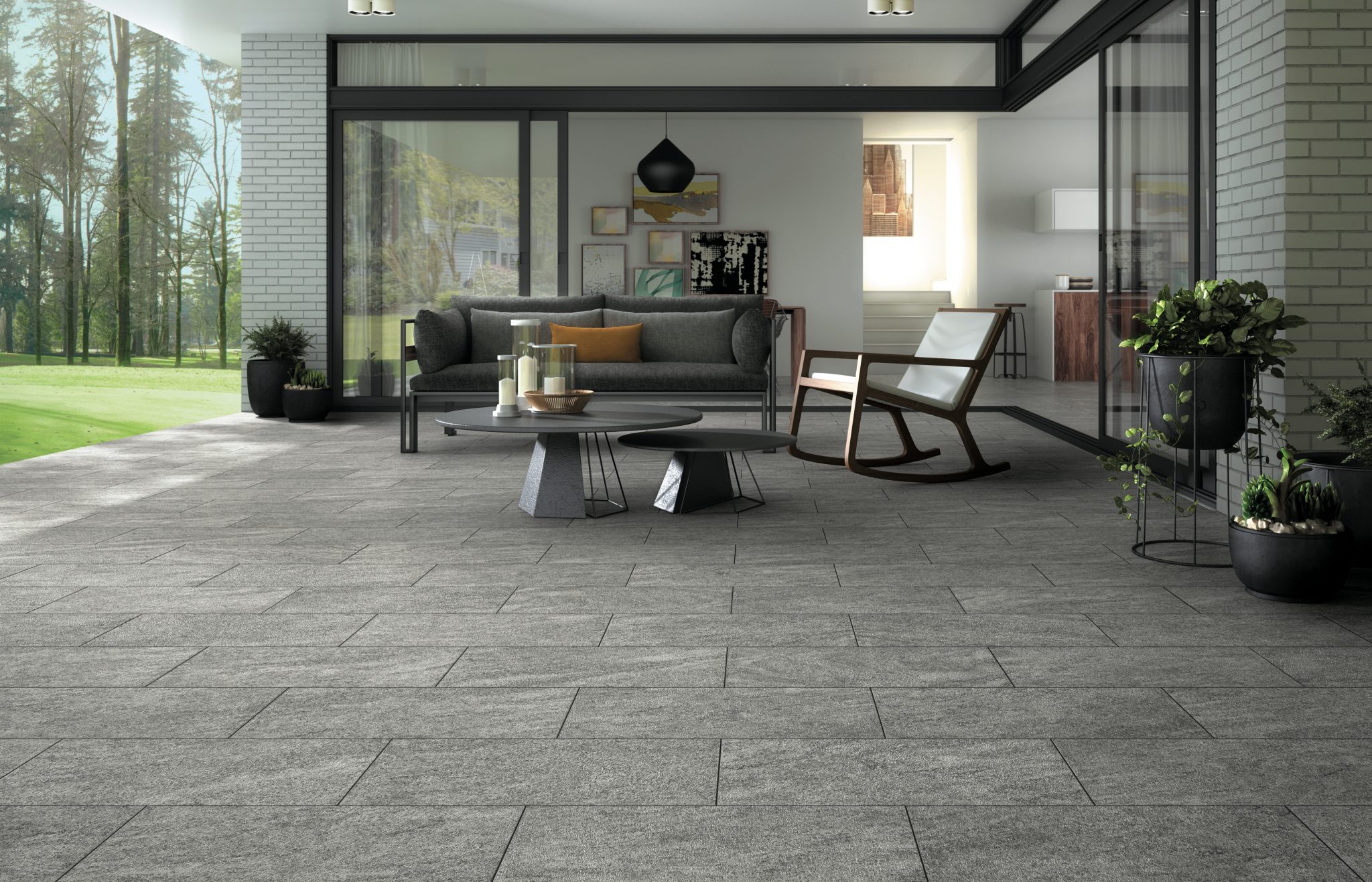 Dry Out the Area
Removing the mold or algae will be easier and safer when the surface is dry. When mold is in a damp area and has plenty of moisture, it can more easily send its spores into the air when you start to remove it. You want to limit mold spore movement as much as possible so, if possible, expose the area to sunlight to dry out the mold and surface.
It is also possible to dry the area with a fan or heater that is safe for outdoor use.
Sweep the Area
Once the area is dry, remove as much of the mold or algae as possible with a stiff push broom or deck brush. You may also need to use a plastic scraper to address particularly stubborn areas.
Use a Pressure Washer
If you have a small amount of mold or algae, you may find that the first two steps of drying out and sweeping the area is enough to remove it. If this is not the case, pressure washing is often quite effective in removing mold and algae from pavers, bricks or concrete.
If you do not have a pressure washer, you can purchase one relatively inexpensively to have on hand for this and future projects. You can also rent one or hire someone to power wash your surfaces for you. If you are pressure washing paving stone patios, walkways or driveways, you may need to replenish the joint sand between the pavers after cleaning them. This is typically included in a professional clean and seal paver service.
Pressure washing is often all you need to remove mold or algae from hardscapes, but if this does not work, there are other options.
Use Vinegar or Bleach
When you start to see a little mold or mildew on your shower curtain liner, you throw it in the washer with some bleach or vinegar, and it comes out clean and mold free. The same thing can happen for your hardscapes. Bleach should not be the first line of defense for folks who have plants or grass bordering the patio or walkway that has mold, but this is another option you can try if pressure washing does not work.
If you are going to try this approach to remove mold or algae, first try a mixture of white vinegar and water to spray down the area and kill the mold. Vinegar is a great way to get rid of weeds, so you do not have to worry about overspray getting on weeds, but you do need to make sure you do not spray vinegar on wanted plants and that the vinegar does not run off into a natural grass lawn or flower bed. After you have sprayed the vinegar solution on the area and allowed it to work its magic for a few minutes, you may need to use a deck brush or scrub brush to address stubborn areas.
You will then want to rinse the area well with water.

If vinegar does not do the trick, you can also try mixing about a cup of bleach for each gallon of water and using this as your mold-killing spray solution. Bleach can have a greater environmental impact and can even change the color on some bricks and pavers, so you will need to test this option in an inconspicuous area before spraying a large space. You will also need to protect nearby plants and grass, and make sure there is no runoff going into a storm drain.
If you opt for a bleach solution to remove mold or algae, you will need to rinse the area after application. If the mold or algae has stained your hardscape, you may need to repeat this process a second or third time to remove the stain.
Fallback on Commercial Cleaning Products
If vinegar or bleach do not work, or you would prefer to move directly to a commercial solution, you should have no trouble finding effective products at your local garden center or home improvement store.
You can opt for a simple patio or deck wash-type of product that is used for general cleaning if your mold or algae problem is mild. If your hardscape has been stained from the mold or algae, you may need to opt for a mold stain remover. For example, if you just purchased a home where mold or algae has been allowed to flourish for an extended period of time on concrete, brick or paving stones, there may be stains that require a product specifically designed for mold and algae stain removal.
With most of these products, you will spray the area, allow it to work its magic for a few minutes, scrub with a deck brush or push broom, and then rinse the area with water.

Prevent Future Mold and Algae Problems
To prevent future mold or algae issues, make sure the area can dry out regularly and that is has proper ventilation. This may mean pruning overhanging trees or shrubs, moving patio furniture or creating drainage pathways to avoid pooling water.
Install-It-Direct Can Help
If you have additional questions about how to remove mold or about cleaning or maintaining paving stones, give us a call.
Paver Perfection
Our paver professionals will design and build the patio, pathway, or driveway you've always dreamed of.
View Services
To receive landscaping tips and outdoor entertaining ideas, join our mailing list today.
Related Articles: