Trending Now: 10 Ways Pavers Enhance Your Outdoor Living Space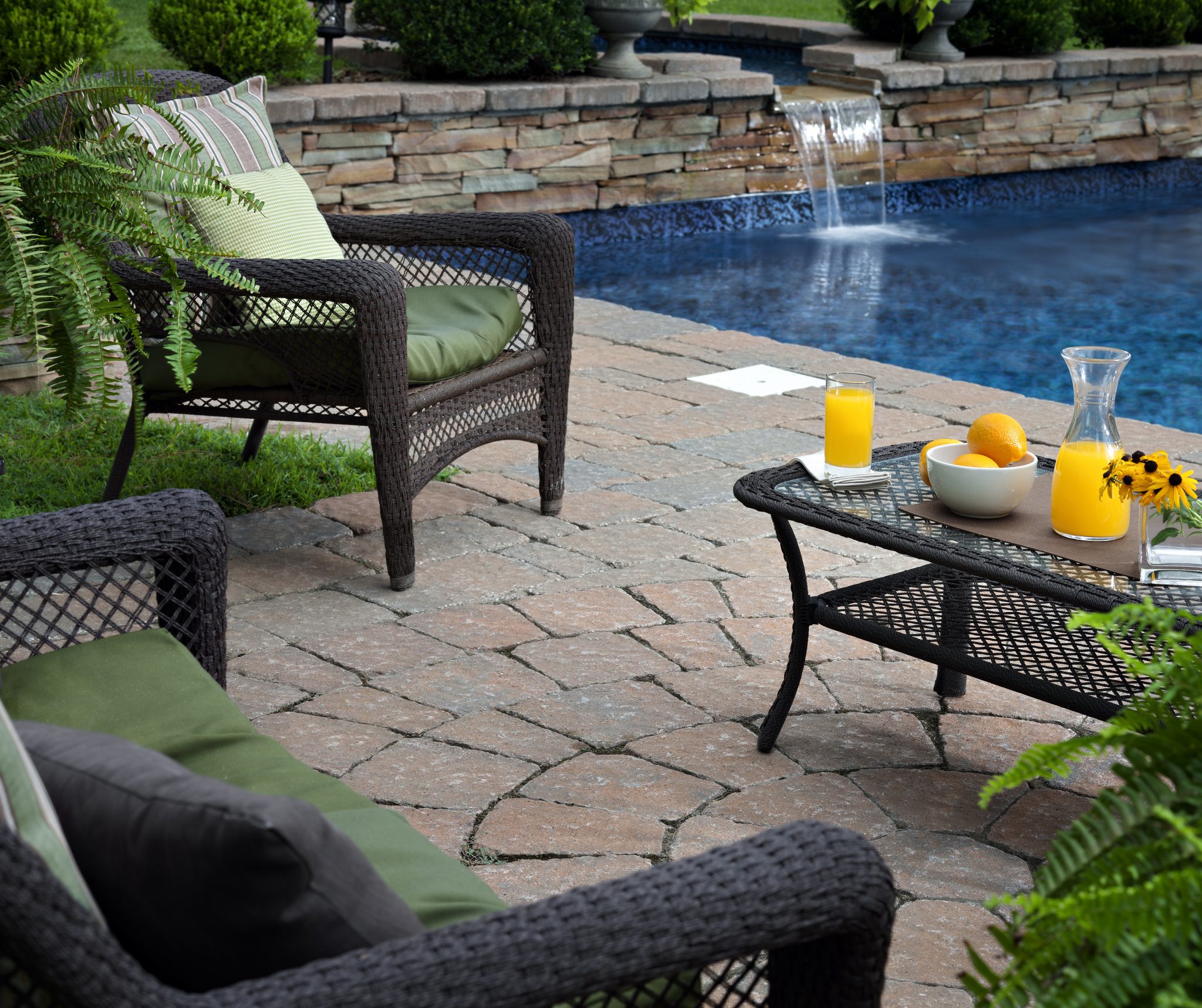 Summer is just around the corner so consider spicing up your outdoor living space now with these ten trending ideas. Most of them involve clever ways to use pavers, which are quickly becoming a preferred alternative to other hardscape choices like asphalt and concrete.
1. Comfort Meets Function
One of the most popular outdoor living trends, especially in warm weather climates like San Diego, involves extending living space into the backyard. Experts expect homeowners in 2015 to add more outdoor kitchens, walkways and retaining walls to transform the yard into a place that is just as desirable to hang out in as the interior of the home.
You'll see a lot of built-in seating areas that are accented with throw and custom-made seating pillows. The latter are surprisingly inexpensive to have made at upholsterers throughout San Diego and beyond, plus the selection of outdoor materials like Sunbrella has exploded over the past few years.
2. Year-Round Outdoor Entertainment
The temperature in San Diego may average 70°F but winter nights can get chilly enough to retreat indoors. Adding features such as fire pits and fire places, will help tempt guests to sip cocktails and perhaps even roast s'mores long after the sun sets.
Outdoor heaters are also becoming more efficient and attractive from an aesthetic perspective. Chose from propane operated lamps or those that use electricity. Consider hanging them from eves or pergolas, depending on how much space you have. Home Depot and similar big retailers sell all sorts at prices that won't break the bank.
3. Adding Much More than BBQs

While a barbecue is a staple of today's outdoor kitchens, that is not all you can build into a fancy islands. These days, the options seem endless between stainless steel bar areas, garbage disposals, ice buckets, refrigerators, stove burners, smokers and more. The hottest outdoor kitchen accessory right now is a pizza oven that, of course, can be set into pavers to seamlessly match the rest of your outdoor kitchen. These gadgets enable homeowners to cook entire meals outside, limiting the amount of time spent going back and forth into the house.
4. Moving Beyond Concrete Slabs

There is no need to opt for a boring concrete slab that may wind up staining or cracking over time. Pavers are considered to be up to three times stronger than a poured concrete slab. Interlocking pavers create a more interesting first impression and since they tend to move with the Earth, they aren't likely to crack. Not to mention, if there is ever a staining or other issue, the pavers can be popped out and replaced.
Plus, the sky is the limit when it comes to design. Various colors, patterns, shapes and architectural styles are available to suit any style of home.
5. Add Pergolas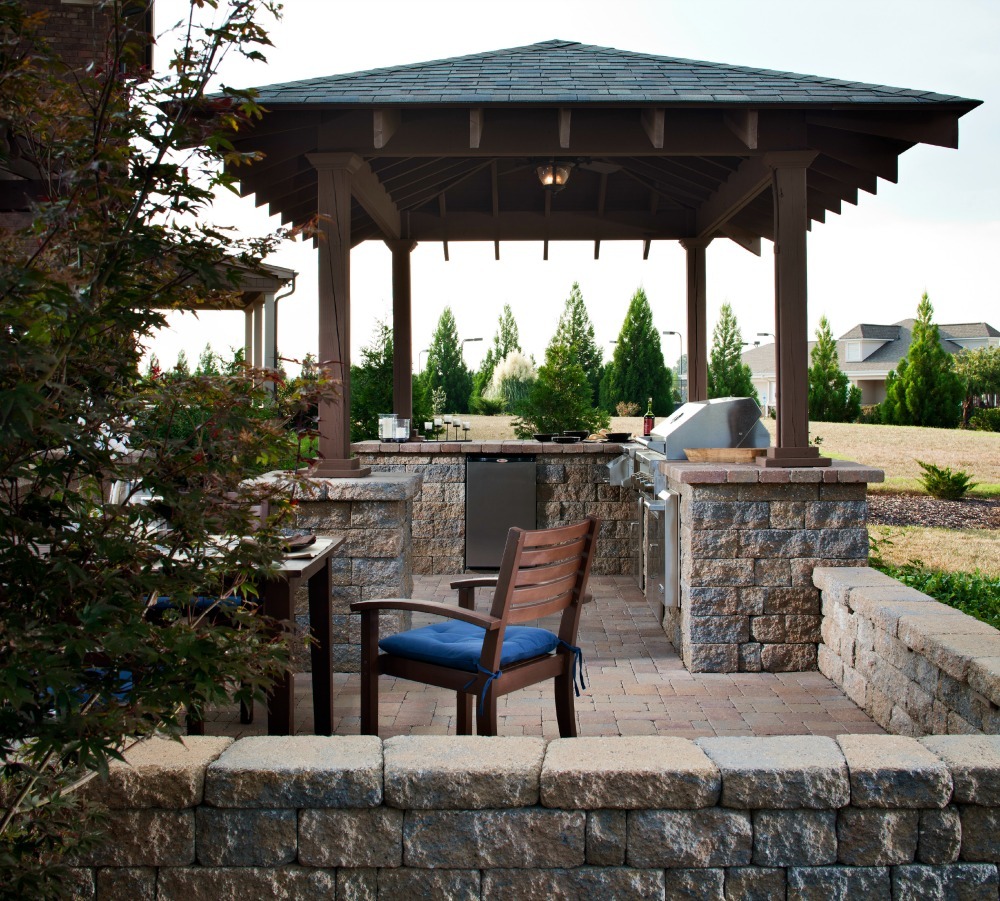 As you can see above, a pergola is easy to attach to an existing or new outdoor kitchen. While serving the practical and necessary purpose (especially in Southern California) of providing shade, a pergola can also become a focal point in the yard. You can attach them to the side of your home, stabilized on the patio or on top of pillars constructed out of pavers. For those who adopt the practice of creating separate "rooms" outside, a pergola can help define a particular space.
These days, homeowners who would like their pergola to provide full shade or protection from rain can opt to cover them with retractable canopies. However, for some, the open slats provide enough shade or they choose to cover it with a sturdy vine.
6. Geometric Patterns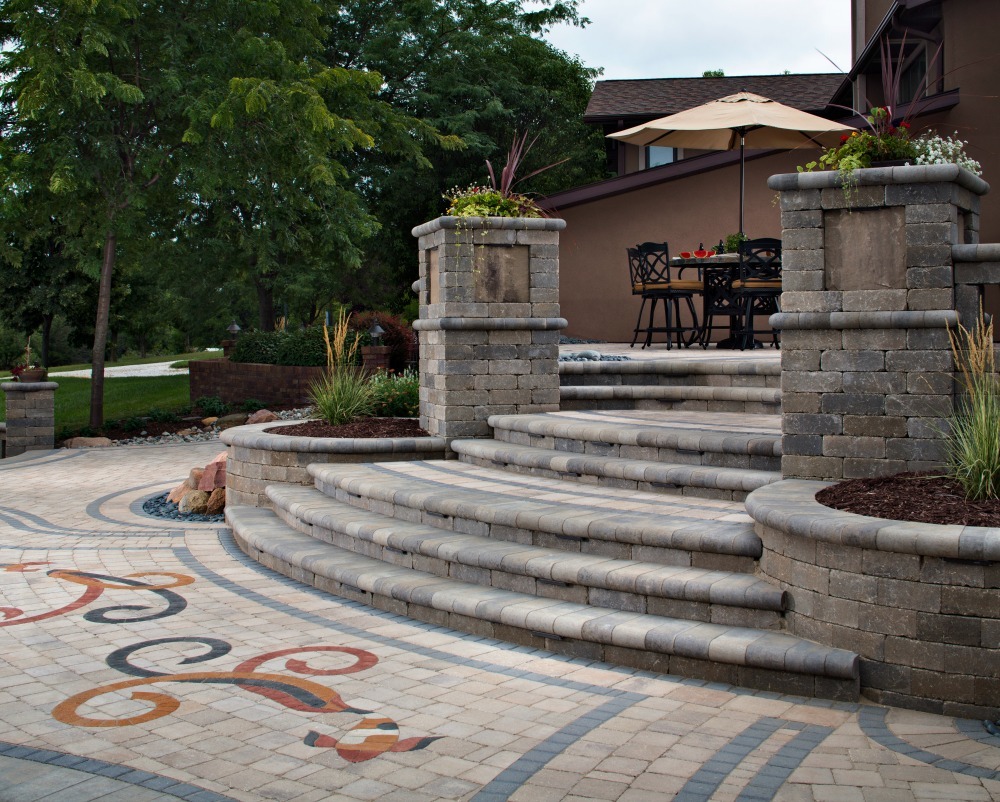 While pavers by nature are typically more colorful than concrete or asphalt, it is possible to break up monotony and insert a focal point with a pattern. Like pergolas, patterns can also help define a particular space and draw the eye toward walkways and seating areas while adding a feeling of luxury. If used properly, patterns can also make a small space look bigger.
7. Patios as Palettes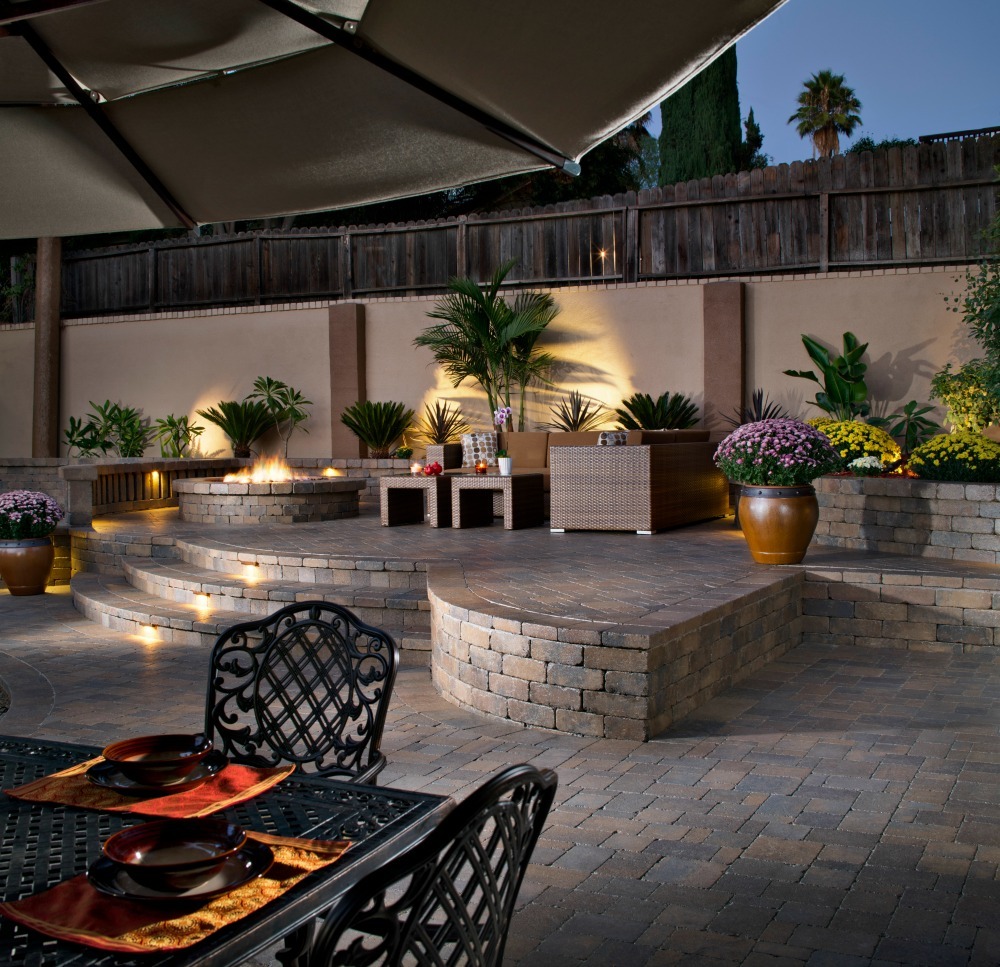 In addition to incorporating a pattern, pavers can be installed in a multi-colored pattern blends that might include similar but varying shades of grey, brown, brick and then some. Not only does the varying color aspect add visual interest, but it also helps to hide stains until you're ready to pop the pavers out in exchange for new ones.
Choosing the right color is a highly personal decision that often troubles homeowners. Natural color tones exude tranquility while dark colors can make a space feel smaller. Colors that are a few shades lighter than the house won't compete with it. Ask for samples and "live" with them displayed until you're comfortable with one choice in particular.
8. Creative Lighting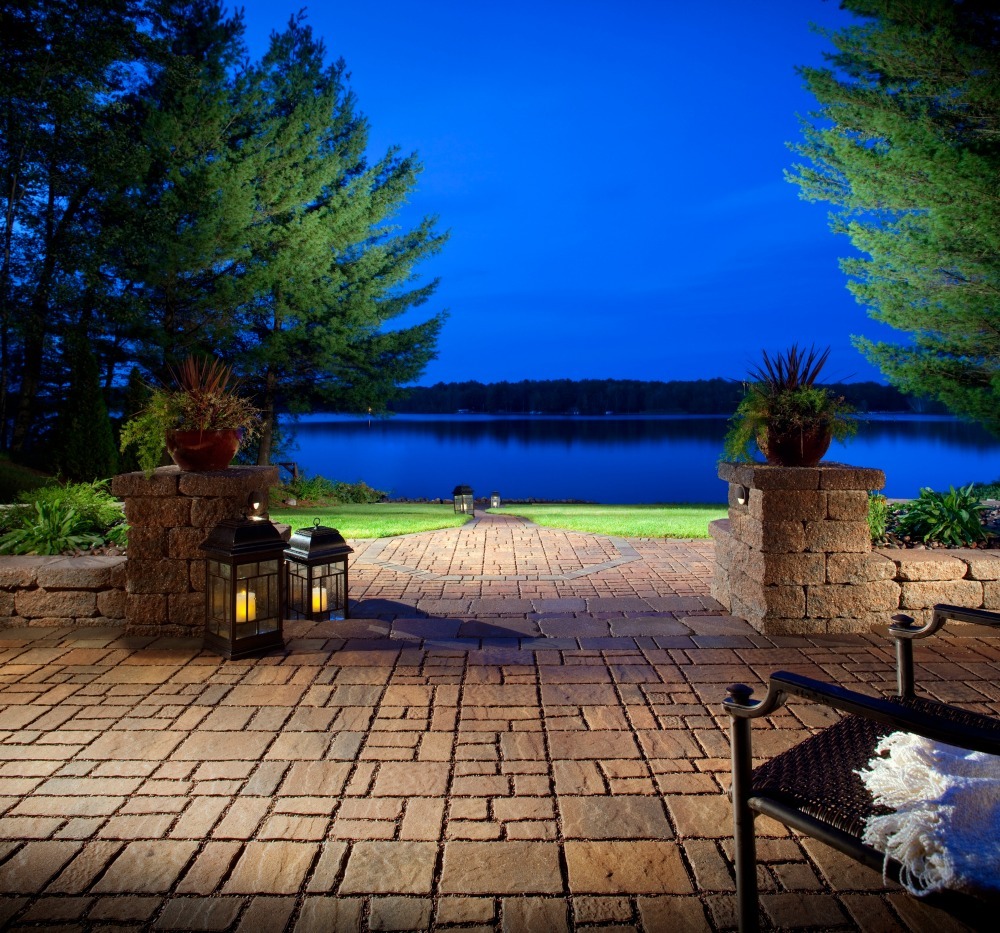 Highlight your outdoor living space with the addition of creative lighting that doesn't always have to be pre-wired. Consider using portable lanterns (shown above) that serve as decorative accessories and can be lit up by battery-operated or match-lit candles.
If installing a new hardscape, LED or colored lights that can be recessed into walkways, planters, walls and outdoor kitchens create a modern look, increase curb appeal and serve as an important safety feature.
9. Going Green
Permeable pavers are often recommended in lieu of asphalt, concrete and other hardscape because of their ability to manage surface water. These pavers allow water to permeate through to the ground through adequate spacing, directing it away from storm drains–picking up a number of pollutants (car oil, pesticides, fertilizer and more) on its way to the ocean.
These pavers also can reduce irrigation needs and costs by keeping the ground moist and can result in cooler surface temperatures in comparison to asphalt or concrete.
10. Multi-Level Design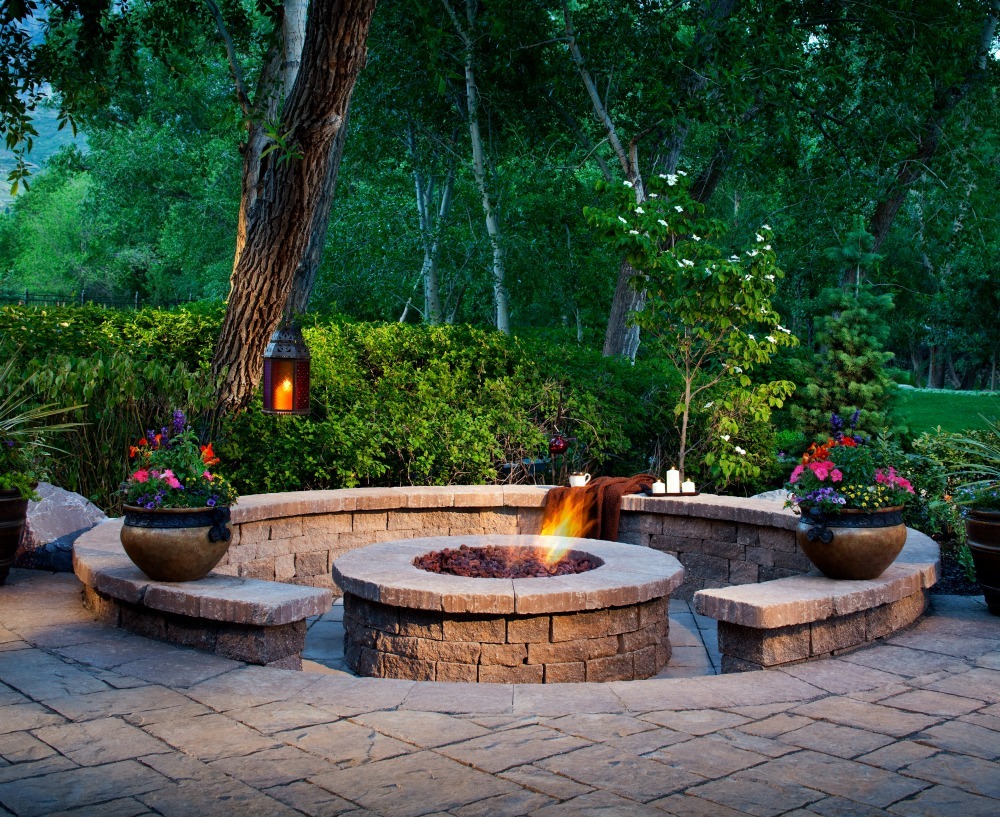 A very easy way to add visual interest to your yard while also making a small space seem bigger is by staggering elevations. Consider a sunken fire pit with seating or adding container gardens via retaining walls. Staggering elevations  can both increase air circulation and usable space. The latter can be incredibly helpful for those who enjoy entertaining. A simple retaining wall or container garden made out of pavers can double as extra seating.
Your Turn…
How will you spruce up your outdoor living space this year?