The Value of Updating Existing Landscape
Landscaping that is well designed and properly installed adds value to your home, makes your outdoor living spaces more enjoyable, and increases your home's curb appeal. The look of your front yard welcomes your guests and lets them know what to expect once they step inside, while your backyard provides the foundation for outdoor activities and making memories with your family and friends.
All of this makes your landscaping an integral part of your home that is an important part of how much you and your family enjoy living and entertaining there. To keep it current and functional for your family, you will need to periodically update it, particularly when there is a significant change in your life.
For example, if the significant change is moving into a new home, the landscaping left by the previous owners may not suit your needs, may be overgrown and outdated, or may just not be your style. Another example of a significant life change would be expanding your family, which might mean increasing the safety of your pool, replacing your horseshoe pit with a playground, or adding an outdoor kitchen to make your patio function better for family gatherings.
At the other end of family changes, perhaps your kids have all moved out and you are looking for a lower-maintenance yard that allows you to travel more. Or, perhaps, you are retiring and need comfortable, easy-care outdoor living areas for you to enjoy as you enter your Golden Years.
Of course, it does not require a major life change for your landscaping to need a bit of updating. It could just be that your plants are beginning to reach the end of their lifespan, that you want to lower your home's environmental impact, or that some of the features you installed 20 years ago are outdated or starting to show their age. It could also be that you just would like to switch some features out for lower-maintenance options so that you can spend less time caring for your outdoor living areas and more time enjoying them.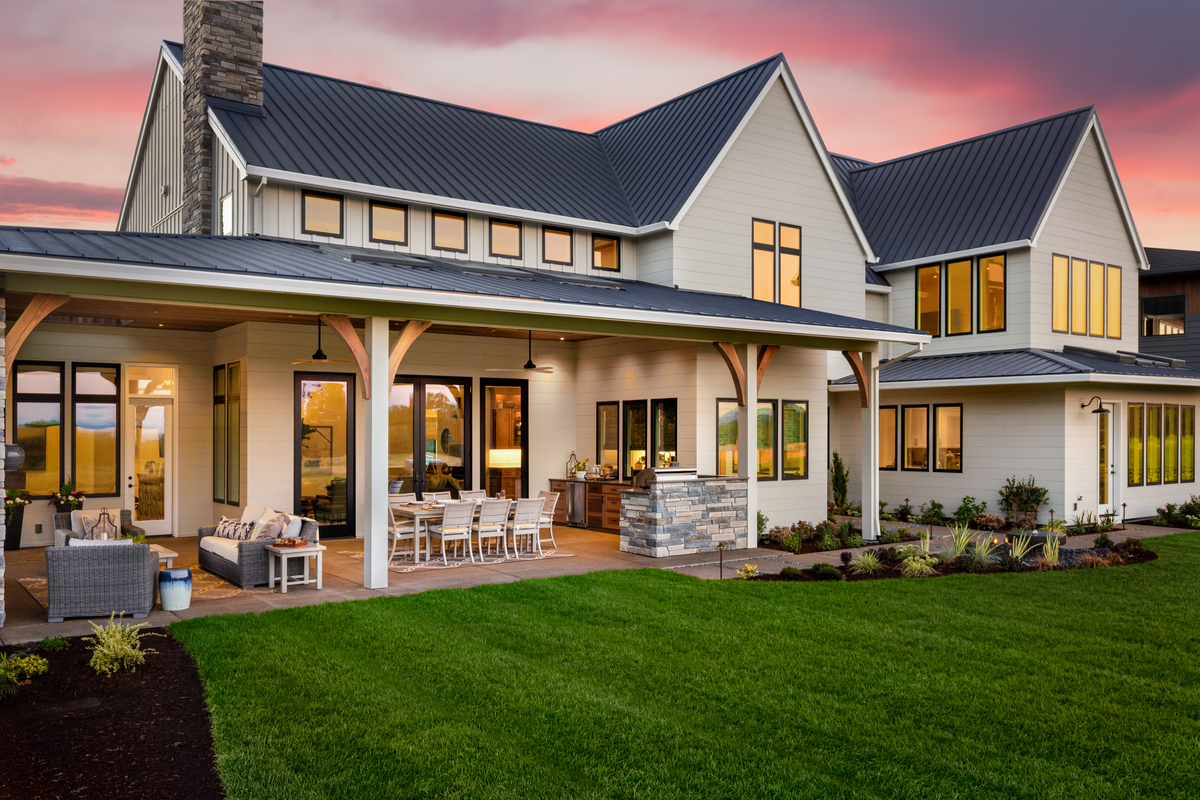 15 Reasons to Update Landscaping
Increase curb appeal

Reduce water usage

Make your yard and outdoor living areas more welcoming

Improve a view

Make your yards more functional for your family

Replace outdated features that show your home's age

Make outdoor living areas more enjoyable for you and your family

Increase privacy

Replace high-maintenance features with lower-maintenance options

Increase the perceived value of your home

Potentially increase the value of your home

Block an unwanted view

Reign in an overgrown, unruly landscape

Add more shade to outdoor living areas

Create a cozy gathering place with a fire feature

Installing New Landscaping versus Updating Existing Landscape
Once you have decided that your landscaping needs updating, you will need to determine whether it is better to update what you already have or if it is better to demo your existing features and start from scratch.
There may be some instances when starting over completely is the best choice. For example, this might be the case if you want a vastly different design, particularly if it involves moving significant features, such as your swimming pool or a large patio. But even in these cases, it is likely that you could salvage at least part of your current landscaping and just give it a bit of updating instead of a complete overhaul.
In most cases, a landscape update is the way to go. You can significantly improve your yard's visual appeal and functionality without ripping everything out and starting over. You can also make your yard easier to care for and significantly reduce water waste by updating your current landscaping with no need to start from scratch.
If you are able to update existing landscaping instead of starting with a completely new landscape design, you can reduce the waste produced by the redesign and, most likely, save money. It is generally less expensive to update what you have than to replace it all and start over.
Updating and upgrading what you currently have is also less overwhelming, will likely take less time, and allows you to get back to enjoying your outdoor living areas quicker. For example, if you update your current patio to a paving stone patio or if you replace your natural grass lawn with artificial turf, you will be able to start using these surfaces as soon as the installation is complete.

Easy Ways to Update Existing Landscaping
A landscape update does not have to be a complete overhaul of your property. Of course, it can be, especially if you really hate everything about how your yard looks and functions, but it does not have to be. You can improve your yard with a variety of projects that range from easy, do-it-yourself options to far more complicated features that require professional design and installation.
Here are 10 ideas for updating and upgrading your outdoor spaces.
1. Trim Trees and Bushes
Start here. The first step in any landscape refresh is removing the clutter and pruning trees and bushes. In this case, the purpose would be to enhance a view, tame an unruly landscape, or clean things up enough to see what you are working with so that you can better plan what to keep and what to replace.
2. Install or Expand Walkways
Updating walkway materials is a quick way to bring your home up to date. So, if you have existing walkways, consider updating to paving stones or stamped concrete to enhance the visual appeal. Keep in mind that a paving stone makeover can increase the value of your home, so you may want to consider replacing other hardscapes with pavers as well. You may also want to consider expanding your current walkways to create wider, more welcoming paths that will guide your guests through your yard.
3. Add a Fire Feature
A patio fireplace or fire pit creates a cozy, welcoming gathering spot for family and friends. It can also increase the perceived value of your home.
4. Plant Trees
Planting trees can add more shade to your yard, make your outdoor living areas more comfortable, and can even lower your utility bills when strategically placed. If you opt for fruit trees, you can also grow some of your own food for your family and guests to enjoy.
5. Add Shade Structures
Adding a roof or shade sail to a currently exposed patio can increase privacy and create a more comfortable area you can enjoy more often.
6. Relocate Plants
You may be able to increase the visual appeal of the yard simply by relocating plants you already have in your yard. This also allows you to group together plants with similar irrigation needs to create watering zones that will help you save water.
7. Replace Your Lawn
Natural grass lawns waste tens of thousands of gallons of water every year. This outdated landscaping feature that is becoming less common in Southern California can be replaced with native plants, a rock garden, a patio, or artificial grass. This will help you save water, as well as time, since these options require significantly less maintenance than natural grass.
8. Add More Plants
Adding more plants to flowerbeds and borders is an easy way to add color, texture, and visual interest to your outdoor living areas.
9. Add Gravel, Mulch, Bark, or Wood Chips
Non-living ground covers are great for covering bare patches of dirt, adding texture and color, limiting weed growth, improving soil moisture retention, and quickly updating the look of your yard.
10. Add Landscape Lighting
Outdoor lighting is an essential part of landscape design and serves several purposes. This includes guiding your guests safely through your yard, letting folks know where to park and walk, illuminating interesting landscaping or architectural features, providing task lighting for grilling or making drinks, deterring prowlers, and enhancing the look of your yard after the sun goes down. This makes landscape lighting an easy way to quickly update your outdoor spaces while keeping your existing landscape intact.