10 Fall Cleaning + Maintenance Tasks for Your Outdoor Patio & Kitchen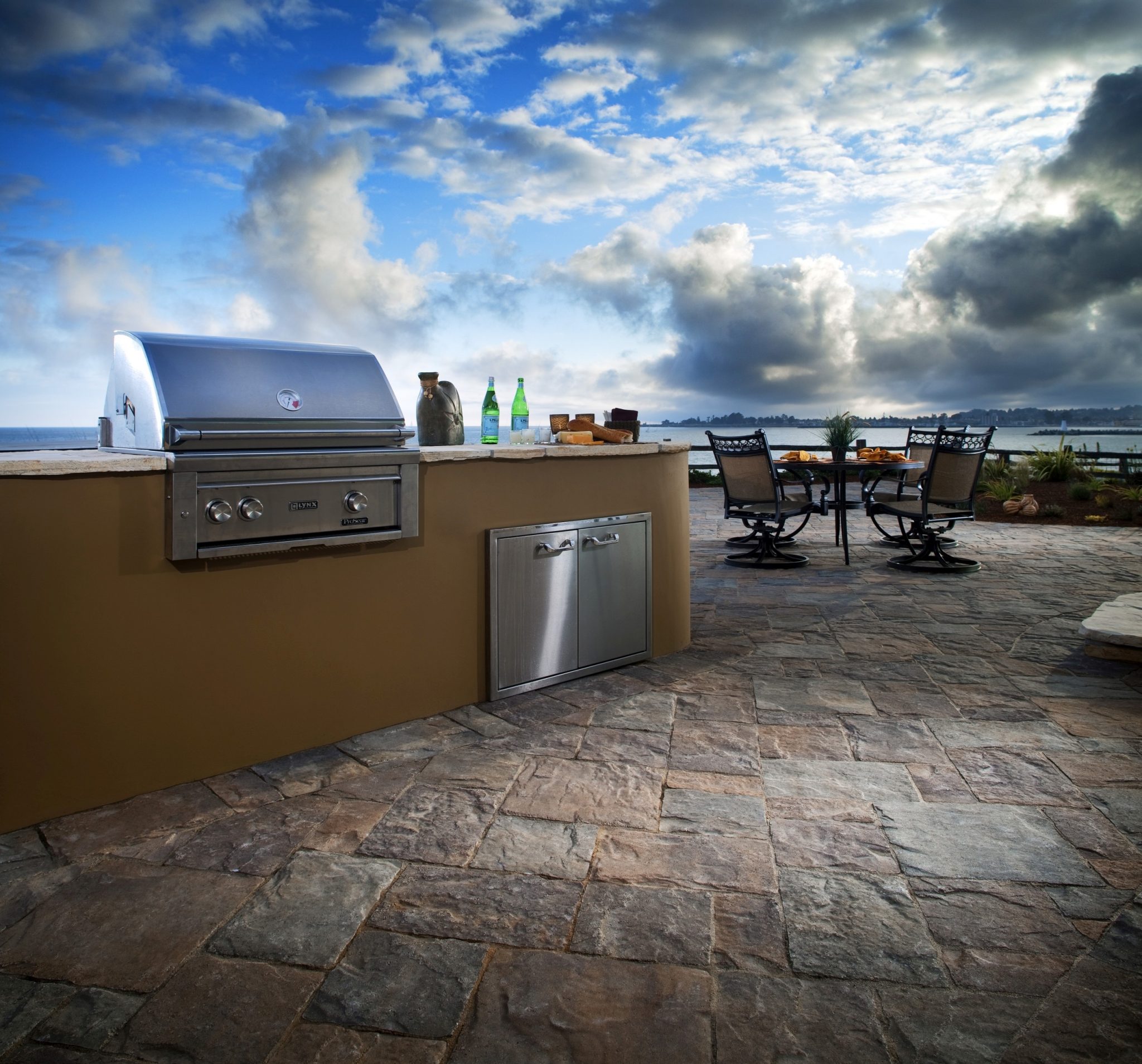 In some parts of the country, Labor Day signifies the end of the summer outdoor entertaining season and grills are put away until the weather warms up the following year. However, those of us who live in San Diego County, Orange County and other parts of Southern California know that all it really means for us is that it is time to transition from summer entertaining to fall outdoor entertaining.
This means it is time to do a bit of cleaning and maintenance to help prepare our outdoor kitchens for entertaining through fall and right into winter. To help you make sure you are ready for your first autumn soiree, here is a 10-point checklist for fall cleaning and maintenance for outdoor kitchens.
Outdoor Kitchens: 10 Fall Cleaning and Maintenance Tasks
1. Clean Your Grill: If you love outdoor entertaining, chances are you put your barbecue grill to pretty good use this summer. If so, this is a good time to give it a good cleaning as you transition into the fall entertaining season. You should also check for any damage that may need to be repaired.

2. Cover Your Grill: It is always a good idea to cover your grill in between parties, since this will help keep it clean and protect it from the elements. Once fall rolls around, there is a slightly higher chance that we might get rain, so if you do not yet have a cover for your grill, now is the time to get one. As an added bonus, you might be able to find a discounted grill cover at an end-of-summer sale.
3. Consider a Grill Canopy: Most outdoor kitchens are located on covered patios, but if your grill is not under a roof, consider investing in a grill canopy. These small canopies are quite affordable and can help protect your grill from the elements, while also making your grilling experience more enjoyable as it protects you from the sun or light rain. If you have a small patio and a portable grill, moving your grill off of the patio and under a canopy is also an effective way to make more space for outdoor entertaining.
4. Check Your Patio Heaters: If you use patio heaters to keep your guests warm while entertaining in the fall or winter, be sure to check them for cleanliness and proper function before you have your first outdoor function on a colder night. If you do not have patio heaters, consider whether or not they might make your patio and outdoor kitchen area more comfortable for your guests.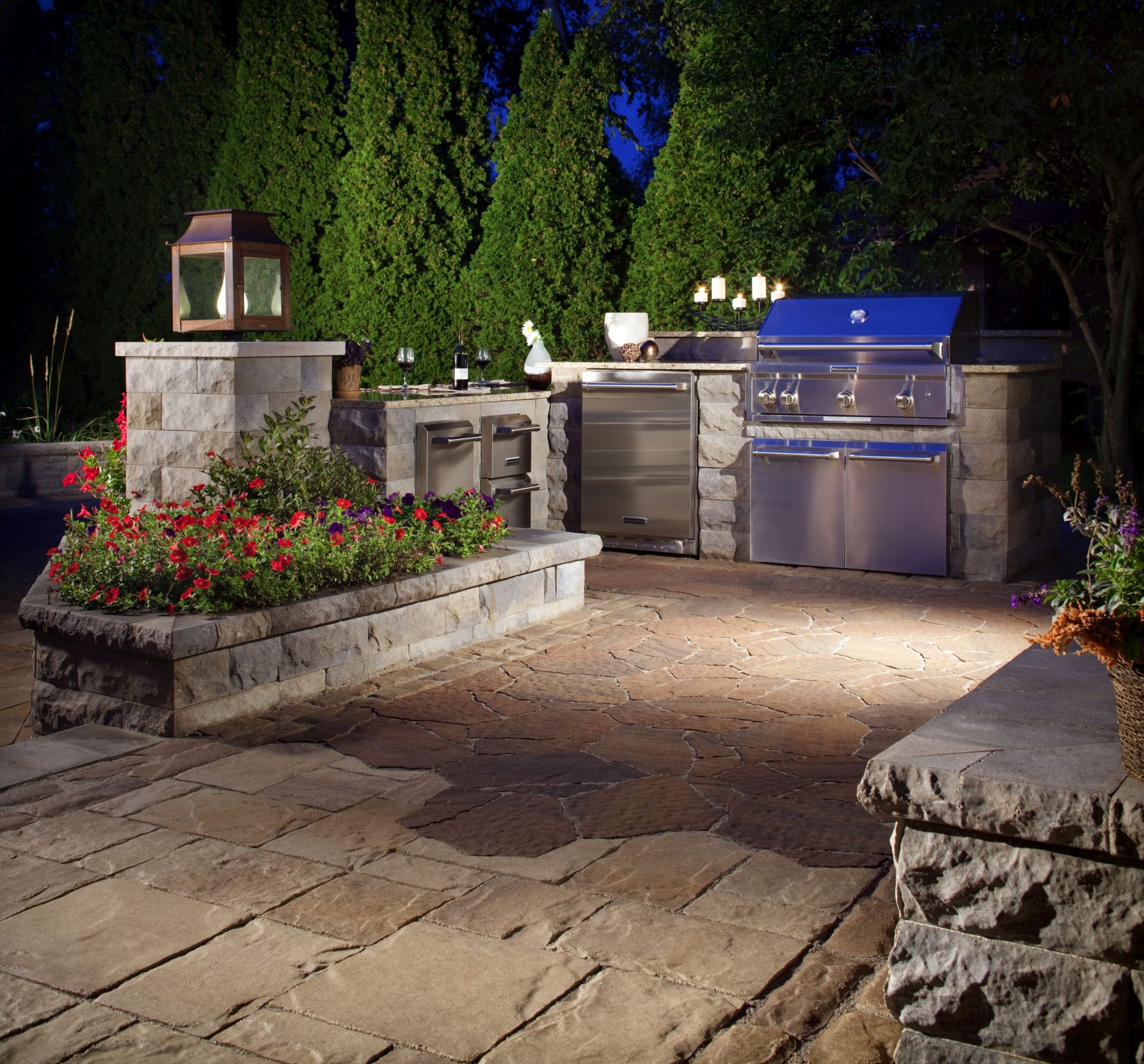 5. Check Your Fire Pit or Patio Fireplace: Fire pits and patio fireplaces are the perfect complement to outdoor kitchens and usually get more use during the fall. This means that the transition from summer entertaining to fall entertaining should include checking your fire features for any safety hazards and making sure they are ready to keep your guests warm while you cook in your patio kitchen.
6. Stock Up on Firewood: While you may have been using your backyard fire features throughout the summer, you are likely to use them even more now that the weather will be cooling off. Stock up on firewood to make sure you have it on hand for impromptu gatherings in the coming months.
7. Get a Firewood Holder: Stacking your firewood near your fire pit provides a rustic look that can be appealing, but your firewood stack can look cleaner and more organized if you have it in a rack. Firewood holders come in a variety of sizes to accommodate a small amount or an entire cord, so you should have no problem finding one to suit your needs.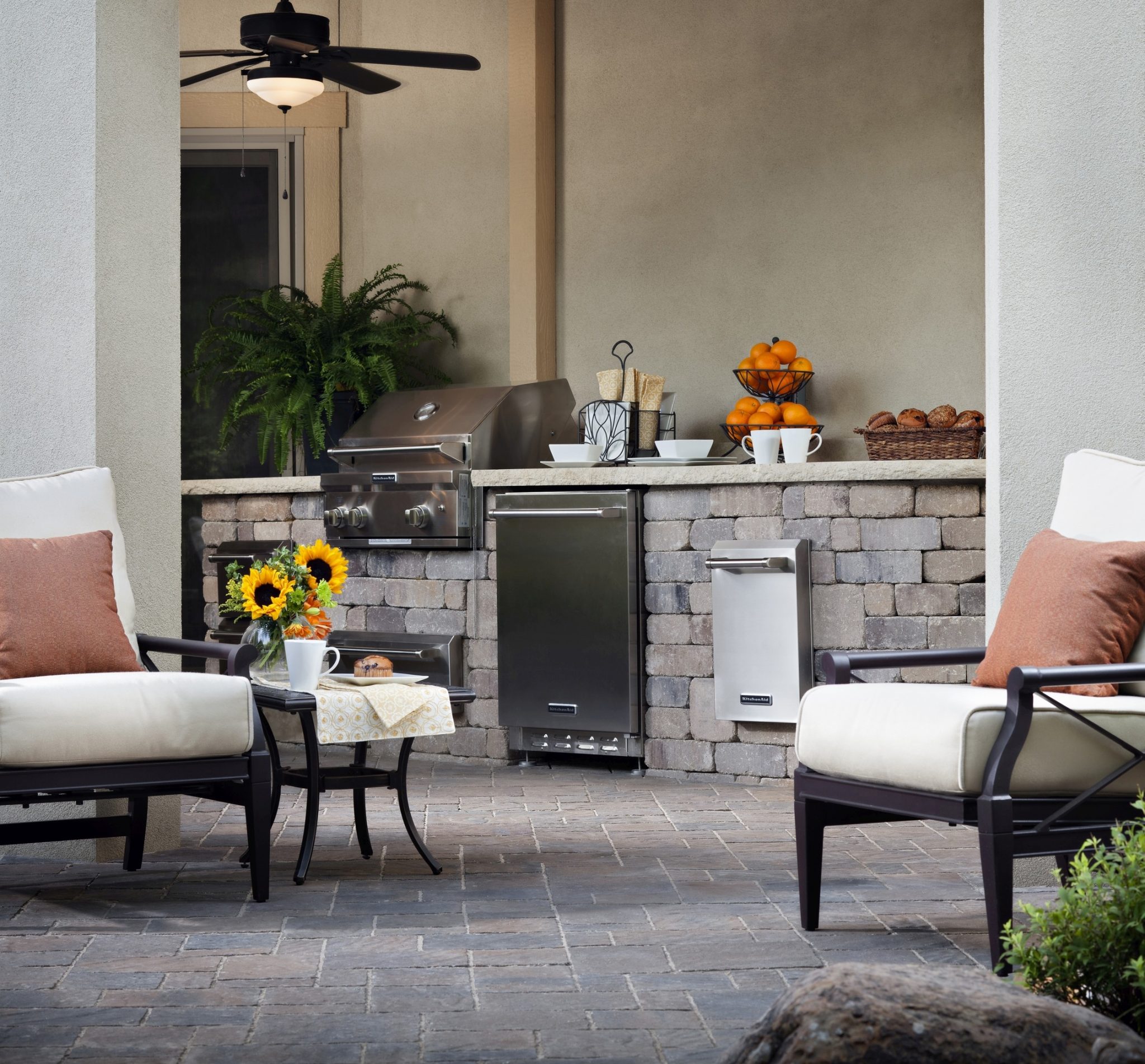 8. Clean Your Patio Refrigerator: Refrigerators in outdoor kitchens usually are not used as much as indoor kitchens and usually are not cleaned as often. If you have not cleaned your patio kitchen's refrigerator in the last few months, now is the time to take on this task. It is important to keep the inside clean, but it is even more important to clean the coils to keep it functioning properly.
9. Seal Your Counter Tops: There is some debate about whether or not counter tops in outdoor kitchens need to be sealed regularly but, just like with your indoor surfaces, sealing can help block absorption that can lead to unsightly stains. The more porous your counter top is, the more you might benefit from an impregnating sealer. If you had your counters professionally installed, ask your contractor whether or not sealing them regularly is a good idea.
10. Clean Your Patio and Rugs: Outdoor kitchens are most often located on patios near or in outdoor entertaining areas. This makes cleaning your patio and any nearby outdoor rugs a good addition to your fall outdoor kitchens cleaning and maintenance list. After all, a clean kitchen is fantastic, but you also want your outdoor dining room or outdoor living room to be ready for fall entertaining as well.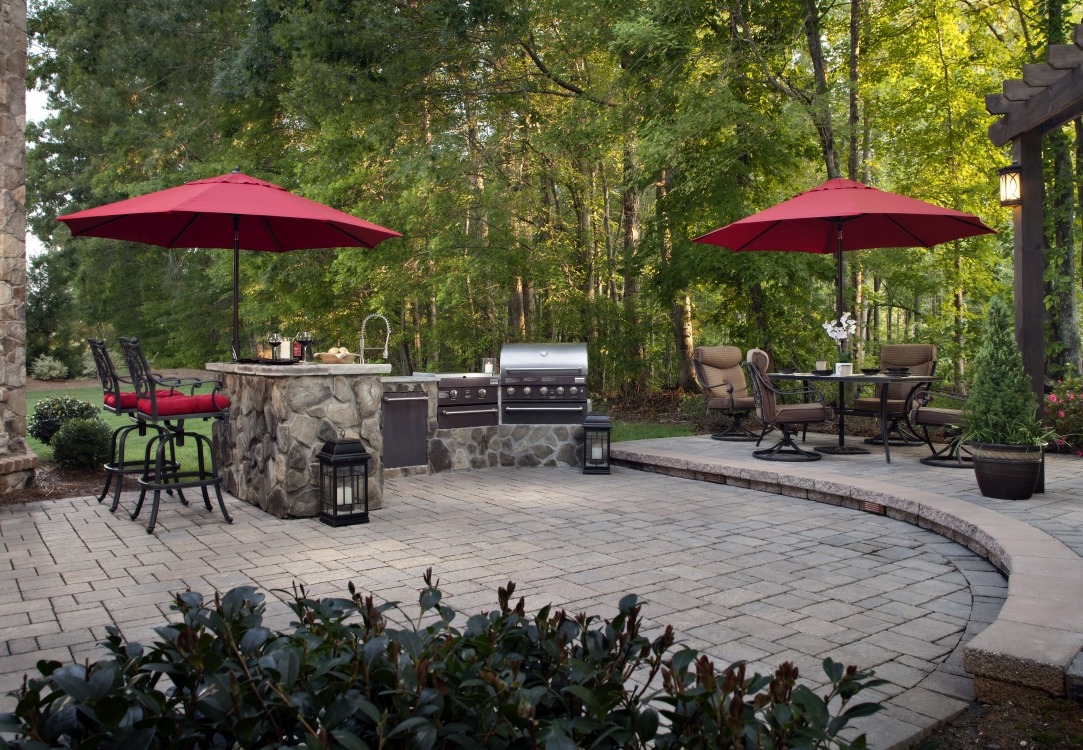 Further Reading…
Fall Entertaining To-Do List for Your Outdoor Living Area
10 Tips for Fall Entertaining