How to Pack the Perfect Picnic Basket for Every Occasion
Knowing what to bring to a picnic is a bit of an art and takes some trial and error before you really know how to pack a picnic basket for any occasion. To help you learn how to always pack the perfect picnic, here is everything you need to know from the basics to situation-specific picnic scenarios.
What to Bring to a Picnic: The Basics
Before you start planning your menu, there are some basics you need to make sure you have on hand. For example, for any type of picnic, you are going to need napkins, plates, and utensils. If you picnic regularly, consider purchasing durable, reusable products that are eco-friendly and will save money over time.
Let's go over some of the basics you should stock your basket with so that it is ready to go for impromptu picnicking.
Cloth napkins

Reusable plates

Reusable utensils

Plastic drinkware (glass is nice, but not durable enough)

Plastic wine glasses (if wine is a regular part of your picnics)

A good corkscrew/bottle opener

Thermos

Mini salt and pepper shakers

Mini bottle of your favorite hot sauce

Additional mini condiments, such as mustard and ketchup

Blanket, tablecloth or peshtemal to lay on the ground for sitting or laying out food

Small cutting board and knife

Durable, reusable food storage containers

Small bags for trash and soiled linens

Wet wipes for cleaning hands or wiping down picnic tables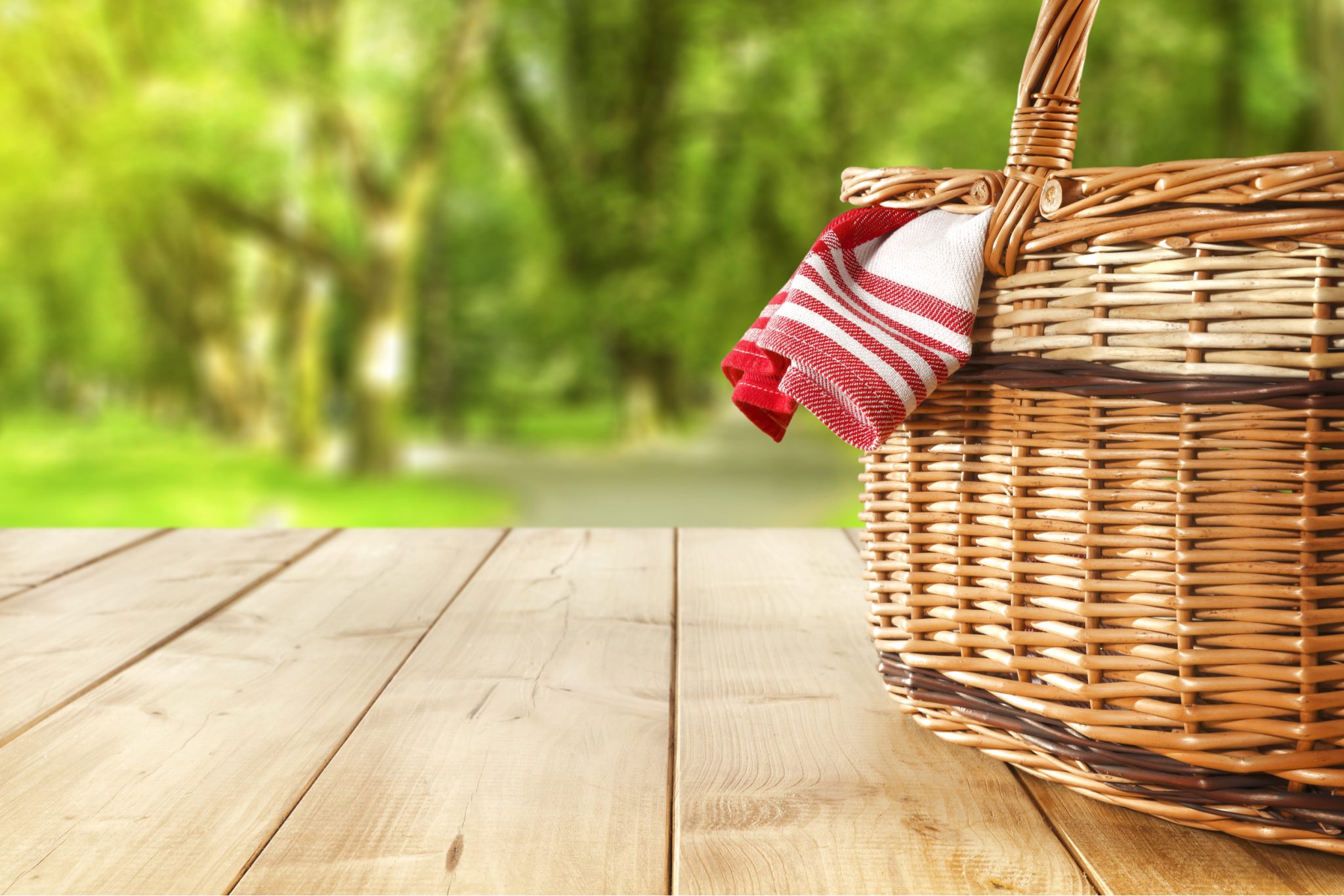 Of course, you also need a good receptacle to carry these essentials, plus your food, beverages, and any activities, such as cards or books, that you would like to bring with you. For some, an old-school picnic basket is the only way to go; for others, an insulated backpack might be more convenient. There are lots of options for picnic baskets and picnic backpacks available online.
You might also consider bringing a few throw pillows or cushions to make sitting or reclining on the ground more comfortable.
How to Pack a Picnic Basket for Different Occasions
You will, of course, start with some or all of the above-mentioned basics that will come in handy for any picnicking situation. Aside from these essentials, here are some occasion-specific suggestions to help ensure your picnic will be a success.
Picnic with Friends
A casual picnic with friends might include a charcuterie-style spread with meats, cheeses, fruits, nuts, dates, and, if alcohol is to be included, wine. To add to the fun, consider bringing along travel-size board games, a deck of cards, a Frisbee, or other easily portable activities you can do with your friends.

Picnic with Family
A family picnic will need a different menu with options that appeal to a wider age range. For this type of picnic, you might include macaroni and cheese, cheese and crackers, fried chicken, or potato salad. If you are planning on bringing adult beverages for folks of drinking age, consider bringing something fun that can be made in both cocktail and mocktail options, such as lemonade or sangria. For dessert, opt for cookies or brownies – something without frosting and easy to clean off of little hands.
In order for the adults to have a chance to chat, read, or just relax, you will need to keep the kids busy, so bring along some of their favorite activities. This might include a puzzle, boardgame, carnival-style games, or easily portable art supplies.
Breakfast Picnic
A morning hike with a stop at a favorite picnic spot calls for portable breakfast foods, such as muffins, fruit, croissants, scones, or bagels and cream cheese. Be sure to bring along thermoses with hot chocolate, coffee, or tea, as well as any sugar, cream, or milks that each of you like in your morning beverages. If you are looking more towards a brunch picnic with adult beverages, mimosas, screwdrivers, or a thermos with Irish coffee might be the right choice. If you go for the Irish coffee, don't forget to bring some whipped cream to add on top after pouring them.

Picnic Date
If you are planning a picnic for an upcoming date, you will want to choose more romantic options and will likely care a bit more about the ambiance. One easy way to make a picnic date more romantic is to bring a vase with flowers or a small succulent to set on the blanket along with the food.
For food options, a charcuterie-style spread with dried fruits, meats, cheeses, nuts, olives, and dates is a solid choice that is easy to put together for the date. However, if you are concerned about how those foods might affect your breath if you and your date decide to get a little closer, you might instead opt for other romantic picnic options, such as chocolate-covered strawberries, baguettes with soft cheeses, fresh fruits with whipped cream, or cucumber-tomato salad.
Non-food items to consider include a book of poetry, a deck of cards, or one of the many question-based games that help you get to know each other better.
Holiday Picnic
Holiday picnics should definitely have a theme, and as many components as possible should adhere to that theme. For example, a 4th of July picnic requires red, white, and blue napkins and plates, and might include foods like hotdogs, potato salad, watermelon, or fried chicken.
A Thanksgiving picnic would do best with napkins and plates in fall colors and foods that are at least reminiscent of your traditional Thanksgiving meal. This means that for most families a Thanksgiving picnic might include sliced turkey, stuffing, cranberry sauce, green bean casserole, and pumpkin pie.
For a Christmas picnic, consider eggnog for the adults or mulled cider that everyone can enjoy. Food options might include ham, stuffing, potato salad, dinner rolls, green beans, and bread pudding. As a festive touch, place a candy cane on each plate and set a few unbreakable Christmas ornaments around the blanket.