Garden Tools Guide: A List Of The Best Gardening Tools To Own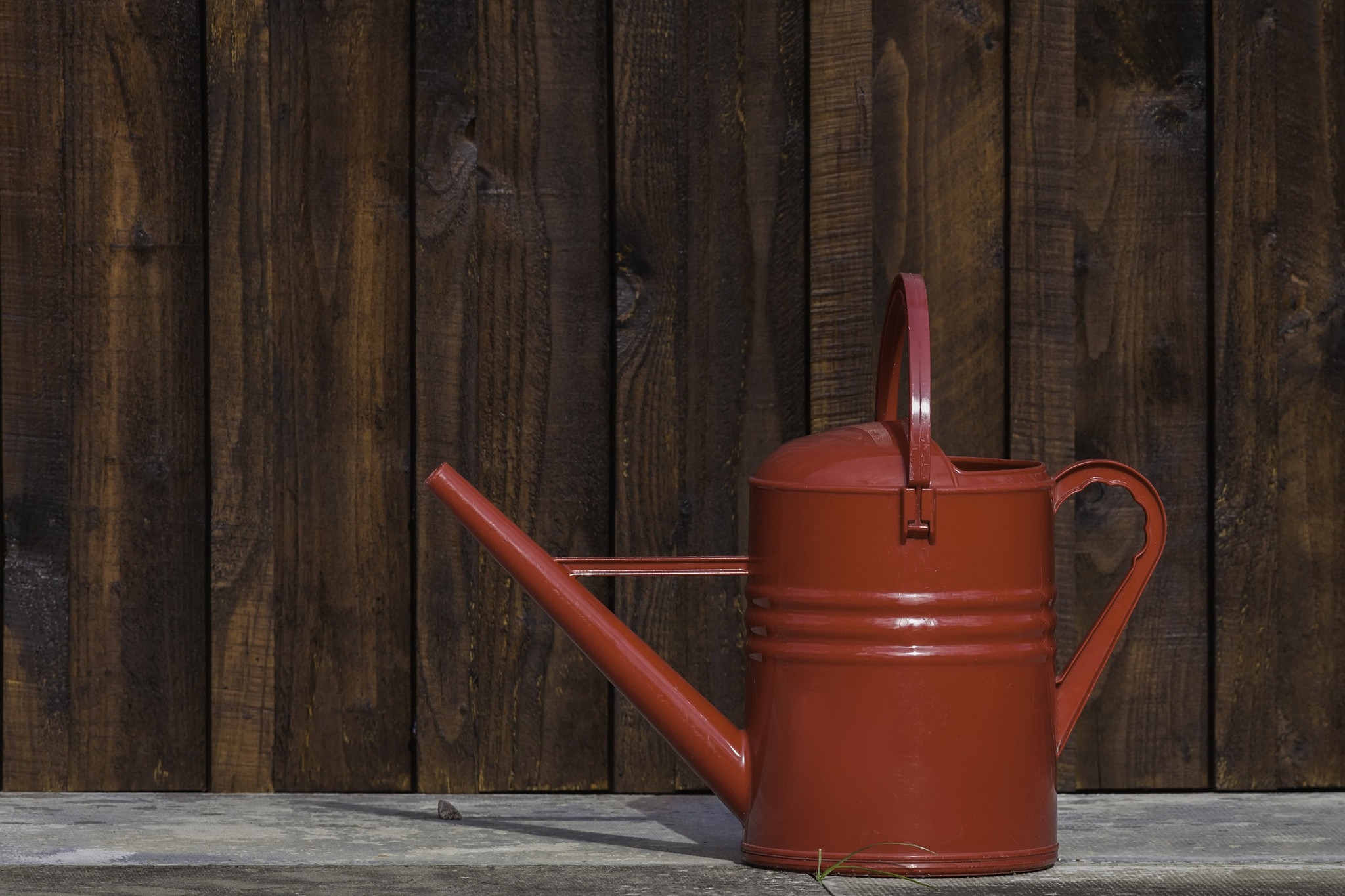 They're shiny, sometimes fancy and promise to eliminate all gardening woes. Gardening tools can be as easy to collect as the latest tech gadgets. They can also similarly fall by the wayside and suffer from lack of use because things sometimes are too good to be true and gardeners default back to the basics.
With that in mind, let's talk about gardening tools that you really need to maintain your garden. Whether you choose to splurge on others is up to you.
Scissors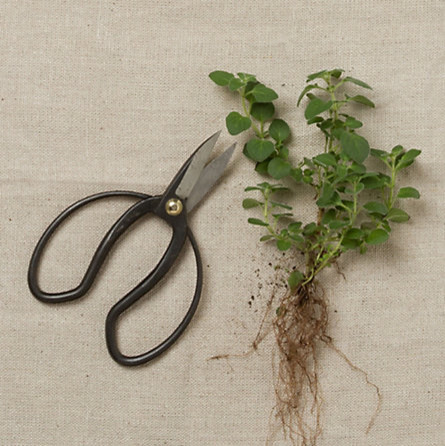 Believe it or not, a pair of stainless steel or rustproof scissors can do wonders in the garden. They're easy to grab—because you likely already have them in the house—for deadheading flowers, cutting herbs, pruning small plants and then some.
However, garden scissors tend to be ever so slightly sharper so I tend to use these for clean cuts on the stems of flowers I take from the garden to place in vases around the house (clean cuts enable the flowers to wick water better and last longer).
At any rate, scissors tend to be easier to use than small garden pruners which tend to perform the same tasks.
Loop Hoe
Weeds be gone! A loop hoe is basically an open metal loop at the end of a wooden handle (similar to a broom handle). There are short versions, but save your back and get the long-handled version which can easily be used while standing up.
Loop hoes dig up weeds by the roots in one swift motion. It's great for large areas and planters where a quick swipe won't bother nearby plants. Swipe, swipe, swipe and then pick-up the weed debris by hand or with a shovel to toss in a bin. It's that easy.
Lightweight Bucket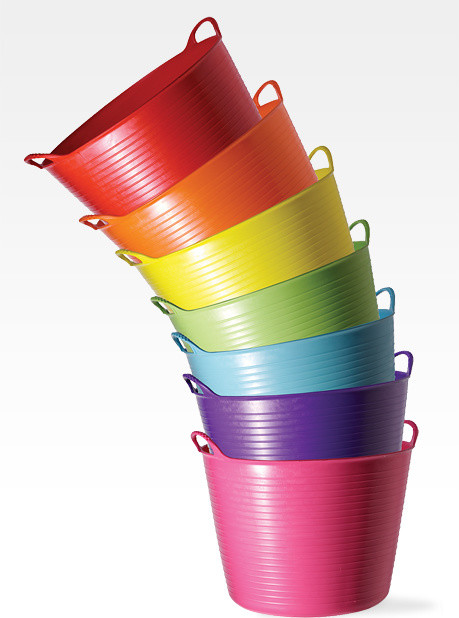 Find a good lightweight gardening bucket to take with you around the yard as you prune, weed, and pick up fallen leaves. The Tubtrugs pictured above fit the bill and are flexible enough to carry both handles with one hand when not completely full of stuff. Some versions are made from recycled materials but no versions clank against concrete sidewalks like metal or hard plastics do. Plus, these don't rust and are easy to rinse out.
Watering Can
While metal buckets are a bit clanky, heavy and somewhat undesirable, metal watering cans seem to hold together much better than plastic versions which crack and often to fall to pieces. Watering cans are necessary for transporting small quantities of water to newly-planted or thirsty plants when a hose would be too cumbersome or deliver too much water. They are also useful for rinsing away spills on concrete paver patios and other hardscapes.
Hand Pruners
For the branches and thicker stems a pair of scissors can't handle, garden hand pruners are necessary. Bypass pruners are the most common as they work like a pair of scissors with blades that pass each other during a cut. They also feature a curved blade and usually lock together when not in use.
Of course, hand pruners come in different sizes—some can be used with one hand while others that cut hedges and bigger plants require two. Which you buy depends on necessary tasks. It may be that scissors can handle thinner cuts while the two-handed pruning shears keep larger plants maintained.
Shovel

A good shovel is necessary for the times a plant catches your eye at the local nursery and you need to dig a quick hole for it. If it's a gallon plant, you could probably dig with a small spade but anything larger requires a bigger shovel. As you can imagine, shovels come in all shapes and sizes. A standard, all-purpose shovel is a good call for those who need to toss leaf piles into a bucket and dig holes for large plants every once in a while.
However, trench or sharp shooter shovels with skinnier blades are most efficient if the shovel's only purpose is to dig holes for trenches or plants. These narrow blades make it easier to pierce through tough dirt without also digging up nearby plants.
Gloves
As tempting as disposable gloves may be for dirty gardening tasks, try to keep a reusable pair on hand. It's better for the environment and they do a better job of protecting hands. The choice for basic garden tasks is usually cloth with some sort of rubber reinforcements on the fingers for grip and more resistance to rocks, thorns and things one might encounter while digging and handling plants. Look for ones that are machine washable and store them in places where you don't have to worry about critters crawling into the finger holes (a nightmare of mine).
If gardening involves lifting wood piles and heartier tasks, consider cowhide or pigskin gloves.
Hose and Shut-Off Nozzle
A hose is necessary for watering hard-to-reach spots when irrigation isn't enough, to clean large spills on patios and even bathe animals. With the California drought still in full force, homeowners must regulate flow by using a shut-off nozzle on hoses. The nozzles prevent water from flowing when it's not needed and regulate pressure. High pressure shoots water into far flung spots while other settings create a gentle rain-like flow for careful watering of container plants.
Gardening Knife

The Hori-Hori gardening knife is an age-old Japanese tool used for carefully excavating weeds and delicate garden tasks that require a small tool. The blade is sharp and serrated so it can function as a small saw, too. Careful use is required but these knives are expert at cutting through roots and difficult soil.
Hand Trowel
A hand trowel is a small handheld shovel that is perfect for digging small holes for seeds and lifting the dirt away. It's a must-have, especially when gardening with kids as it's a tool they can easily and safely maneuver.
Your turn…
What is your go-to gardening tool?
Photo credit: top, Flickr/aldenchadwick