BBQ Tools Every Grill Master Should Have
Every backyard grill master needs some basic BBQ tools and accessories that will allow you to cook a variety of foods outdoors. If your budget allows, hopefully, this will all be housed in an outdoor kitchen where you will have the convenience of a sink and refrigerator nearby, plus the added bonus of being able to grill in the shade during the hot summer months.
But, even if your built-in barbecue grill or outdoor kitchen cannot happen until sometime in the future, you can take your grilling to the next level and significantly up your grilling game by adding a variety of tools that will allow you to cook just about anything right on your grill.
So, if you are looking for gifts for grill masters or are setting up your outdoor kitchen, check out this list of 33 BBQ tools and accessories you should definitely consider.
1. The Basics
Everyone from seasoned grill masters to folks who just bought their first grill needs some basic BBQ tools. This includes a spatula, tongs, meat fork, and knife. Now, you probably already have these items in your indoor kitchen, but it is best to invest in a good set designed specifically for use with grills. BBQ tools have longer handles that make them safer to use in grilling situations. Plus, having a set near your grill and ready to go is far more convenient.
You will also need to have somewhere to store them when not in use. Many sets come with a storage case, but, if yours does not, you can always store them on hooks or in a drawer in your outdoor kitchen.
2. Basting Brush and Pot
Once you have your basic tools, it is time to start adding specialty products to up your grilling game. A basting pot and brush should definitely be on the short list, since basting is an essential part of flavoring your grilled meats and vegetables. A cast iron sauce pot is the perfect size for basting and can be used to keep sauces warm as you grill.
3. Grilling Thermometer
If you grill meats, a thermometer is essential. This will help you perfect your skills of knowing when your meats are cooked to perfection, but, even more importantly, a thermometer is necessary to make sure the interior has reached a temperature that makes the meat safe to eat. You can go low-tech or high-tech on this one, since there are lots of options available, including analog, digital, wireless, and Bluetooth meat thermometers. You can even get a meat fork with a thermometer if you want to combine these two tools and have one less thing to store in your outdoor kitchen.
4. Roasting Forks or Skewers
If you plan on roasting hotdogs or marshmallows, you will need roasting forks or long skewers. These simple BBQ tools are also great for letting everyone get in on the fun, since your guests can roast their own hotdogs without having to get too close to the fire.
5. Grill Light
Ideally, you will have task lighting in your outdoor kitchen that will illuminate your grilling and prep areas. If not, you will need to invest in a grill light to make sure there is adequate light for you to safely prepare meals over open flames.
6. Prep Trays
You can use baking sheets or platters as prep trays, but it is nice to have some dedicated trays that are only used for grilling. Prep trays allow you to easily carry foods between your indoor kitchen and your outdoor kitchen and also allow you to baste and marinade on a surface dedicated solely for that purpose. If you plan on carrying raw meats outside and cooked meats inside, make sure to wash your trays while the meat is cooking, or have two sets of trays to help avoid contamination.
7. Cutting Board
Having a separate cutting board for grilling is particularly important if you grill meats. Again, if you plan on cutting raw meats and cooked meats, make sure you have two cutting boards or that you sanitize your cutting board after using it to prepare uncooked meat.
8. Grilling and Roasting Racks
Grilling racks and chicken roasting racks save space on your grill and make cooking more convenient. Depending on what you usually cook in your outdoor kitchen, you can purchase a rib rack, bacon rack, chicken wing rack, or even a jalapeno popper rack that allows you to grill multiple poppers at once without worrying about the ingredients falling out.
9. Specialty Spatulas
The types of food you grill and the surfaces you grill on will determine which specialty spatulas you need. For example, if you grill fish, you will need a fish spatula. If you grill on a griddle or flat-top grill, you will need a flat griddle spatula to make grilling much easier.
10. Cast Iron Griddle
While we are on the subject of griddles, you should probably add this to your shopping list. If you do not have a flat-top grill as part of your built-in barbecue or outdoor kitchen, a portable, reversible griddle will significantly expand your outdoor cooking options.
11. Grill Mats
Another option for expanding what you can cook on your grill is a grill mat. These simple, easy-to-clean mats make it possible to cook eggs, vegetables, fish, shrimp, mushrooms, and other small or delicate foods on your barbecue grill.
12. Smoker Box
If you aren't quite ready to buy a smoker, or just don't have space for one, you can transform your grill into a smoker with a smoker box. Simply add your wood chips to the smoker box and place the box inside your grill (following the instructions that come with the smoker box) to use your grill as a smoker and add amazing flavors to your meats and vegetables.
13. Wood Chips for Smoking
If you have a smoker or a smoker box, you need aromatic wood chips to create the smoke to flavor the food. Not just any wood chips will do; make sure you purchase wood chips specifically for smoking. Try various options, such as apple, hickory or mesquite to find your favorites.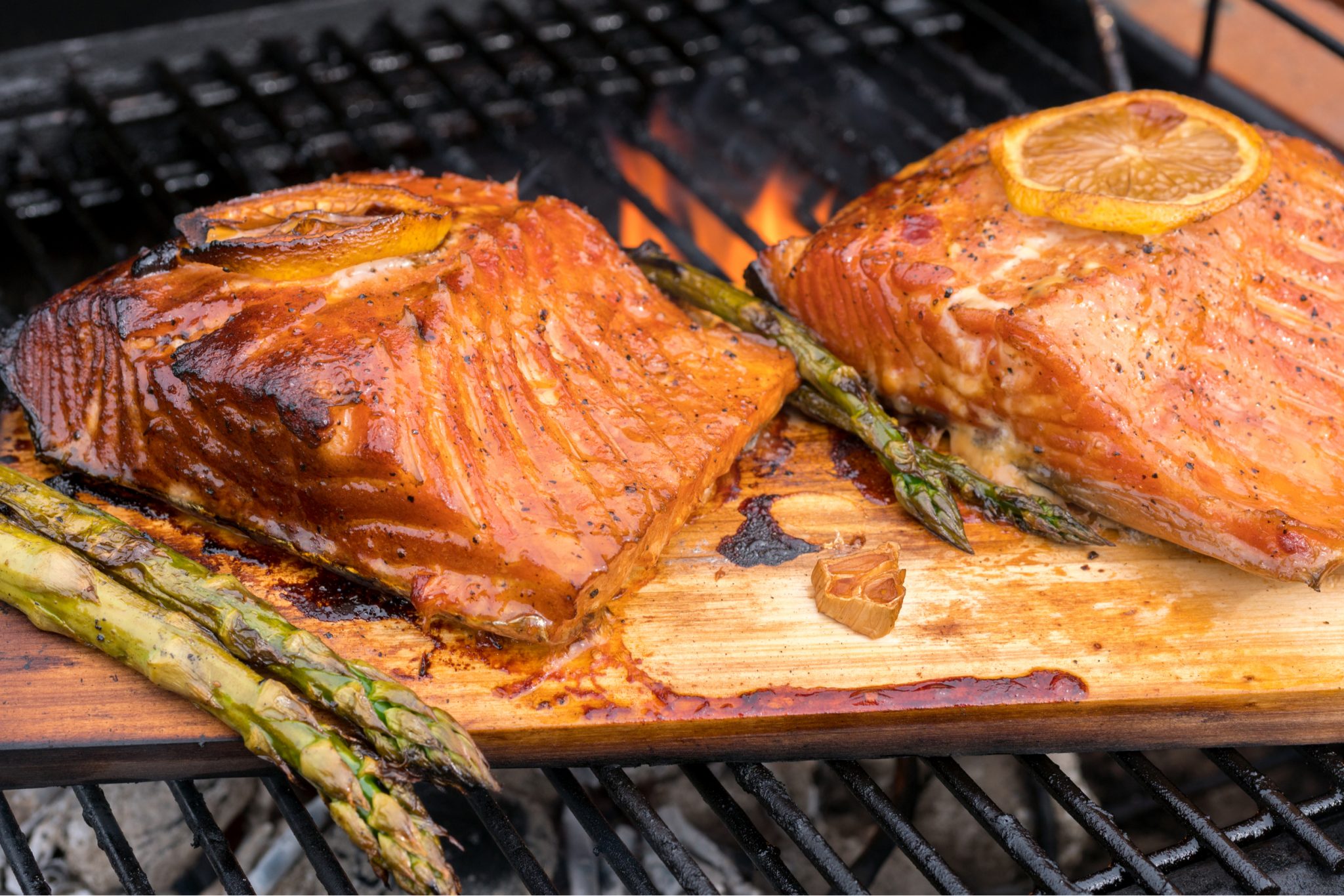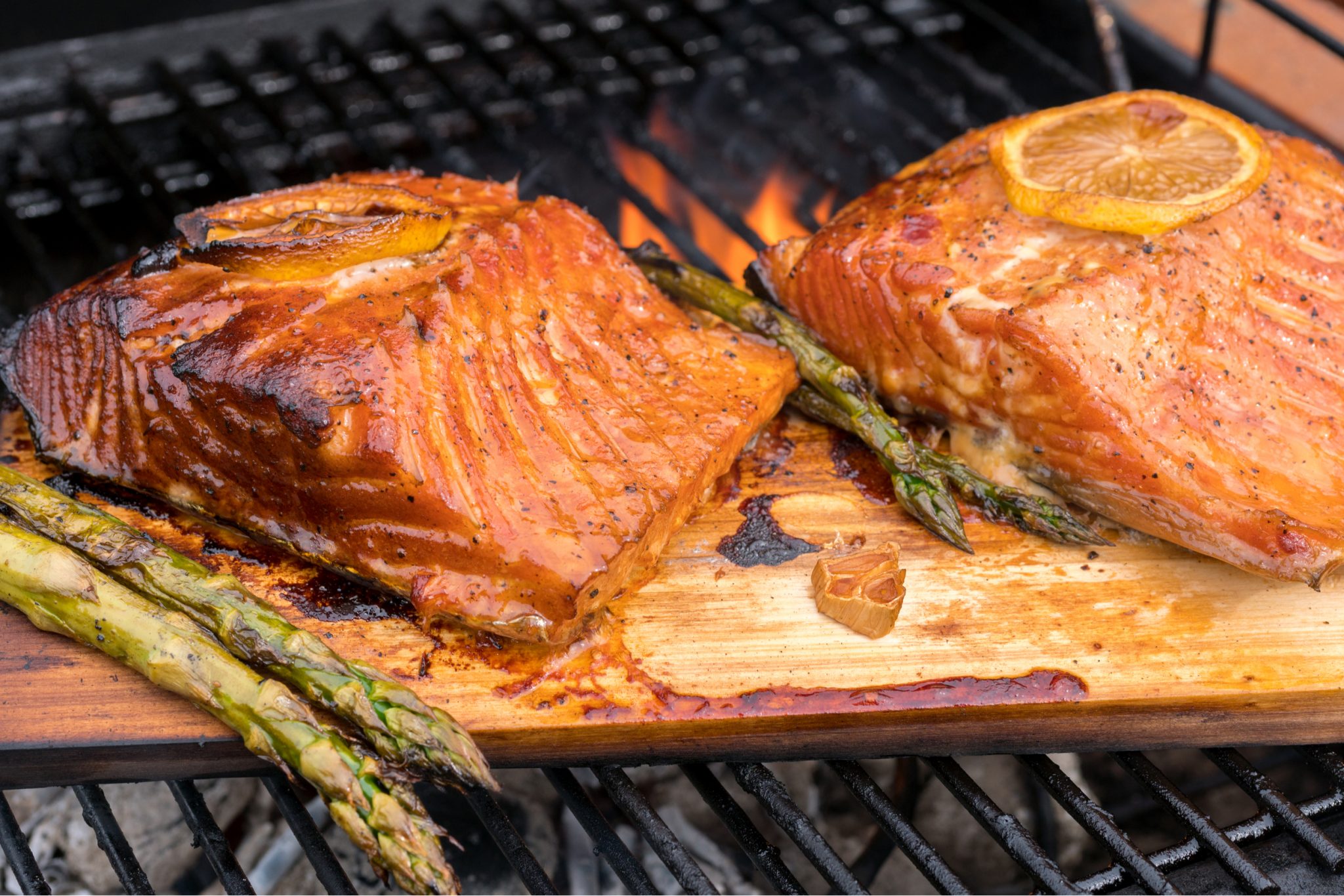 14. Grilling Planks
Plank grilling is a type of grilling that involves cooking your food on a wood plank placed over the heat source in your grill to give your meats or vegetables a smoked flavor without using a smoker or wood chips. Different woods give different flavors, so do a little research to see which is best for the type of food you plan to cook on it. Options include maple, hickory, apple, cedar, alder, pecan, cherry, beechnut, and mesquite.
15. Fish Grilling Baskets
Grilling fish can be a bit tricky, particularly when it comes to flipping it and, in some cases, making sure it does not fall apart during the cooking process. Fish grilling baskets make it much easier to flip your fish and grill it to perfection.
16. Vegetable Grilling Baskets
Grilling baskets help keep your grill clean and make it easier to cook small or delicate items, such as vegetables. Alternatively, you could also use mesh grilling bags for foods like shrimp or chopped vegetables. When buying vegetable baskets, be sure to also pick up a corn basket, which is specifically designed to perfectly hold ears of corn for grilling.
17. Kabob Racks or Baskets
If you like using skewers for your kabobs, consider investing in a kabob grilling rack that will hold the skewers and make grilling kabobs far more convenient. If you want to enjoy kabobs without having to take the time to place the meats and vegetables on skewers, you can use kabob baskets instead.
18. Himalayan Salt Plates
Salt plates can be slowly heated on your grill, and then used to impart a salty flavor in your meats and vegetables by grilling them on top of the plates. Alternatively, you can place your salt plates in the freezer to cool them and use them as serving trays. Either way, these good-looking BBQ tools will make you look like a grill master, even if you are new to grilling.
19. Melting Dome
This is one of those BBQ tools that will impress your guests, particularly if you have other grill masters over for a barbecue. Most folks do not have this particular accessory, but you can bet your friends will have one soon after they see yours. Melting domes are easy to use and are perfect for ensuring melted, cheesy goodness on your burgers.
20. Meat Tenderizer
Avoid serving your guests tough steaks by adding a meat tenderizer to your collection of BBQ accessories. By pounding the meat with a tenderizer, you can break up the connective tissues and collagen for a tender feast. Using a meat tenderizer will also flatten the steaks, which means less time on the grill. This, in turn, means that your steaks will be juicier.
21. Meat Injector
To really get the flavors of your marinade deep into your meat, you need to inject it directly into the flesh with a meat injector. You may already have this handy tool for infusing flavor into roasts or holiday turkeys, so you could use the one you have, or you can purchase a separate injector to keep in your outdoor kitchen.
22. Burger Press
A burger press allows you to make perfectly round burger patties that are all the same size. So, if consistency is important to you, a burger press is a must-have BBQ tool for your grilling setup. You can purchase a conventional press that makes simple patties or a stuffed burger press that makes it easy to create flavor-filled masterpieces to serve at your next gathering.
23. Meat Grinder
If you really want to run with the big dogs when it comes to mastering the art of grilling, you are going to need a meat grinder. Any true grill master worth their salt grinds their own meat – or combination of meats – to make their signature burgers to serve to their guests.
24. Cast Iron Pots and Pans
If you plan on cooking full meals on your grill, you will need at least one cast iron skillet and a Dutch oven or other large pot for cooking foods like beans or chili. You will likely expand your cast iron inventory quickly, since these durable, even-heating options are great for grilling. As you add to your collection, you might consider a cornbread pan and a cast iron oyster grilling pan, just in case you want to show off your grill master skills at your next gathering.
25. Grill Press
Another cast iron piece you should consider is a grill press. Grill presses are great for keeping your bacon from curling while cooking it on a griddle or grill mat. They are also great for pressing some of the fat out of meats while they are cooking. Of course, this will make them not quite as juicy, but pressing out some of the fat does make your meal a bit healthier.
26. Meat Shredding Claws
Make pulled pork and shredded chicken far easier to prepare by investing in a good pair of meat shredding claws.

27. Pizza Stone and Pizza Paddle
If your outdoor kitchen is equipped with a pizza oven, you probably already have these items in your BBQ tools collection. But, if not, you can make it easier to make pizza and bake breads on your grill by adding a pizza stone and pizza paddle to your supplies.
28. Stirring Paddle
If you plan on making big pots of chili, beans or other foods that require stirring on your grill, then you will need a stirring paddle. This long-handled stirrer will make stirring your beans much easier while cooking them over an open flame.
29. Steak Branding Iron
Add a personal touch to your steaks by branding them before serving them to your guests. You can purchase a simple branding iron with the first letter of your last name, or you can have a customized branding iron made just for you to show off your mastery of the grill.
30. Propane Tank Level Indicator
If you are cooking with propane, you definitely do not want to run out in the middle of your gathering. A propane tank level indicator is a simple, inexpensive BBQ accessory that can help ensure that never happens.
31. Apron and Insulated Gloves
There are plenty of grilling aprons that say things like "Grill Master" or "Kiss the Cook," but aprons serve important purposes that go beyond slogans and sayings. BBQ aprons help keep your clothes clean, of course, but a well-made apron crafted from leather or a sturdy material can also make grilling safer by protecting you from splashing oil, boiling water and hot foods. Look for a flame-retardant apron for even more protection.
Even if you choose not to wear a grilling apron while grilling, you will need a pair of insulated gloves to protect your hands. It is far too easy to grab a hot grilling tool or the handle of a cast iron pan when you are in the middle of grilling a feast for your family. So, play it safe by always using proper protective gear, including insulated gloves.
32. Grill Cleaning Brush and Scraper
Some BBQ accessories are non-negotiable. This definitely includes a grill cleaning brush and a scraper. You can successfully grill entire meals without most of the items on this list, but you cannot properly care for your grill without a brush and scraper to keep it clean.
33. Grill Cover
And, finally, you are definitely going to want a grill cover. A true grill master takes care of their tools, and there is no tool more important than your barbecue grill. Protect it from the elements and keep it cleaner between uses by investing in a well-fitting grill cover. Caring for your equipment is an important part of making sure it is safe to use, functioning properly and ready to go when you are ready to grill.