Backyard Camping Ideas for a Fun Staycation
If you are feeling a bit cooped up these days but cannot get away for a camping trip to the mountains or the beach, now might be a good time to plan a staycation that will get you out of the house and allow you to enjoy some of the best aspects of a camping trip. Sleeping under the stars, spending time with your partner or family, roasting hotdogs and marshmallows, and telling stories around the campfire can all happen right in your backyard.
Since you will be only a short walk from your house, backyard camping takes little preparation and comes with the comforts and conveniences of home, such as real bathrooms and being able to run inside if you forgot the graham crackers for the s'mores.
For some, backyard camping might entail sleeping on cozy patio furniture after grilling a fantastic meal in your outdoor kitchen. Those who want more of an authentic camping experience can pitch a tent or roll out sleeping bags on the lawn, use flashlights to make their way through the dark, and cook on a camp stove or a Dutch oven on a tripod.
However you decide to camp, backyard camping is a fun, inexpensive way to get out of the house and experience something different when you are not able to venture far from home.
Here are seven fun ideas to help you plan your next backyard camping staycation.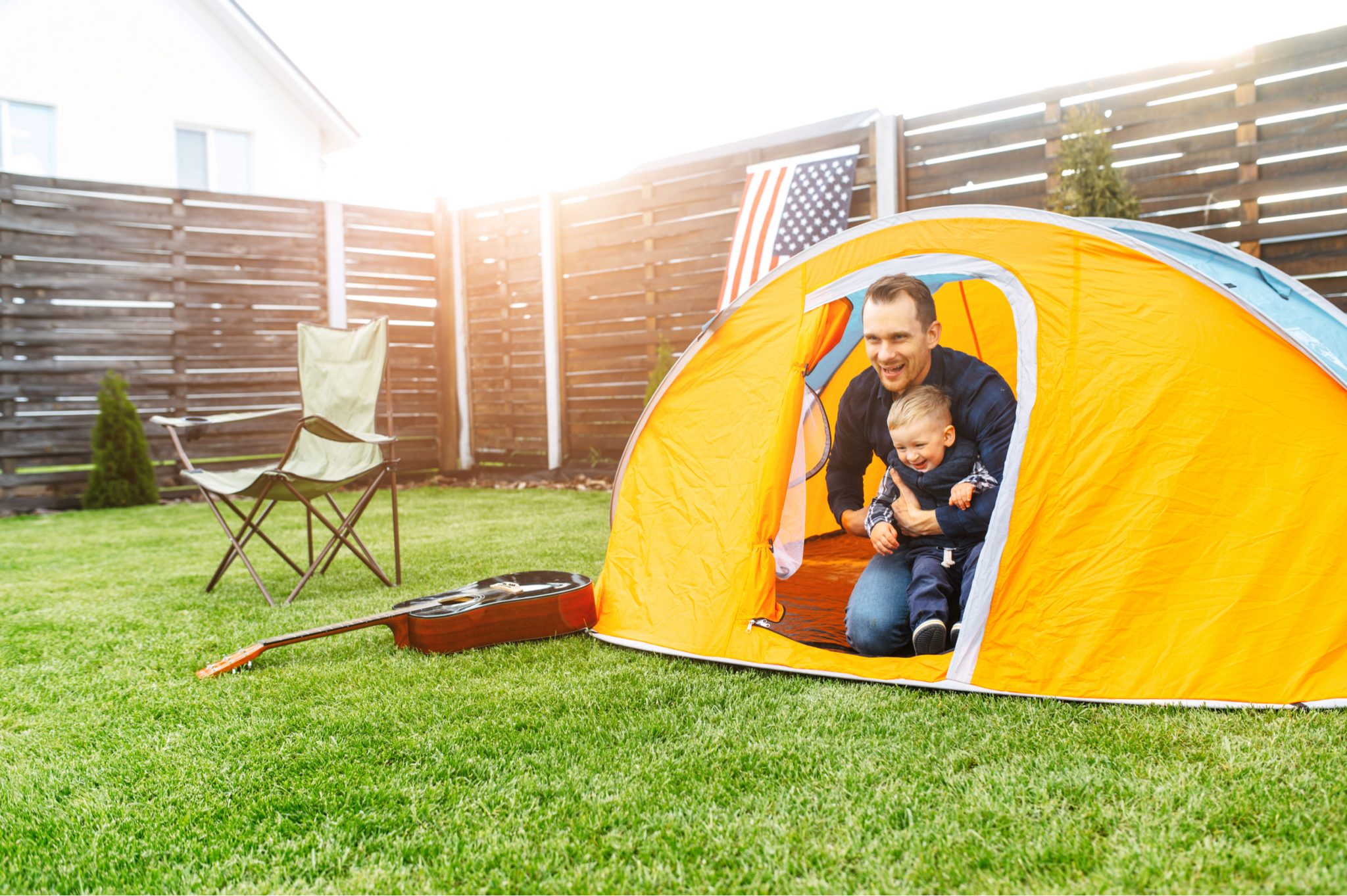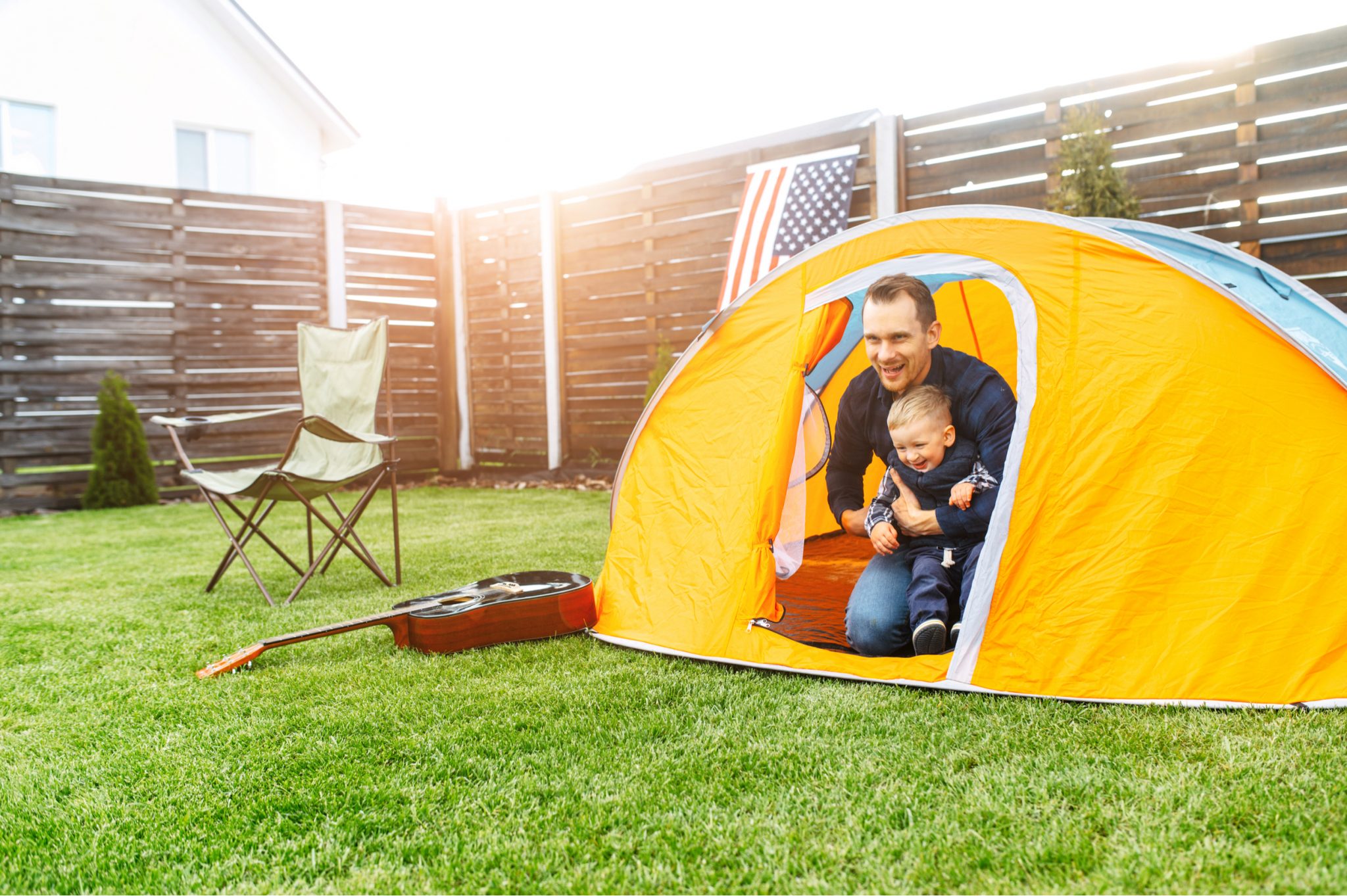 Bird watching
Bird watching is a fun, simple, and inexpensive activity for backyard camping. It is a great way to get your kids interested in nature and for both you and your kids to learn more about the birds that frequent your backyard. Be sure to bring out some binoculars to get a closer look and to help with identification.
To assist in identifying your backyard birds, download a bird watching app or order a bird-watching book online.
If you think bird watching might become a regular interest, consider creating a bird-friendly yard by adding a birdhouse, birdbath, or bird feeder.
Roasting hotdogs
If you have an outdoor kitchen or a barbecue grill, you can easily cook camping favorites, such as hamburgers, hotdogs, and beans. But to make it feel a bit more like camping, you might want to roast hotdogs over your fire pit instead. Bring out the buns and condiments and maybe a couple of pre-made salads, and let each family member cook and construct their own hotdogs. Of course, you may have to help the little ones to make sure they safely cook their hotdogs over the fire.
Making s'mores
Is it even camping if you don't make s'mores? We are pretty sure most folks would say no. So, make sure you stock up on graham crackers, chocolate bars, and marshmallows before heading to your backyard staycation.
If you are planning on roasting marshmallows over a fire pit, you will also need long skewers, sticks, or forks so that your kids can roast their marshmallows with their hands a safe distance from the fire.
Switch things up by opting for peanut butter cups instead of chocolate bars or chocolate chip cookies instead of graham crackers or by trying out other summer s'mores recipes.
Watching movies
Grab some blankets and popcorn, curl up under the stars, and watch your family's favorite movies. Backyard camping means that you do not have to give up modern conveniences – like electricity – so this is one type of camping trip that can easily include watching movies in your very own DIY backyard movie theater. There are lots of options available, including pull-down screens that can be installed on your patio and inflatable screens you can use on your lawn.
If you have comfy patio furniture, that will work perfectly for outdoor movies. If not, bring out the beach chairs or camping chairs to sit around the fire pit and enjoy movie night.

Playing board games and card games
Whether you are backyard camping with your partner, your parents, or three kids under the age of five, you can easily find board games everyone will enjoy. For folks who do not have many games on hand, it is easy to stock up on inexpensive board games on sites like Amazon. Quick shipping means that you can order the games at the beginning of the week and have them ready to go for your backyard staycation that weekend. Grab a pack of playing cards on your way outside; an easy game like go fish is a fun way to keep kids entertained.
Telling stories around the campfire
Camping is a bonding activity, and one of the best ways to bond with your family and friends is by telling stories around the campfire or, in this case, the fire pit. They might be old stories from your college days, your kids telling the story of their favorite birthday party, or ghost stories that are just the right level of scary for those gathered around the fire.
Telling stories is a great way to connect and to learn more about each other, so take advantage of this bonding opportunity while camping in your backyard.
Stargazing
Once the sun goes down and the fire begins to fade, turn your attention to the skies. You can lie on your lawn or stretch out on lounge chairs to gaze at the stars. You can either simply enjoy the view or look for shapes by imagining lines between the stars, or you can download an app to help you identify stars, planets, and constellations.
Backyard Camping: Final Thoughts
The most important things are to have fun and to make memories. Plan your backyard camping experience around the activities that you and your family love or that might be a great learning experience for all of you.