Landscape Design Ideas to Improve Your Vacation Rental
Improving your landscape design makes your vacation rental more marketable and may even increase the amount of rent you can charge. The key is to enhance curb appeal for that all-important first impression and to focus on attractive, inviting outdoor living areas where your guests will love spending time.
Here are 6 Landscape Design Ideas for Vacation Rentals…
1. Enhance Curb Appeal
First impressions are always important, and this is particularly true when it comes to vacation rentals. The moment your guests arrive at your rental, they will see the front of your home and the front yard. This split-second first impression will help set the tone for their stay, and they will already be deciding whether they are going to love staying there or hate it.
Start by cleaning and decluttering the front yard and porch. Remove any unnecessary items, limit decorations, and trim branches and bushes for a clean appearance. Then, move into upgrading the landscape design with low-maintenance, native plants, updated exterior lights, paving stone walkways, and pops of color. Consider extras, such as a fun color for the front door, upgraded house numbers (that will also make it easier to find), and a unique focal point that can act as a landmark.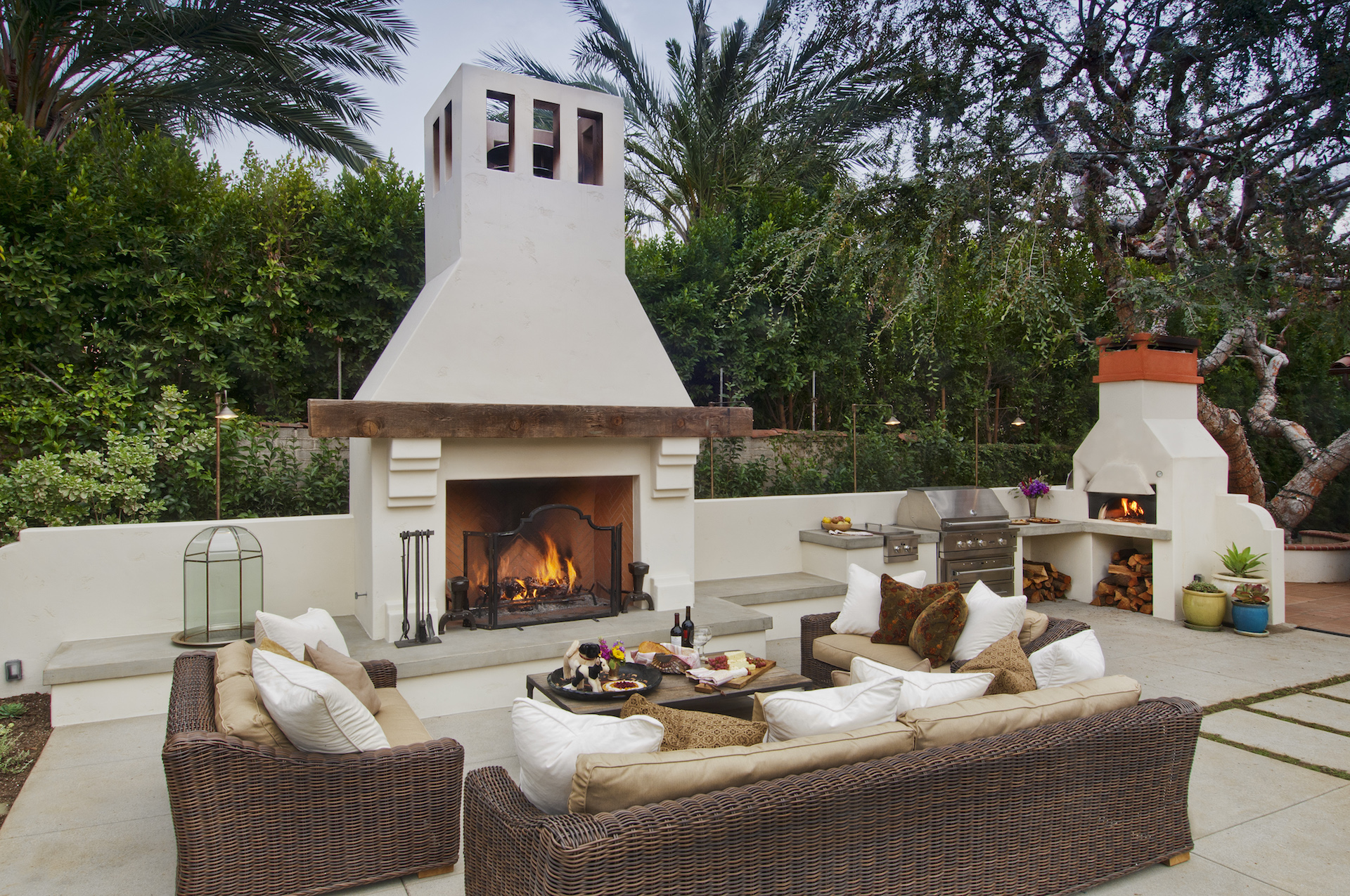 2. Add a Fire Pit or Patio Fireplace
Fire features are a popular trend in landscape design and an easy way to instantly improve your vacation rental. A patio fire pit or outdoor fireplace offers a photo-worthy, cozy spot for guests to gather and enjoy time together while on vacation. A fire pit or fireplace will also set your property apart from others on vacation rental sites.
One of the great things about adding a fire feature is that it fits any budget. From portable fire pits that cost as little as $50 to elaborate fireplaces that cost thousands of dollars, there is surely an option that you can add, regardless of your budget.
3. Add Outdoor Lighting
Landscape lighting beautifies your yard, which is reason enough to include it in your landscape design. But, just as importantly for a vacation rental, it also increases safety and the security of your property. Proper lighting reduces tripping hazards, guides traffic between outdoor living areas and away from your delicate plants, and helps keep your renters from bumping their heads on low-hanging branches.
Remember that short-term renters tend to spend more time outdoors, including later in the evening, since, after all, they are on vacation. This makes well-placed outdoor lighting even more important. In addition to path lights, uplights, downlights, and task lighting, consider hanging string lights in outdoor living areas. This is an easy, affordable way to create an inviting, festive atmosphere and will look great in your marketing photos.
4. Create Selfie Spots and Photographable Scenes
Anything that adds visual interest to your vacation rental is going to make it more marketable and will help to ensure positive reviews from your renters. This might mean trimming shrubs to enhance a great view, accentuating an interesting tree, or adding a noteworthy feature as a focal point. A mural wall, particularly one relevant to the area in which your vacation rental is located, is one way to instantly increase the visual appeal of an outdoor living area.
Consider creating one or more spots that provide backgrounds perfect for selfies, since vacations generally include plenty of these.

5. Add or Improve the Outdoor Kitchen
At a minimum, your vacation rental needs a barbecue grill. If you are just starting out, you may need to start with an inexpensive, portable grill. But as soon as you are able, you should consider upgrading to an outdoor kitchen or, at least, a built-in barbecue grill. Grilling is a quintessential part of vacationing, so you can be sure that your renters will be looking for a vacation rental with a grill. If you have even more amenities to offer, such as a full outdoor kitchen with a refrigerator and sink, that is going to grab the attention of folks scrolling through rental listings.
If you already have an outdoor kitchen, consider upgrading it with a wine refrigerator, ice maker, or pizza oven.
6. Choose Low-Maintenance Landscaping Options
As you consider the above vacation rental landscape design ideas, remember that low-maintenance landscaping is best. If you maintain your rental on your own, this will save you time and will help keep costs down. If you use a landscaping crew, it will save you money on maintenance costs.
This might mean using native plants that will thrive in your area with little care and minimal water, expanding hardscapes to offer more outdoor living space that requires little maintenance, or replacing a natural grass lawn with artificial grass to ensure a lush, green lawn any month of the year with no mowing, aerating, edging, or fertilizing.
For more on low-maintenance landscaping for vacation rentals, check out Low-Maintenance Landscape Design for Vacation Homes or Rental Properties.