How to Make More Money from Vacation Rentals with Improved Landscaping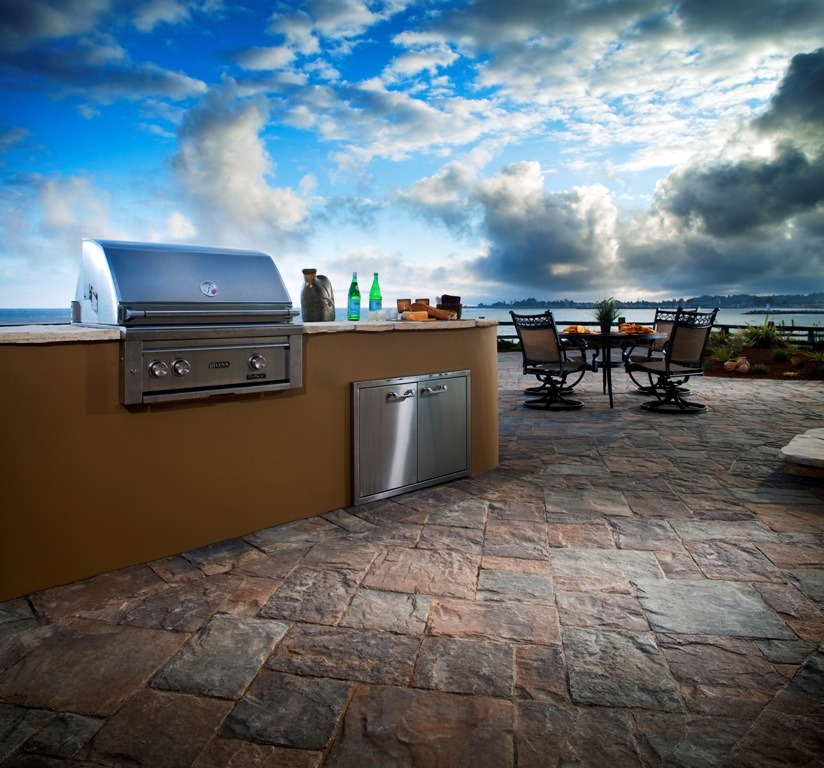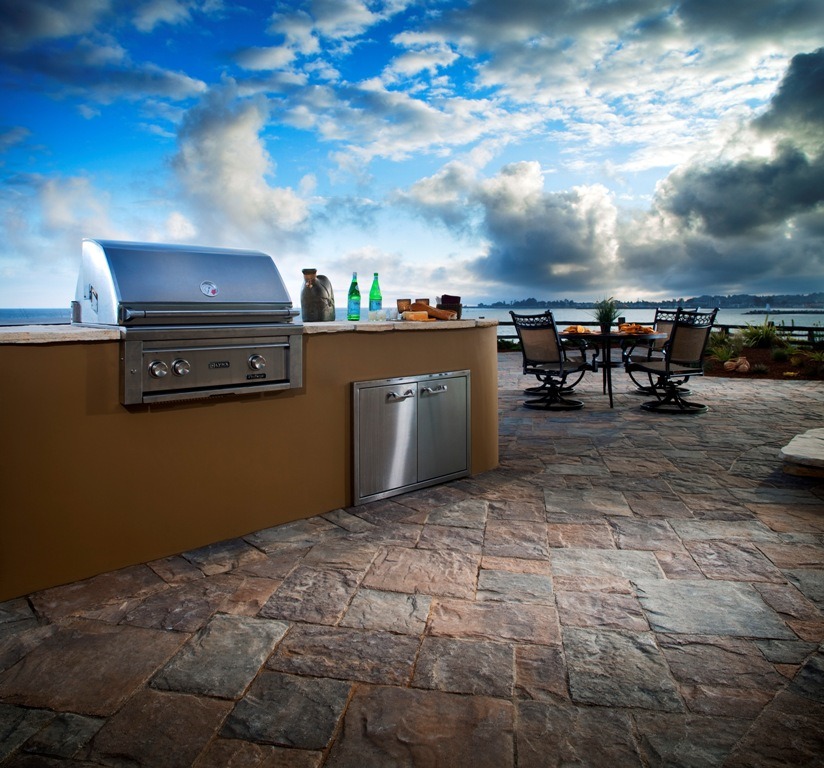 The point of owning rentals is to increase your overall income with these income-producing properties.
Some are long-term investments that might not show a profit until some point in the future; some allow you to immediately be in the black on your investment and begin to see a return right away.
When it comes to vacation rentals, additional income may not be the only goal.
Some families invest in these properties in order to have a second home in an area where they enjoy vacationing so that they can use the home a few weeks each year and rent it out when it is not being used by family or friends.
Property owners that use the home periodically are more likely to make improvements that increase the property value, make the home better suit their needs, or provide more comfortable accommodations during their vacations.
Vacation rental owners with properties that are solely used as short-term rentals are usually less likely to make significant improvements, which generally helps them keep their profits up and expenses down.
However, there are some instances where home improvements can increase the overall value of your income properties, as well as the rental rates and their general appeal to potential renters.
With both long- and short-term rentals, landlords must always struggle to maintain the balance between property upkeep and improvements and keeping costs low enough to continue profiting from their investment.
Because of this, any improvements made to the property should help keep the property profitable, such as by improving safety, enhancing curb appeal or adding functionality that can increase the rent.
Vacation Rental Landscaping: Increasing Income by Improving Safety
Improving your profits is about more than increasing the amount of money you are bringing in; it is also about limiting the money you pay out.
One way to limit your costs is to make your property as safe as possible to avoid potential lawsuits (which will also make it more marketable).
Here are 10 exterior improvements that can make your property safer:
1. Repair or replace broken concrete and unsafe walkways.
2. Limit tripping hazards by leveling the ground and using low-maintenance ground covers.
3. Replace natural grass lawns with artificial turf to provide level lawn areas to further prevent tripping hazards.
4. Make sure all walkways are well lit with low-cost, low-maintenance solar pathway lights.
5. Install slip-resistant hardscape options, such as paving stones, around water features and in swimming pool areas.
6. Schedule regular yard maintenance to avoid low-hanging branches, debris or bushes crowding walkways.
7. Replace concrete walkways with slip-resistant paving stones.
8. Inspect wood decks regularly for loose railings, rot, sagging and other potential safety issues.
9. Put a lock on your swimming pool or hot tub cover to increase the safety of children staying at your rental.
10. If children frequent your vacation rental, avoid choking hazards, such as chlorine tablets used in pools.
If you are working with a limited budget for making landscaping improvements, safety considerations should always take first priority.
If your budget allows for additional enhancements beyond safety-based improvements, you have the opportunity to potentially increase the value of your property and make it even more appealing to vacationers looking for a private rental.

Increase Vacation Rental Income with Outdoor Living Areas
If you are wondering where to start when it comes to improving curb appeal and make your property more marketable, the best place to begin is with a good cleanup.
There is not much point to putting in a swimming pool or a fantastic outdoor kitchen if fences are in need of repair, the lawn is dead or the weeds are taking over the yard.
So the first step in making improvements to your rental property is to make it safer and more visually appealing by cleaning it up.
Here are six things you can do to clean up your property quickly:
1. Remove all weeds and dead plants.
2. Repair and repaint fences and garden walls.
3. Repair exterior light fixtures and replace light bulbs.
4. Reseed your lawn to fill in dead patches.
5. Repair your automatic sprinkler system or drip irrigation system.
6. Trim trees and prune shrubs and plants as needed.
The second thing on your priority list should be creating an inviting outdoor entertaining area of some sort.
If you have just a small space or a small budget with which to work, you can keep things small and affordable.
A vacation rental featuring a patio set with an umbrella in a gravel patio area with a portable barbecue grill is considerably more desirable than a vacation rental with no outdoor living options at all.
Of course, if you can install higher-end landscaping features, you can make your short-term rental even more appealing to your potential renters.
Before you design an outdoor living area for your rental, here are four things to consider:
1. Your outdoor living areas should complement the house and interior spaces.
If you have kept expenses to a minimum when decorating the inside of the rental, going all out on the outdoor areas will probably not deliver an adequate return.
The maximum rental rate you can achieve depends on both the inside and outside, so unless you plan on upgrading the interior as well, do not go overboard with spectacular outside areas.
At the same time, keep in mind that great outdoor living spaces can make up for lackluster interiors, particularly in areas with good weather where vacationers want to spend as much time as possible outdoors.
So while you should probably not put a $100,000 outdoor kitchen in the backyard of a tiny bungalow with peeling paint and low-end furnishings, you can increase the rental value of that bungalow by installing landscaping features that make the property more appealing overall.

2. Use the area for inspiration.
You want your property to fit in with others in the neighborhood and to provide the look and type of amenities people would expect in that area.
If your rental is near a ski resort, an outdoor fireplace or fire pit is a good choice.
If it is located on the beach, you can be sure your potential renters will be looking for a rental that looks and feels like a beachside retreat.
If your rental is in the country, decorate the inside and outside like a country home to make it the most marketable.
3. Low-maintenance landscaping is essential for short-term rentals.
Lots of durable hardscape, non-living ground covers and automatic irrigation are all things to consider to keep your landscaping as low-maintenance as possible.
If you do not live in the area, you will have to hire a landscape maintenance company to take care of your property.
If you do live in the area, you will either need to maintain the property on your own or hire a professional to take care of it for you.
Therefore, low-maintenance landscaping is a key component in saving time and keeping expenses to a minimum.
Choosing artificial turf instead of natural grass is a great example of how you can achieve the look and feel of lush, green lawn that always looks its best with very little maintenance.
4. You can help the environment and reduce your expenses by installing energy-efficient, low-water landscaping features.
Here are some examples of choices that can help you save money and reduce your rental's impact on the environment:
Choose a propane barbecue grill instead of a charcoal grill.
Install an artificial grass lawn instead of a natural grass lawn.
Install solar-powered path lights.
Plant low-water, native species instead of exotic plants.
Install an automatic irrigation system to save water.
Install solar panels to provide some or all of the energy for the pool, outdoor lighting or entire home.
Use compact fluorescent light bulbs in outdoor light fixtures.
Install a saltwater swimming pool instead of a conventional pool that relies on chemicals.
Built-In Barbecue Grills
Whether your rental is located in the desert, by the beach or in the mountains, most potential renters will be looking for a barbecue grill as one of the amenities.
A portable grill is better than no grill at all, but a built-in barbecue is the type of feature that will impress folks looking for vacation rentals and enhance the first impression of your property.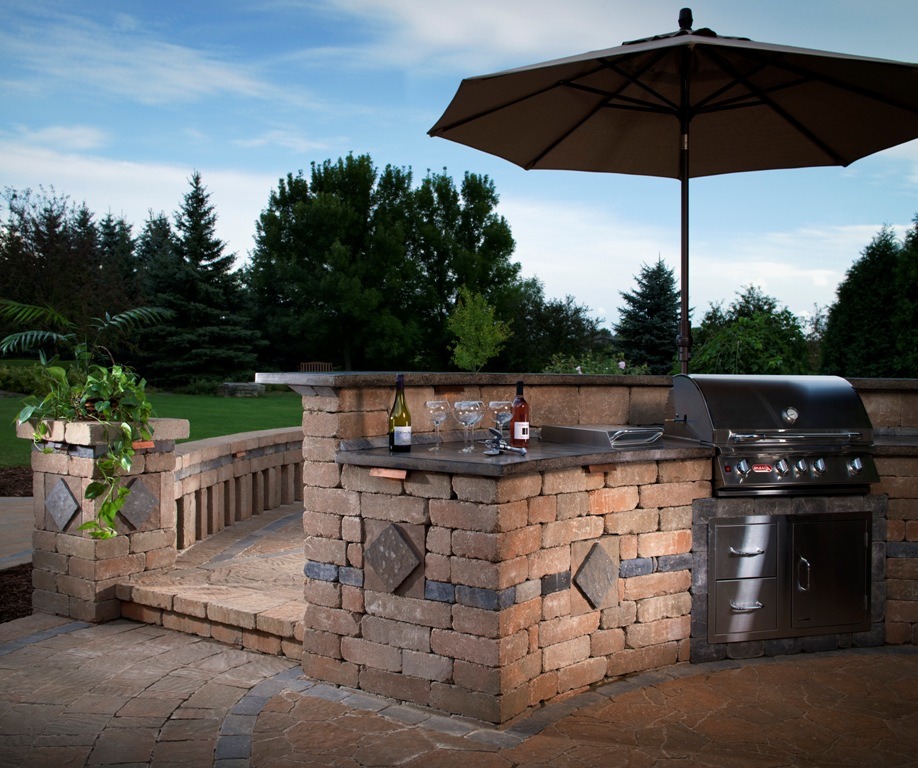 Outdoor Kitchen
Most of us would love to have an outdoor kitchen at our primary residences and would consider ourselves to be quite fortunate to be able to afford a vacation home with such a high-end amenity.
Investing in an outdoor kitchen is not for everyone, but if you have a higher-end rental property, you may want to consider just how much an outdoor kitchen can increase interest and make your property stand out from those of your competitors.
Fire Pits
Everyone loves sitting around a fire pit with friends when on vacation, so this one is practically a no-brainer in terms of potential improvements to consider.
Adding a fire pit will immediately increase interest in your property and is a great step towards maximizing your rental rate.
Making a fire pit part of your property's amenities can cost as little as $50 for a small, portable pit that can be placed anywhere you like, or it can cost several thousand dollars to install an elegant, permanent fire pit somewhere on the property.
The portable options are certainly the least expensive and easiest to add, but keep in mind that your renters can then move the pit anywhere they please – like right next to the house where sparks might start a fire and burn down your investment.
If you want to add a fire pit to your vacation rental, your best bet is to create an affordable, permanent fire pit surrounded by a small paving stone patio that will appeal to renters and keep the fire away from your house.

Outdoor Fireplaces
Patio fireplaces provide a cozy, inviting atmosphere for primary residences and vacation homes.
Installing a decent outdoor fireplace is more of an investment than a fire pit, but if your budget allows for it and you have a nicer vacation property, this is definitely an amenity that will catch the attention of folks sifting through rental listings to find the right one for their vacation.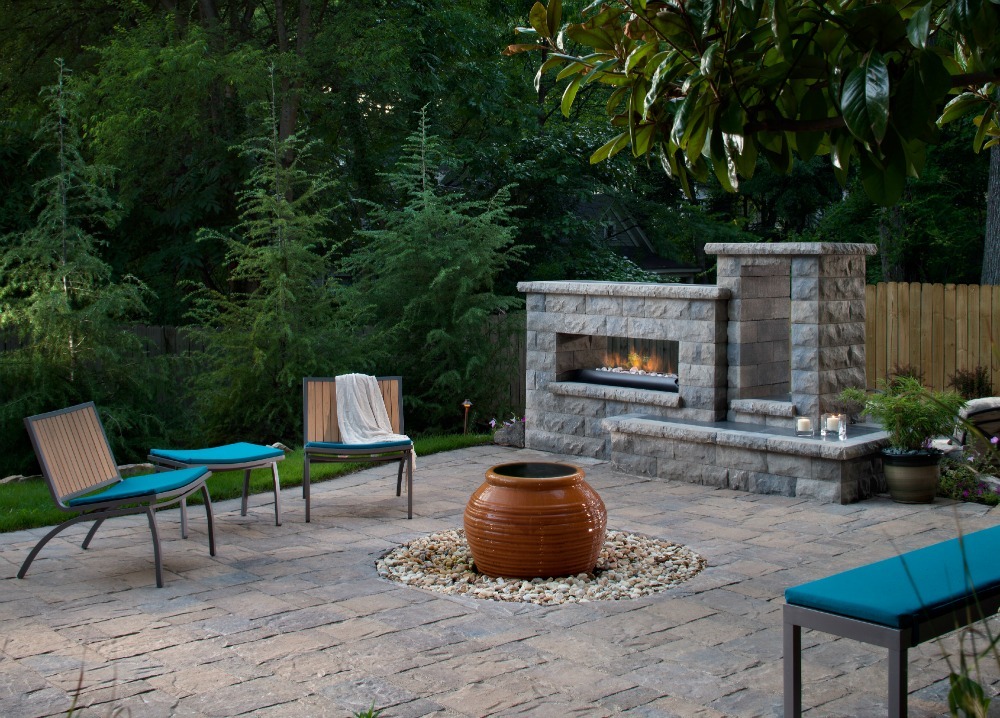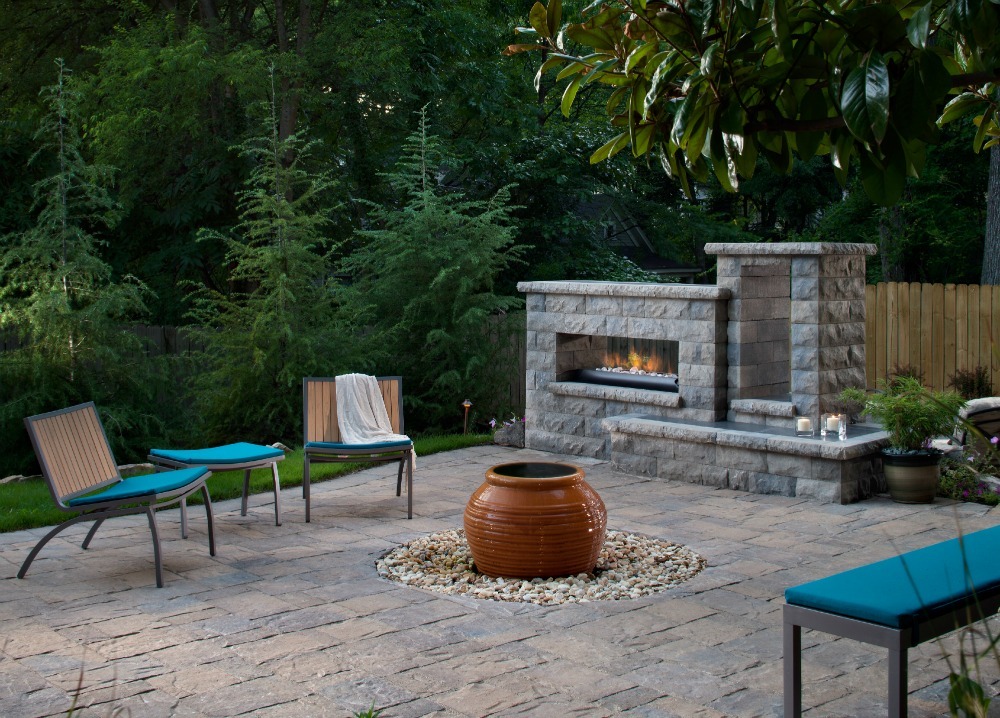 Outdoor Dining Rooms
An outdoor dining room is one of the easiest backyard improvements you can make on a rental property and is also one of the most affordable.
If you have an existing patio, it is even more affordable, since all you really need is attractive patio furniture and a bit of décor.
If you choose to set up an outdoor dining room, you may want to also invest in an outdoor storage chest for the cushions to help you get the most out of your investment and avoid frequent replacement.

Swimming Pools and Spas
Swimming pools are significant investments, and you will want to look into additional insurance if you choose to install one.
It will take a while to see a return on this type of investment, but it will increase the value of your property if you choose to sell it or borrow against it in the future.
If you install a pool or spa, you will need to consider the additional expenses – particularly water and electricity – and it is very important to avoid costly mishaps by installing a slip-resistant patio around the pool or spa.
Paving stones are a durable, attractive, slip-resistant option that can increase the value of your home and will immediately enhance its visual appeal.
Vacation Rental Landscaping: Tips for Determining Your Budget
Improving rental properties is not the same as making improvements on your primary residence.
You only want to improve vacation rentals in a way that will increase their appeal and maximize the rent you can charge without upsetting the balance between income and expenses.
Because of this, it is important to determine a rental improvement budget and stick to it.
You can use this handy paving stone and artificial grass calculator to give you a better idea of how much your project will cost.
You should also keep in mind that property management companies often charge an additional fee on top of their regular rates for managing rental improvement projects.
Therefore, if you will be relying on your management company to oversee the improvements, you will need to add this expense into your budget.