How to Host a Safe and Stylish Outdoor Brunch
If you are hosting an outdoor brunch for friends or family members with whom you are isolating, you do not need to take any special precautions over the precautions you typically use together. However, if you would like to entertain people who are not in your household, there are several recommended protocols to follow in order to keep you and your guests as safe as possible. Also, this is not just some backyard picnic or barbecue: This is brunch. And brunch, by definition, needs to be stylish and maybe just a little bit fancy, so we need to blend safety protocols and stylish touches to create a socially distant brunch that is both stylish and safer.
How to Host a Socially Distant Brunch: The Basics
1. Make a short guest list.
A smaller guest list will make social distancing easier, allows you to enjoy easier brunch prep, and allows for a more intimate atmosphere.
2. Email or text invitations beforehand.
Sending invitations makes your brunch a bit more stylish and lets your guests know what to expect. You can always send paper invitations in the mail, but since this party may be a little less environmentally friendly than gatherings you would typically host, sending digital invitations is one easy way to host an eco-friendlier event.
Use the invitation to give your guests all the information they need so that they will know what is expected of them, what they are supposed to bring, and how the safety protocols will work.
3. Host your brunch outside.
This is all about hosting an outdoor brunch, so hosting outside is a given, but just in case you were getting any ideas about hosting part of the gathering inside – don't.
The Centers for Disease Control and Prevention has this to say about gatherings: "smaller outdoor and in-person gatherings in which individuals from different households remain spaced at least 6 feet apart, wear cloth face coverings, do not share objects, and come from the same local area (e.g., community, town, city, or county)," are considered lower risk. (CDC.gov)
So, following those guidelines, you should host your gathering outside. This could be a curbside brunch, a brunch in your driveway, or a backyard brunch. Using your backyard for the gathering will, of course, allow for more privacy and a more intimate atmosphere.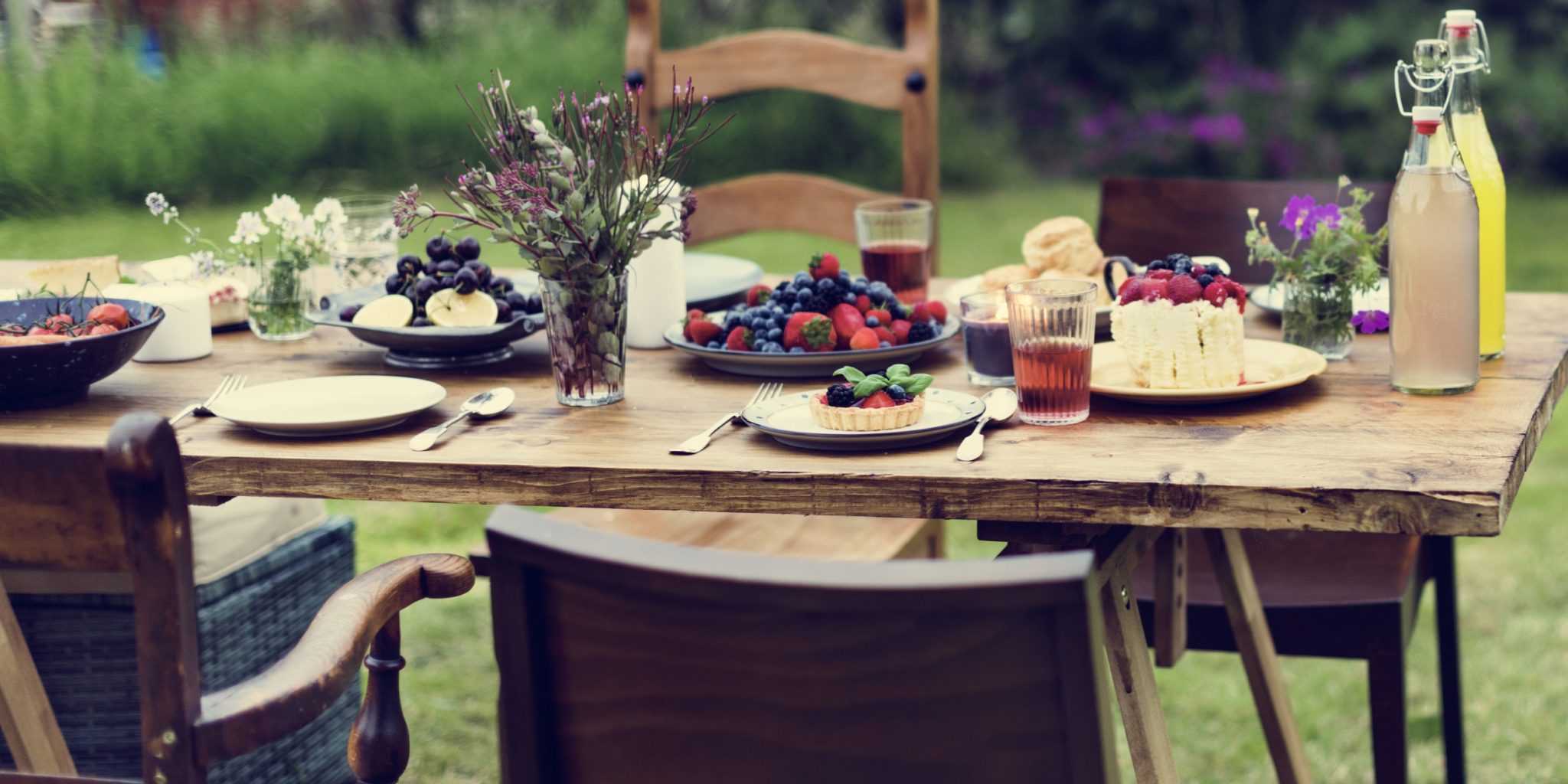 4. Determine how guests will enter and exit, and guide traffic accordingly.
Part of keeping you and your guests safer is limiting the number of times anyone has to touch a surface. One easy way to limit touching is by designating one entrance where your guests will enter and exit. Ideally, this will be a gate that can stay open so that folks can go in and out of your backyard without going through your house or even touching a gate latch.
5. Assess your bathroom situation.
If you have a poolside cabana with a bathroom, that is an ideal option for your guests to use during your backyard brunch. However, most of us do not have a bathroom in our backyard, so your guests are probably going to need to go in your house. Choose the bathroom closest to your yard, and make sure it is stocked with hand soap and towels. You may want to consider disposable guest towels so that your guests will not have to share a towel. Make sure you have a no-touch trash can or a trash can without a lid so that guests will have a touchless way of throwing things away.
6. Make sure hand sanitizer is readily available.
Place hand sanitizer at the entrance to the space and by the door where they will go inside to use the restroom. When your guests arrive, ask them to use the hand sanitizer before entering the party space and any time they are going to go into your house to use the restroom.
7. Sanitize everything before and after.
Before your guests arrive and after they leave, sanitize any surface they may touch. This might include gate latches, doorknobs, sink faucets, toilet lids and flush handles, trash cans, chairs, and any other surfaces.
8. Set up the space for social distancing.
You know how many people are coming and you know how much space you have in your backyard, so now is the time to figure out the best setup to promote social distancing but still keep your guests feeling connected and able to socialize.
While you might typically host a dinner party or outdoor brunch on your patio, you might want to expand your options for gatherings during the pandemic. Consider setting up tables or picnic blankets on your lawn, using your outdoor dining room table, and taking advantage of any shaded areas, such as spots under trees or patios with pergolas. You could even have guests gather around your swimming pool or fire pit to make good use of your space.
Remember, folks isolating together can be at the same table or on the same blanket, so plan your seating accordingly.
If you are hosting a very small brunch and have a large table, it might be possible to all sit at the same table – as long as you can space the chairs six feet apart.

How to Host a Backyard Brunch: Food, Drinks, and Stylish Touches
Now that we have covered the basics, let's get to the fun stuff, such as the food, the drinks, and the little touches that will make your brunch memorable.
Beverages
Nothing says brunch like cucumber water, lavender lemonade, or – if you are planning a boozy brunch – mimosas. All of these lend themselves well to being made beforehand and served in pretty bottles or pitchers. This means that you can set a bottle or pitcher at each table or blanket so no one will need to touch bottles others have touched when serving themselves a drink.
Brunch Food
The biggest issue with food at a socially distant, outdoor brunch is figuring out how to serve it. Family-style dining is out, since that requires everyone to use shared serving utensils to serve themselves out of shared serving dishes. Your best choice is to serve individual portions. The second-best option is to serve buffet style with one person in a mask and gloves serving the guests.
Since individual servings that are not shared among different tables are the best option, let's go over some options for serving your brunch in this manner.
One easy thing to do is to find some attractive baskets and place a basket of muffins, scones, or turnovers on each table or blanket. You can also use these baskets to set fresh fruit at each gathering spot.
Another option for individual portions is to serve quiches or frittatas in individual ramekins. You could also make veggie- and cheese-filled egg bites made in a mini muffin pan.
For yogurts or desserts, use half-pint mason jars (aka jelly jars) to serve yogurt and fruit parfaits or individual portions of pudding.
If you are serving trayed appetizers, be sure to choose appetizers that you can put a toothpick in. This will allow your guests to take just what they want without touching the tray or other food on the tray.
If you are serving trayed foods, use your outdoor kitchen as a prep and serving space so that your guests can get their food, and then go to their socially distanced table or blanket.
The sink in your outdoor kitchen is also a huge benefit when it comes to frequent handwashing, so make sure you have soap and towels available.
A backyard brunch gives you a great opportunity to support a local restaurant by ordering food for pickup or delivery. So, you might consider ordering some of the food or the desserts from a local eatery.
Final Touches
It is all the little touches that really set brunch apart from other food-based gatherings. So, while we do need to change things up a bit to make socializing with friends and family as safe as possible, it is important to include some touches that will make your brunch memorable.
For example, if it is a chilly day and you have a fire pit or patio fireplace, light a fire to keep your guests warm and create a welcoming atmosphere. If you will be serving brunch on a pergola-covered patio, consider adding patio curtains to provide more protection from the weather and create a more intimate space.
Cloth napkins make brunch feel a bit fancier and are better for the environment, but disposable napkins can be simply thrown away, and no one has to touch them to launder them. So, you may want to look for themed, disposable napkins or thicker, attractive, disposable napkins to limit exposure.
The same goes for plates and utensils. Using your regular party plates and utensils will give your brunch a fancier feel, but disposable plates and utensils can simply be thrown away by your guests to help limit exposure. Consider eco-friendly, compostable options to achieve a good balance between keeping your guests safe and not harming the environment any more than necessary.
To make your brunch more fun and memorable, consider having a theme. Something simple like a garden party hat theme or festive face covering theme will encourage your guests to wear something fun and get in the spirit for socializing.
Remember: You and your guests should wear face coverings when you are not eating or drinking.