11 Apps for Busy Homeowners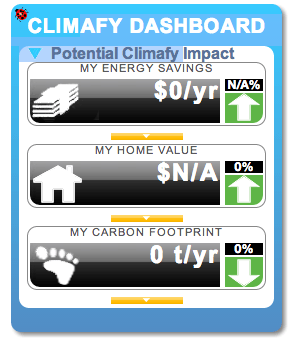 You've got a lot going on and not so much time to do it all.
Time management is great and everything, but what if there's not enough time to manage?
Luckily, technology can help us save time and money, in addition to making us spend it (it's only fair).
So if you're a busy homeowner looking to make it easier – and faster – to manage your home and all that it requires, below are several Web, smartphone and/or tablet apps that can help:
Apps for Homeowners —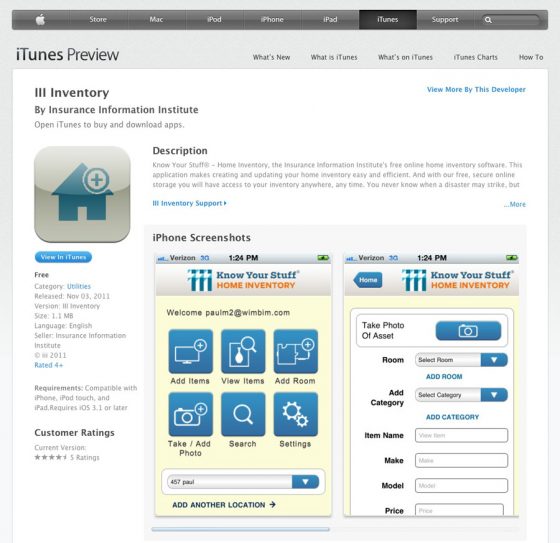 Know Your Stuff Home Inventory  —
This home inventory app was developed by the Insurance Information Institute to create and organize an inventory of your home's valuables in case you need it for insurance purposes. List and take pictures of  your belongings through the iPhone app or through the Web-based software and all of your information will be kept in a password-protected account on secure servers. For both iOS and Android, this app is free of charge and even backs up your data to the cloud for up-to-date, centralized access.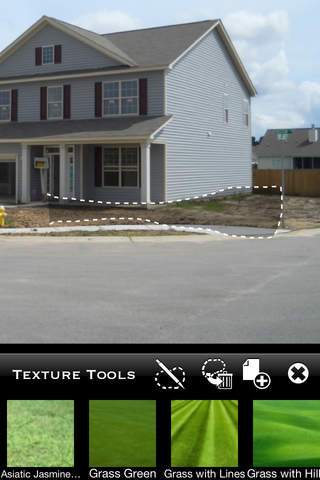 iScape —
iScape is a digital "landscape designer" that lets you snap a photo of your front or backyard and then select options like "palm trees" and "flowering shrubs" to virtually improve your yard. In a nutshell, iScape enables you to create a realistic rendering of your outdoor spaces to see how they'll look before you spend a dime. Select and see how pavers, water fountains, swimming pools, and even birdhouses will appear in your yard while you're still in the imagination stage.
iScape is for iOS and Android phones and costs $9.99.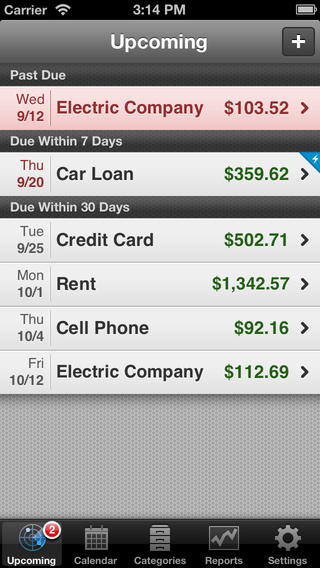 BillMinder —
BillMinder puts all your bills in one easy place and organizes your mortgage, cable, phone, utility, etc. bills by their due dates. The app also reminds you when you're bills are due, allows you to pay them online through its QuickPay option, and creates reports that show you where you're spending your money. The app will sync your info to all your devices, share the data with other family members who need to be clued in on bill due dates, and works in collaboration with its sister app, DebtMinder.
BillMinder is for iOS and Android and costs between $1.99 and $4.99 depending on the version you download.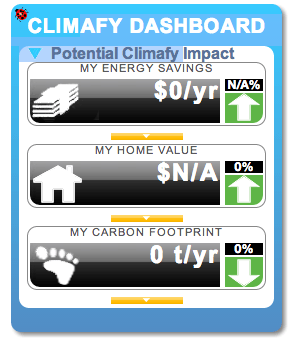 Climafy —
Climafy.com gives homeowners the tools to plan, finance, and implement building retrofits that will lower their energy costs and reduce their carbon footprints. With the app, you can find incentives to help save on utility bills, find contractors to help turn your home into a green one and locate lenders that will help finance the energy efficiency upgrades. You'll also be kept advised of technological developments and how to quickly implement them, as well as learn other ways to save energy (and money).
Right now, Climafy is in its beta version, and available here.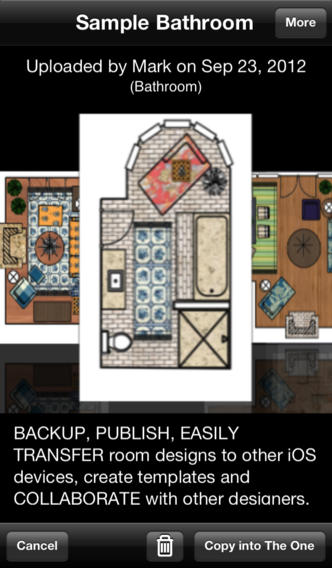 Mark on Call —
Based on interior designer, Mark Lewison's book,  "What Would You Do With This Room?," this app lets homeowners plan, preview and carry out room designs in their homes by sizing and placing a full set of design elements for in-depth virtual planning. Pre-loaded colors, patterns, wood and stone options are at your fingertips for placement or you can easily add your own by snapping pics of fabric, flooring and finishing elements you come across on shopping trips and them insert them onto your floor plans to scale.
Mark on Call is available for iOS and costs $2.99.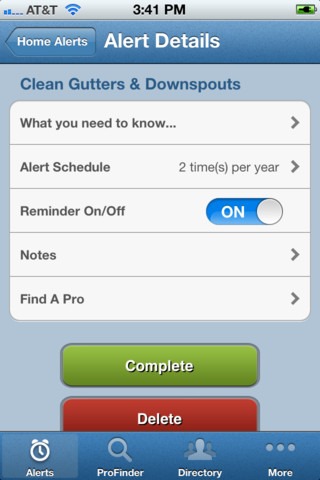 HomeSavvy —
HomeSavvy creates your home maintenance plan based on information you input, and then sends reminders when tasks such as changing your air conditioning/heater filters or changing smoke alarm batteries are due to be done. The app will also tell you how to do each task yourself if you're in a DIY mood, or point you to local businesses with reviews so you can outsource the maintenance.
HomeSavvy is free and comes in both iOS and Android versions.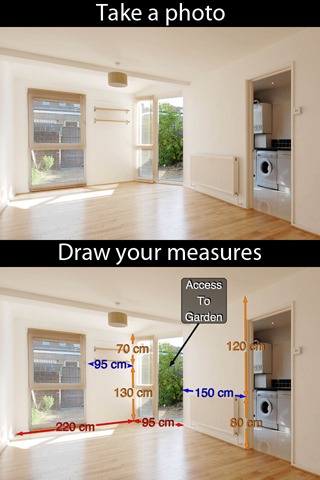 Photo Measures —
This app makes it easy to record and remember the measurements of every room in your home. Simply snap a photo of the room, write its measurements on the image and save it for future access when you're shopping for furniture, paint, or flooring. You can also email the photos to contractors, designers, or anyone else helping you decorate or renovate your space.
Photo Measures is available for iOS for $5.99; and there's a similar app called D-Photo Measures for the Android for $2.99.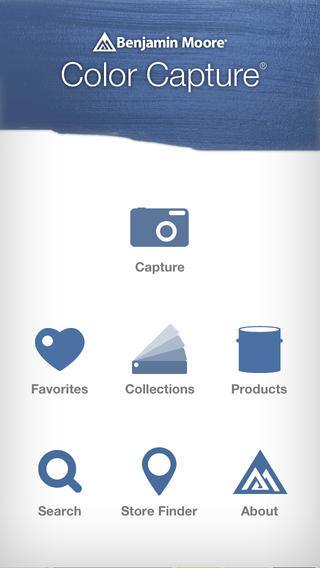 ColorSnap/ColorCapture–
This app from Benjamin Moore helps with that sometimes never ending quest for the perfect paint color. Just use your smartphone's camera to take a picture of something in the room you're looking to paint (a pillow, the couch, the countertops) and ColorCapture will analyze the piece's color and return the closest match in Benjamin Moore paint color. Even cooler, if you need to touch up paint somewhere, but can't remember what color was the original color, you can take a picture and the app will tell you the color.
This app is available for iOS and Android and is free.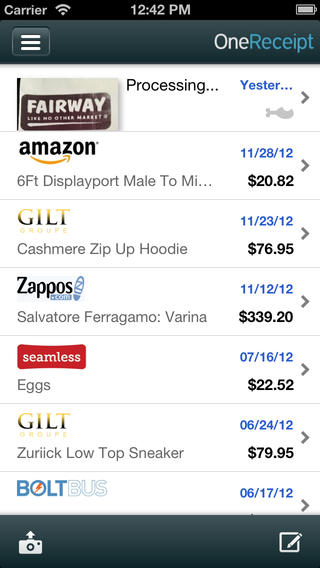 OneReceipt–
OneReceipt organizes your digital receipts and helps you manage your paper ones by using the iPhone or iPad's camera to take a picture of a paper receipt, which the app then digitizes for quick lookup. OneReceipt also scans your email inbox for receipts from stores, tells you when a product has shipped, and gives you a monthly summary that tells how much you are spending. Be advised that according to reviews, this app works best in the Web-based version.
OneReceipt is available via the Web or for iOS and is free.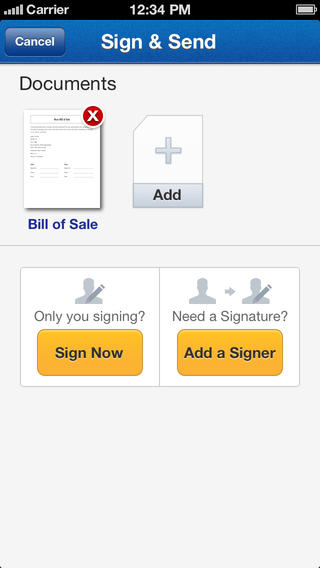 DocuSign Ink–
DocuSign Ink allows you to sign PDF and Word docs and send or receive needed signatures from the iPad or iPhone (or Android device) Simply pick a document that needs to be signed and upload it to the app. The app converts PDF fields so you can just fill them out and sign a PDF and send it back to whoever requested it. Best yet, once you've created an account within the app, you can add your signature by drawing it with your finger and the signature is stored for you to include in electronic documents you need to sign and send. DocuSign cuts down on all that faxing and overnighting and even scanning that used to be required for signed docs.
DocuSign is available for both iOS and the Android and is free.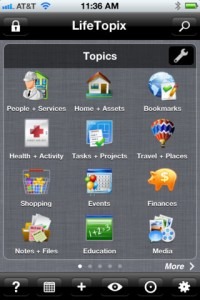 LifeTopix–
LifeTopix is a comprehensive planner that keeps track of your schedule in all areas of your life: home, school, finances, travel, and more. With this app, you can keep track of health care appointments, make to-do lists, track your weight and fitness, make shopping lists, keep track of bills and much, much more. Categorized into 12 main areas (Tasks/Projects, Shopping, Events, Travel/Places, People/Services, Health/Activity, Finances, Home/Assets, Education, Notes/Files, Media, and Bookmarks, LifeTopix automatically populates itself with the existing information on your devices and alerts you as they pop up.  The app also integrates and syncs with programs like Evernote and Dropbox.
LifeTopix is available as a Web app and for iOS and is $4.99
Your Turn…
If you're looking for easier ways to streamline your day, make scheduling simpler and set tasks clearly (and who isn't?), consider adopting some of the apps outlined above.
What do you use to organize your life?