How To Keep Your Home Safe When You Are Away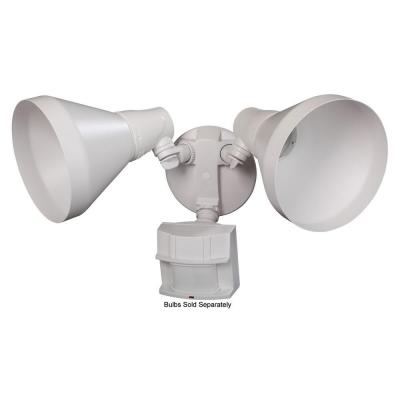 Last week, a good friend of mine met me for a drink and halfway through our conversation, received a text from her neighbor alerting her to the fact that water was pouring out of her garage. My friend had been away from home for less than two hours, and in that time, a pipe under her kitchen sink burst and flooded her entire first floor.
It made me think: what if she'd been gone longer and didn't have concerned neighbors? What if she'd been on vacation? Can we finish our drinks first?
In all seriousness, each time I leave the house for an extended period of time, I worry about burglars, water leaks, and fires. In addition to being a little neurotic, I just really like to be prepared for emergencies. But what if I'm not home when something happens?
So I looked into it. Turns out there are several home security options and technologies on the market that can protect your home. If you're going on a long vacation, or just out for drinks some night, here are some security and safety tools to consider:
Security Systems —
We're all familiar with home security systems that beep if someone breaks in (or when someone forgets to turn it off before opening the door), but the newest ones on the market include sensors to detect when a door or window has been opened; integrate with other devices in your home like lighting and thermostats so you can turn lights on or off and lower the temperature remotely; and can be controlled with smartphones. More advanced systems also include fire and carbon monoxide alarms, and glass-break detectors.
Also, central system monitoring can automatically notify an alarm company if there's a problem by sending a signal over a landline or wireless connection. The alarm company can then notify police or fire departments. This type of monitoring typically costs up to $80 a month, depending on what's included, but your alarm system can work without it.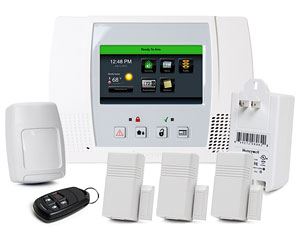 One security system is the  L5100PK Honeywell Lynx Touch 5100. A wireless security system, the L5100PK does everything mentioned above – controls thermostats, lighting, and even door locks through its touchscreen or your smartphone (if you combine the system with the proper modules and services).
I like that this comes with a remote control key fob and a pet-immune motion detector, so animals don't set off the motion sensors.
Security Cameras —
Even when you're not home, these devices can be helpful. That's because when you're gone, you can periodically monitor your home with apps that will email you or post images online so you can use your smartphone to keep tabs on your place.
If you're sorta techy, you can even turn your webcam into a motion-sensing security camera with the Yawcam app. 
Below, is the LNC116 Lorex Vantage Stream Wireless Network Camera, which allows you to "watch" your house from anywhere in the world on your mobile device.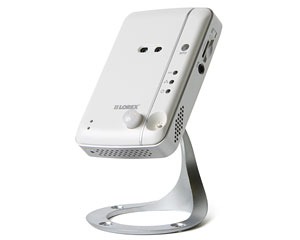 Lighting Systems —
The best way to deter break-ins is to look like you're home. Light timers can help in this department by turning houselights on and off at certain times to make it look like your house is occupied. Usually, you just need to plug your light – or other device you want to turn off and on like a TV or radio – into the timer module and you're good to go. Most timers are set to randomize on their own, and you can use multiple timers to make it appear there are a lot of people home in different rooms of the house.
One such timer is the Intermatic DT620, which lets you plug two lights or devices into it and program its settings.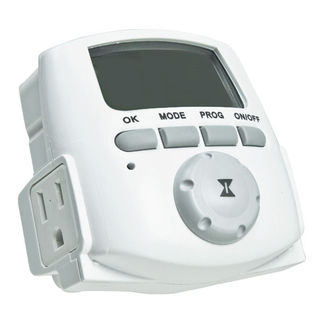 There's also motion-activated outdoor lights that illuminate spaces where they detect movement. Although you're not home, these motion lights can still notify neighbors if someone's lurking on your property – and could scare off potential intruders.
Here's a pretty straightforward option called the Heath Zenith 180-Degree Outdoor Motion-Sensing Security Light from the Home Depot that will get the job done.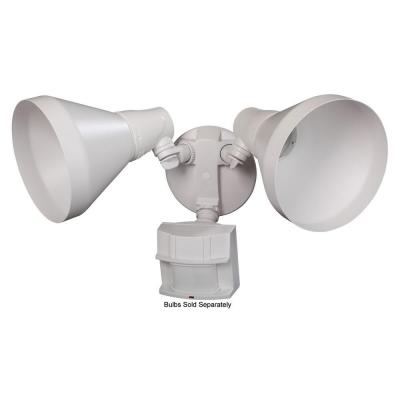 Water Bug Alarms —
This is exactly what my friend wished she had a week ago. These alarms use sensors to detect water leaks and will sound an alarm if a leak is present. Water bug alarms work with many security and home automation systems and can units can be programmed to send you a text or instant message or call your phone if you're away. You can also purchase devices to place on washing machines, toilets, dishwasher, and sinks.  
Other devices can even be programmed to turn off the water supply to various areas.
Popular water bug alarms include those from Winland, a company that makes several models like the WB-350 below.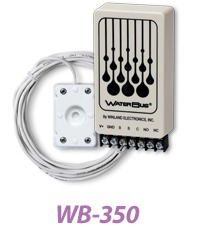 Meanwhile, here's a look at a washing machine valve shutoff kit that you might use in conjunction with other devices: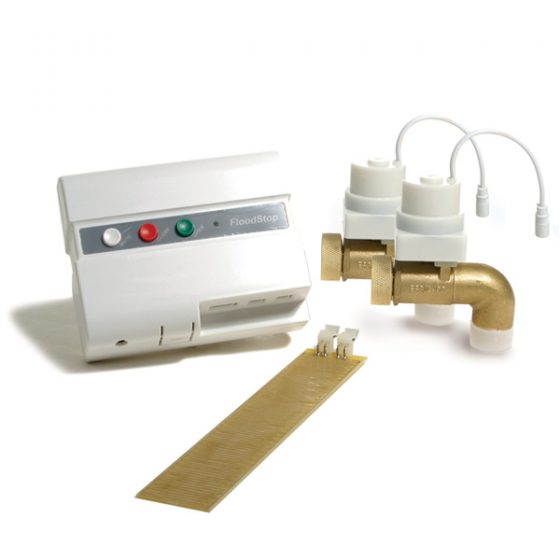 Whole Home Surge Protection —
Did you know that the Insurance Information Institute includes insurance claims from power surges in the same category as lightning strike damage? 
Surges caused by lightning, problems with the utility company's equipment, faulty wiring, and downed power lines can cause power surges, and are threatening because they will follow any wire into a house and "attack" televisions, satellite systems, computers, and more.
To protect your appliances and sensitive electronics from power surge damage while you're away (or heck, when you're home, too) a whole home surge protector device is key. A whole house surge protector installed into your home's main electrical panel will shelter all devices plugged into outlets from damaging power surges. In addition to protecting typical home appliances, it can protect your power, cable and telephone lines, too. In fact, these units can protect your home against up to 40,000 amps of current flowing in from the outside so when a sudden surge occurs, the current is safely diverted through your home's grounding path.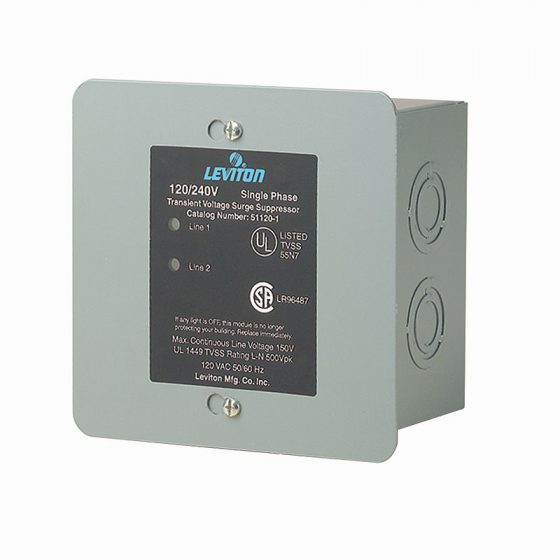 The above is the Leviton 51120-1 Whole Home Surge Protector and Suppressor.
Keyless Entry Systems —
If you don't want to leave a spare key under the mat (or fake rock), keyless entry systems will allow only those you authorize to enter your home. One very cool option along these lines is a "bio knob" that senses users' fingerprints and unlocks the door. So if you have a trusted house sitter, but don't want him or her to have copies or your keys, this is an excellent option.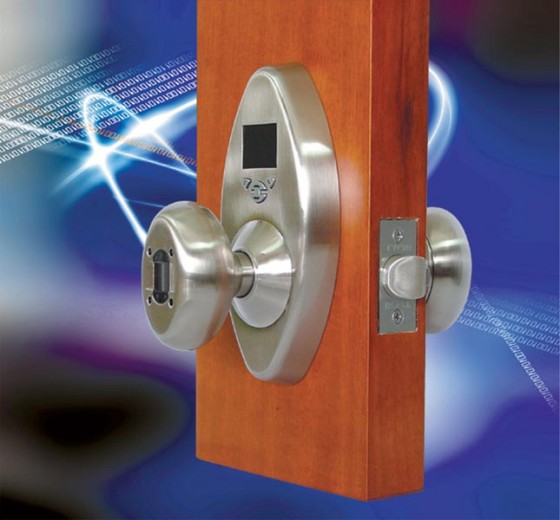 One such device is the Tychi Systems BioKnob, which is a biometric door lock system. This is a more expensive undertaking, but installing the BioKnob may give you more peace of mind. It looks just like a regular old doorknob, but  inside is a sensor that detects up to 100 users' fingerprints. Authorized users just press your finger along the key pad, the fingerprint is stored as a username, and will unlock the door.
Final Thoughts 
When considering home security options, you might find yourself overwhelmed because there are so many devices available to protect your home. A little due diligence though, will go a long way toward keeping your home safe when you're not in it.
As for my friend, she's currently at a hotel while waiting to have her first floor re-done. 
What home security options do you have or most want?
Photos: Homesecuritystore.com, 1000bulbs.com, homedepot.com, winland.com, smarthome.com, and Tychisystems.com