12 Backyard Water Features to Elevate Your Outdoor Living
If you are considering including a water feature in your landscaping design, check out these 12 backyard water features ranging from popular swimming pools to unique options like lazy rivers and moats that are sure to inspire you.
1. Swimming Pool
We might as well start with the most obvious choice: a swimming pool. Swimming pools are the most popular backyard water feature and are a great choice for homeowners who want to improve the look of their backyard and enhance the function of their outdoor living areas.
A conventional pool will offer a relaxing place to spend a summer afternoon, but if you truly want to improve your yard's visual appeal with this water feature, consider a pool with a natural look. Some design features you may want to consider include a beach entrance, Baja shelf, rock waterfall, bubblers to create a look reminiscent of hot springs, or a slip-resistant paving stone pool deck.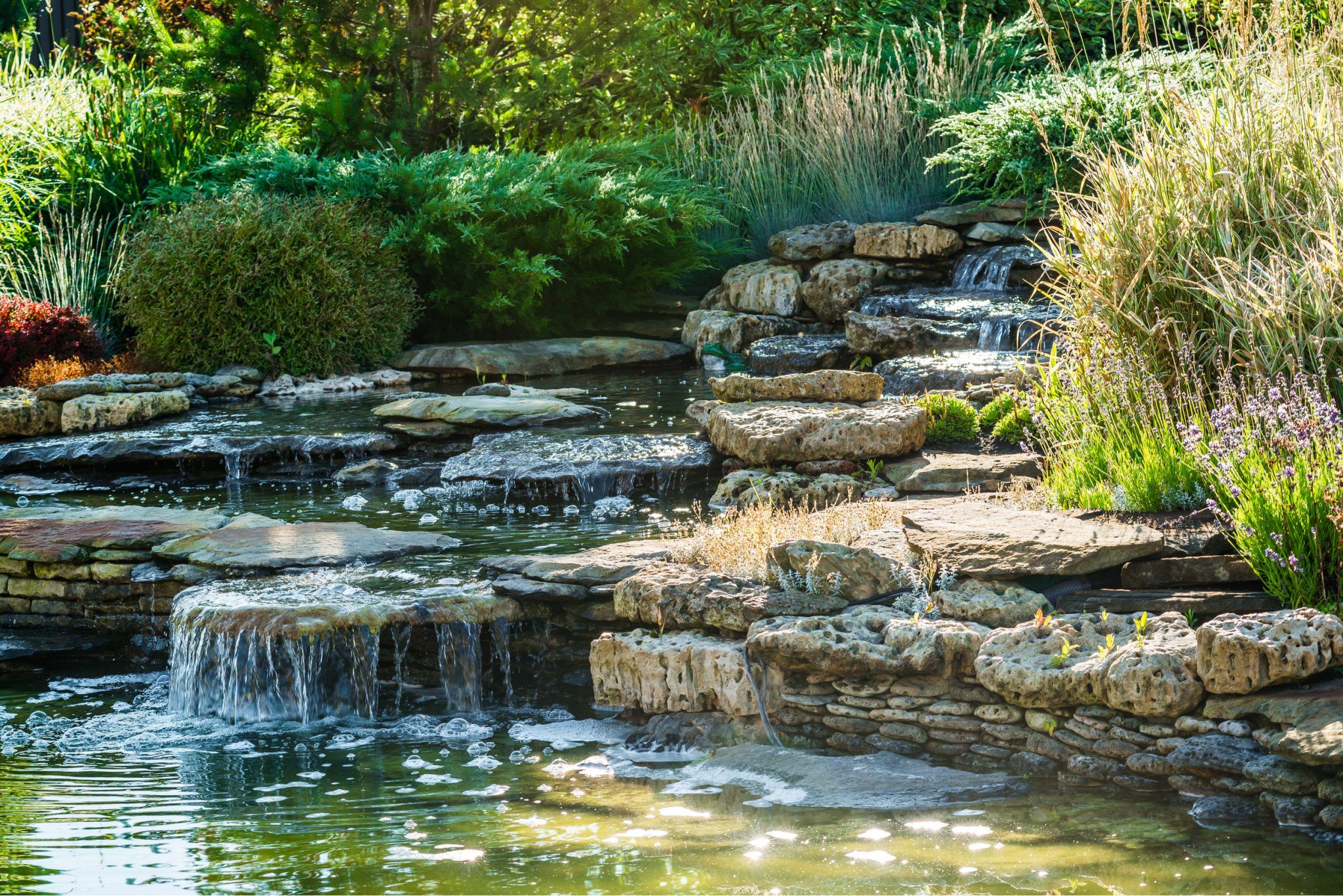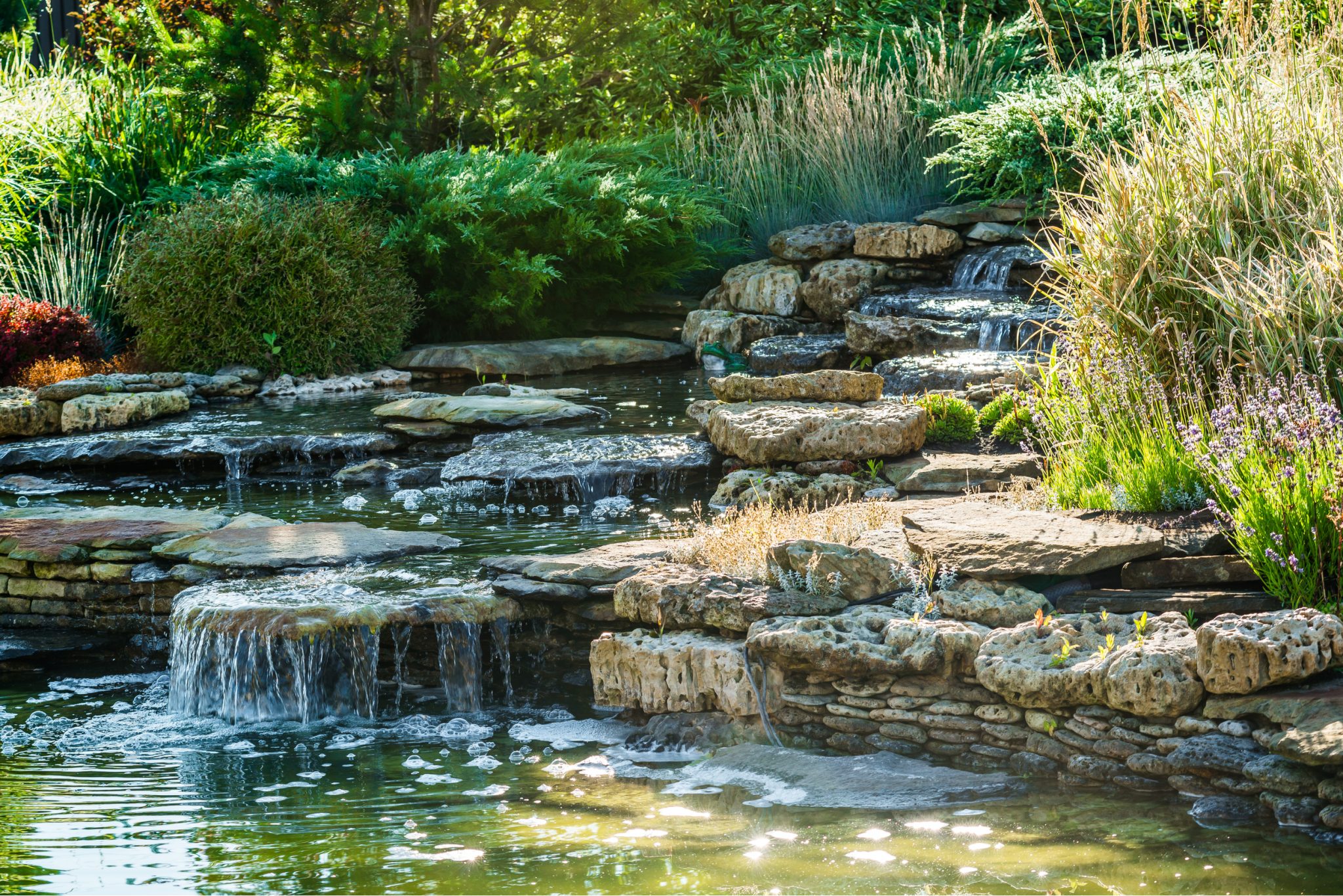 2. Waterfall
Waterfalls do not require a pond or a swimming pool but when paired with these water features, a waterfall can significantly enhance their visual appeal. A pondless waterfall takes up less room and, therefore, is a good choice for homeowners looking for a water feature for a small space. If a natural-looking waterfall built from stacked rocks is not your style, you can create a waterfall-like effect with scuppers, sconces or weirs. Going this route allows you to customize the look of your waterfall to create a look that is just as modern, traditional or whimsical as the rest of your landscaping design.
3. Fountain
Fountains are probably the second-most popular water feature for backyards. You can install a stand-alone fountain as a focal point in your landscaping or incorporate a fountain into another landscaping feature, such as a pond, swimming pool or rock garden.
Fountain design ranges from traditional styles for an old-world feel to sleek, modern designs and can have a classic, whimsical or eclectic look. You can even build your own fountain with a fountain kit and items you already have on hand, such as flowerpots, rocks, or an old watering can and washtub.
4. Pond
Ponds can be small or large, have a modern or traditional look, and incorporate other features or stand alone as an attractive focal point. These versatile backyard water features can be filled with water plants, koi fish or river rocks and are often paired with waterfalls to enhance visual appeal, provide the relaxing sound of moving water, and cover up the sound of the necessary pump.
5. Rain Curtain (aka Water Wall)
A rain curtain or water wall is a slightly different take on a waterfall. This backyard water features offers a waterfall-like effect but generally has a more modern aesthetic. With a water wall, you and your guests can enjoy the soothing sound of falling water and the visual appeal of rain even on the driest days of summer.

6. Outdoor Shower
If you have a swimming pool or live near the beach, consider installing an outdoor shower as one of your backyard water features. This functional addition can be enclosed or open air and can be designed to go with any architectural style. If you do not mind a cold shower, you can even create a dual-purpose water feature that always runs as a waterfall but has a slip-resistant surface and drainage for use as an outdoor shower.
If you include a shower hose in the design, you can also make your outdoor shower a convenient, backyard dog bath.
7. Lazy River
Lazy rivers are generally found at water parks and resorts and are only recently becoming more popular as backyard water features. Both the cost and space requirement for installing a lazy river are prohibitive for most homeowners, so this is a high-end feature that will certainly impress your guests and take your outdoor living areas to a new level of luxury.
For those with the budget and space for a lazy river, this water feature may be the most relaxing, fun feature in your entire yard. Jets and intakes create a gentle, even current that slowly carries you or your guests in tubes or on floats in a river-like manner.
If you do not have a lot of available space, you can create the look and function of a lazy river on a smaller scale by installing a curvy swimming pool with an island in the middle. If you go this route, consider adding a waterfall to the island to enhance the look and soothing qualities of your water feature even more.
8. Stream
Whether it is as narrow as a brook or as wide as a creek, a flowing water feature will make your outdoor living area more inviting and relaxing with the soothing sound of flowing water. A stream can have a natural bank and be lined with river rocks for a natural look or it can have the clean lines of a concrete or paving stone edge for a modern aesthetic.
Incorporating a stream into your landscape design also offers the opportunity to include additional features, such as a bridge or a waterfall, in your backyard.

9. Splash Pad
Splash pads are most often found in public parks or at water parks and are a safer way for small children to cool off with no standing water and little risk of drowning. If you are considering installing a splash pad for your kids or dogs to enjoy, it is best to make this decision early in the landscape design process. This water feature will need to be incorporated into your hardscape and requires more equipment and installation costs than some homeowners may realize.
Splash pads require a pump, filter, nozzles, holding tank, in-line chlorinator, and a slip-resistant surface. They must be installed by contractors that have the skills to run electricity, install plumbing and build a patio, such as a slip-resistant paving stone surface on which your kids can play in the water.
One of the aspects of splash pads that you may find particularly appealing is that they can be incorporated into a pool deck or outdoor living area and can be turned on during playtime or parties and turned off when you need to use that space for other purposes, such as for seating for a dinner party.
10. Moat
Originally designed to protect castles and manors from intruders, a moat may be the coolest, most unique water feature you could add to your home. This particular feature may interest you for its potential as an effective security measure, but whether you want your moat for protection or just for looks, this might be a good opportunity to add a multi-function water feature to your backyard by making your moat a swimming pool or lazy river.
11. Reflecting Pool
Reflecting pools may look like regular ponds, but they are specifically designed to provide a reflective surface. Because of this, you may want to create a unique visual by installing a reflecting pool to reflect the image of your home, a statue or a unique landscaping feature. Alternatively, you may want to include a reflecting pool adjacent to a meditation or yoga deck for a relaxing, contemplative space. To create the smooth-as-glass surface, keep in mind that you will not want to add fish or plants to this water feature.
12. Wishing Well
If you are working with a smaller budget or limited space, you might consider installing a wishing well. This charming, whimsical water feature can be placed on nearly any level surface and is a quaint addition in a traditional garden or near an outdoor living area.
You can purchase a wishing well fountain online for less than $100 or can build your own waterless wishing well to add the look of a water feature without the equipment and maintenance requirements.