20 Clever Pet Solutions
As a pet owner,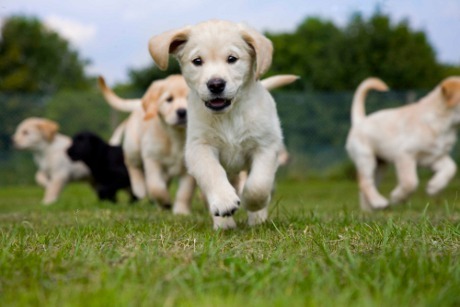 you're probably always looking for ways to take care of your furry friend more easily and affordably.
There are plenty of expensive pet products on the market today, so it's easy to spend a small fortune.
Fortunately, you don't have to break the bank to spoil your four-legged friend.
With a little craftiness and creativity, you can give your pet an upscale existence while keeping your home neat and organized.
The following 20 solutions include a variety of do-it-yourself options, and plenty of them allow you to reuse old materials too.
Check them out below…
1. Tuck a Dog Bed into Shelf or Cupboard Space
It's nice to give your dog a large, cushy bed that's all his own.
However, you don't want to trip over it or let it ruin the aesthetics of your living room, family room, bedroom or other part of your home.
A clever way to give your pooch the comfort he needs without detracting from your home's decor is by tucking his bed into shelf or cupboard space.
Simply remove the cupboard door or shelf from a coffee table or other piece of furniture and position the dog bed there.
For best results, the bed should be at floor level.
It will look great, and your pet will feel cozy and secure.
2. Make Your Own Dog Stairs
Is your pet too small or too old to safely climb onto the bed or sofa?
At the local pet store, you'll find little staircases that are designed with this situation in mind.
They are also pretty pricey, and they aren't very attractive.
You don't have to be a carpenter to create your own.
With the right scrap materials and some carpet remnants, you can create a stylish set of stairs that your pooch can use to get safely onto a bed or sofa.
3. Do-it-Yourself Rope Balls
It's hard to resist the toy section at the local pet store.
If you're not careful, you can do serious damage to your bank account.
Dogs are rough on their toys, so you may find yourself returning to the store again and again.
Why not make your own dog toys instead?
With an old tennis ball and a piece of rope, you can make a toy that your dog will love.
Cut holes on opposite sides of the ball and pull the rope through them.
Knot the rope at either side to secure it in place.
Your pup will have a field day!
4. Make the Most of Plastic Grocery Bags
Like many people, you may find yourself with more plastic grocery bags than you could possibly use.
Recycling them is smart, but you can use them for various pet-related things too.
Most notably, you can scoop dirty litter into a plastic shopping bag and bring it directly out to the garbage.
This will keep unpleasant odors at bay.
Plastic shopping bags are also handy for cleaning up after your dog after he's been out in the yard.
5. Elevate Food and Water Bowls with an Old Crate
We've all seen those neat food and water bowl caddies at pet stores.
They usually have circular cutouts where you can place food and water dishes.
It's easier on dogs' necks and bags if they don't have to stretch all the way to the floor to eat, but you don't have to fork over a fortune to hook him up with this solution.
Take an old crate, flip it over and cut circular holes into the top.
Just measure your food and water bowls before doing so.
That's all there is to it!
6. Use an Old Step Stool for Food and Water Bowls
If you don't have an old crate lying around, don't worry.
There are plenty of other things you can use to elevate your dog's water and food bowls.
A wide step stool is a prime example.
Either that or you could use one step stool for the water bowl and another for the food bowl.
As with the crate, you will need to cut circular holes and place the food and water bowls in them.
If you'd like, you could refinish the stool while you're at it.
7. Repurpose Old Chairs for Food and Water Bowls
Before you throw those old kitchen chairs in the trash, considering using them to elevate your dog's water and food bowls instead.
The seat of a standard kitchen chair is far too high, so you should start by cutting down the chair's legs.
Once you have it at the right height, cut holes in its seat and place the food and water bowls in them.
If you don't have old kitchen chairs handy, try visiting local thrift stores or hit up some garage sales.
8. Cut Holes in a Log and Use it for Your Dog's Water and Food Bowls
Here's yet another clever way to elevate your pup's food and water bowls.
In this case, you will need a large, clean log.
If you live in a rural area, this shouldn't be a very tall order.
Make sure the log is totally dry and that it's not rotting anywhere.
Cut down two parallel sides of it; one will form the bottom, and the other will be the top.
Carve out matching holes in the top and position the water and food bowls in them.
9. Turn a Milk Bottle into a Dog Toy
When you need to keep your dog occupied for a decent period of time, all you need is a plastic milk bottle and some dog treats.
Clean out the milk bottle and let it dry thoroughly.
Throw away the plastic cap.
Take the dog treats and stuff them inside the milk bottle.
Your dog will see and smell the treats, but he won't be able to get at them without wrestling around with the milk bottle for a while.
This should keep him busy for at least an hour.
10. Turn a Pallet into a Dog Bed
Shipping companies often have more wood pallets than they can possibly use.
Stop by a local business and see if it is willing to donate an old pallet.
Either buy some material at the local craft store or stitch together old shirts, sheets, towels and other fabrics.
Stuff them with soft filling and use straps to secure the cushion to the pallet.
Your dog will love having his own, slightly elevated bed.
By refinishing the pallet, it will look even better.
11. Make Your Own Dog Gate
Let's face it: Most dog gates and baby gates look awful.
Even if you spend a decent amount of money, you're lucky to find one that looks okay.
Why settle for something that clashes with the interior design of your home?
If you have a crafty streak, or if you know someone who does, you should consider making your own dog gate.
By doing this, you will have complete control over the kinds of materials that are used.
You will also be able to design it so that it fits perfectly.
12. Use a Trundle Bed as a Pet Bed
Before ruling out that trundle bed because you rarely have guests sleep over, you should consider using one for your dog.
You don't have to keep the trundle bed pulled out permanently either.
By pulling it out a few feet, you'll have a nice little space for your dog or cat to take naps.
The best option in this case is a trundle bed that pulls out from the end of the bed.
When it's not needed, it can be pushed back inside to free up some space.
13. Make Your Own Dog Boots
Is your dog reluctant to go outside on wet or snowy days because he doesn't like getting cold paws?
Who can blame him?
There are plenty of fashionable dog boots on the market, but they are usually ridiculously expensive.
When you think about it, making your own dog boots is easy.
There's not a whole lot to them.
You just need some soft, sturdy fabric, a needle and some thread.
You can find instructions for making your own dog boots online.
It's so cheap and easy to do so that you could easily make a huge pile of them.
14. Bake Your Dog Some Treats
When browsing through dog treats at local stores, you're sure to get sticker shock.
It's even worse when you have a big dog with a huge appetite.
One large dog can do away with a whole bag of snacks in minutes.
With a few inexpensive ingredients and a little time, you can bake homemade treats that your pooch will love.
Combine two cups of whole-wheat flour, one cup of crunch or creamy peanut butter, one tablespoon of baking powder and one cup of milk.
Roll it out and cut it into shapes of your choice.
Bake in a 375-degree oven for 18 to 20 minutes, and you'll have a nice, inexpensive batch of dog treats.
15. Reuse that Old Kitchen Towel
If your kitchen towel has seen better days, you might want to throw it away.
Before you do, cut a few slits in it nearly all the way, and then braid them together.
Secure the rag at one end, and you have a braided towel that your dog will play with for hours on end.
16. Make Homemade ID Tags
Losing track of a dog, cat or other furry friend is a pet owner's worst nightmare.
One way to minimize the risk of losing your pet forever is by having him wear an ID tag.
You can get them at the veterinarian's office or the local humane society, but making them yourself is a lot more fun.
You will be able to create designs that appeal to you, and you will be able to make more as needed.
Go online for templates and instructions.
17. Use Removable Covers on Your Pet Beds
Are you tired of having to remove pet hair for your dog or cat's favorite sleeping area?
Instead of using a pet hair remover, you should make your own removable pet bed covers.
All you need is some material from the store and a needle and thread.
If you have a sewing machine, that's even better.
Stitch on some Velcro or some buttons to secure the cover in place.
When it gets dirty, just toss it in the washing machine.
18. Make a Kennel Out of Wood
Standard metal kennels are real eyesores.
They can't be very comfortable either.
By purchasing some wood from the local home improvement store, you can create a cozy, comfortable and attractive kennel for your pup.
There are plenty of designs available online, so click around for inspiration.
You can stick with natural wood, or you can finish or paint the wood to make it look especially nice.
19. Use Homemade Dog Shampoo
Incredibly, some dog shampoos cost more than human shampoos.
It's important to bathe your dog regularly, so it's easy to go through a lot of shampoo.
Instead of wasting your hard-earned money on over-priced dog shampoo, you should make your own.
You just need one pint of Dawn or Ivory liquid dish soap, one pint of apple cider vinegar, one pint of water and four ounces of glycerin.
Combine them all and store the solution in an airtight bottle.
20. Store Dog Food Bags in Buckets or Tins
Dog food bags aren't exactly attractive.
At the same time, you don't want to store them in hard-to-access places.
A good workaround is to tuck the bag of dog food into an attractive tin or bucket.
If you have any old buckets or tins lying around, you could buy special paint and make them look nice.
Then just keep the bag of dog food inside.
Final Thoughts
You don't have to spend oodles of cash to take care of your pet.
With these clever suggestions, your four-legged friend will always have what he needs, and your bank account won't be worse for the wear.