What is Travertine?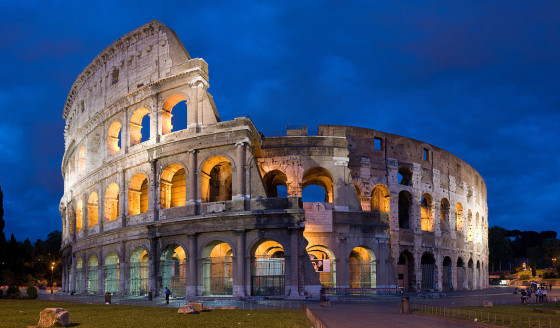 Low-water landscaping and paving stone hardscapes may be two of the fastest-growing home improvement trends in Southern California, but travertine has been a top contender in the world of municipal, residential and commercial building materials since, basically, forever.
When Michaelangelo needed a durable, weather-resistant stone from which to craft the outer ribs of the dome at St. Peter's Basilica, it was travertine that he chose.
It was also the building material of choice for Gian Lorenzo Bernini during the construction of the Colonnade of St. Peter's Square.
It was used widely during Roman times for building just about everything, including some of the structures for which the Romans are most well known, such as their aqueducts, Roman baths, temples, monuments and the Colosseum.
A few examples of modern applications include the walls of the Willis Tower (once known as the Sears Tower), the walls of the UCLA Medical Center and the exterior of the Getty Center in Los Angeles.
As an interesting side note, the travertine used at the Getty Center was quarried from Tivoli, which is the modern name for Tibur — the home of a historic quarry that has been in production for more than 2,000 years.
Travertine has been prized throughout construction history for both its beauty and its durability.
It has been used in and around Italy for thousands of years, but it is only in the last couple of decades that American homeowners have started to incorporate this natural stone into their interior and exterior designs.


What is Travertine?
The Romans called travertine lapis Tiburtinus — named after the historic Tibur quarry where they acquired the travertine used to build the Colosseum.
Travertine is a natural, sedimentary stone often used as a building material and found in hot and cold mineral springs around the world.
It is most commonly found in hot springs, but can be found in cold springs and limestone caves (where it can form stalagmites and stalactites).
It is technically a type of limestone that is formed through a process that includes cycles of water dissolving deposits and evaporation leaving behind layers of aragonite and calcite.
These calcium carbonate layers continue to form over thousands of years to give us the beautiful terraces and cave formations we see today in countries around the world, including Iran, China, Turkey, Hungary, Guatemala, Spain and the U.S.A (at Mammoth Hot Springs in Yellowstone National Park).
While it is a member of the limestone family, it should be noted that travertine and limestone are not interchangeable in the world of architecture, interior design or landscape design, and the names of these types of stones should not be used interchangeably.
You may see limestone and travertine used together in some applications, particularly in interior design where you might see limestone counter tops paired with travertine floors.
Historically, travertine has been used as a building material for its durability, strength and potential for structural integrity.
For example, when the Colosseum was being constructed, they chose travertine for the external wall, ground floor and main pillars.
Another example is the Burghausen Castle in Upper Bavaria, which was constructed almost entirely out of travertine.
Of course, if the Romans were choosing this stone for their bath complexes and the Bavarians were building entire castles out of it, we know that it was not just the strength and longevity that drew them to travertine.
Today, we still use this natural stone for building, but it is much more common — particularly in Southern California — to see travertine used for floors, patios, pool decks, bathroom and kitchen walls, and other applications where homeowners want both durability and beauty.
It is a very common feature in higher-end homes and is one of a handful of materials (granite, marble, onyx, paving stones, etc.) that prospective buyers ask for by name and that realtors hope are in the homes they are trying to sell.
While granite and marble continue to be popular, travertine is pulling ahead of the pack, particularly because it is lighter than both of these heavy stones, it is abundant, it is fairly easy to quarry and its formation near the earth's surface makes if more weather resistant than stone that is formed deep in the earth.


Travertine Colors and Finishes
Travertine comes in a wide variety of colors, and the names used to describe these colors can vary between suppliers.
The most common colors you will see used in residential and commercial applications are ivory, beige, walnut, silver, noche and gold.
Travertine's neutral tones can range from a very light ivory to a rich, dark brown, and can have pink, yellow, red, green or gray hues.
Like other natural stones, the color varies based on where the travertine is quarried and which minerals are most predominant in that area.
The finishes you are mostly likely to see when choosing travertine are tumbled, honed, brushed and polished.
Tumbled travertine is most common for patios, walkways, pool decks and other outdoor applications.
This finish offers a natural, old-world look with gently rounded edges and a textured feel.
These unfilled pavers maintain their porous quality and texture, which makes them a particularly good choice where a durable, slip-resistant surface is needed, such as around pools.
Brushed tiles are similar to tumbled tiles; however, they do not have the rounded edges.
The chiseled — or brushed — edges give these tiles an even more rustic look and are usually used for outdoor applications.
Honed travertine is often found in kitchens and bathrooms or for use as interior floors.
Honed tiles have a smooth, matte finish and the pores have been filled, which makes them more stain resistant.
Polished travertine tiles are smooth, shiny and beautiful, but they can also be slippery when wet.
These are also more stain resistant than brushed or tumbled travertine, making them a popular choice in commercial settings.

Why Use Travertine?
One of the main reasons travertine is so popular is its versatility, which allows it to be used in a wide variety of applications, including:
Interior floors
Interior and exterior walls
Patios
Walkways
Pool decks
Sitting walls
Water features
Counter tops
Back-splashes
Shower stalls and bathtub surrounds
Driveways and parking areas
Indoor and outdoor fireplace surrounds
It is also durable, resists weathering when used outdoors, low maintenance and beautiful.
Additionally, it is a natural stone option, which appeals to a growing number of today's homeowners.
Its unique look and texture allow travertine to be used in applications where a rustic, old-world look is required, as well as installations where a more modern appearance is the goal.
It is an elegant, attractive addition to indoor and outdoor installations and provides a functional surface for outdoor applications where it is important to have surfaces that are skid resistant, slip resistant and cool to the touch.
This makes them a particularly popular choice for pool decks where travertine provides a long-wearing surface that is slip resistant even when wet and that stays cool even in the afternoon sun.
It is also an ideal choice for homes or businesses with indoor areas that flow into outdoor spaces.
For example, if you have a dining room with French doors opening to a patio, installing a travertine floor in both spaces allows you to tie together these living areas for seamless indoor-outdoor entertaining.
Its beauty, durability and versatility are reasons enough to choose travertine for indoor and outdoor applications, but there is also something to be said for the fact that the longest castle in the world (Burghausen Castle, built more than 1,000 years ago) was constructed of travertine, and that the largest building in the world made primarily of travertine (the Colosseum) was constructed in 70 AD.


Should You Seal Travertine?
Yes.
That is the short answer at least.
You do not have to seal travertine tile or pavers, particularly if they are polished, but it is a good idea and is highly recommended.
It can be a little confusing for folks, since travertine is known for being so durable and resistant to wearing.
But there is a difference between walking on a natural stone surface and spilling red wine on it, or having your car leak oil on it, or allowing water from your salt water pool to gather on it in puddles.
For the longevity of your investment and your ongoing satisfaction with your installation, it is best to have your installers seal your travertine and to continue to seal it regularly in the future.
This is true for both indoor and outdoor applications using any type of travertine — except polished travertine, which is pretty stain resistant on its own but can still be sealed to make cleanups even easier.
Talk to your travertine paving stone installer to determine which type of natural stone sealant is the best choice for your particular situation.
There are impregnating sealers that help retain the natural appearance of your stone, as well as enhancing sealers that bring out the contrasts and colors.


How Do You Care for Travertine?
Travertine, marble and limestone often get a bad rap when it comes to their long term care, but these popular stone products are really not that difficult to care for once you know what you are doing.
Mostly, you just need to remember that you are dealing with natural stone and not to use conventional cleaning products, which can etch the surface.
Acids and abrasives of any kind can etch travertine, so it is important to also not use natural cleaning products with vinegar, orange, lemon or mild abrasives.
It is best to simply wipe down travertine surfaces with a cloth or sponge with warm or hot water, and to dry mop travertine floors, walkways and patios.
If something acidic spills on your travertine (even if it is sealed) you will want to clean it up right away.
This includes tomato sauce, coffee, wine, sodas and fruit juices.
Blot with a soft cloth or sponge until the majority of the liquid is gone, and then wipe the surface with hot water using a cloth or sponge.
When you need or want a deeper cleaning than water can offer, you can use a product designed for cleaning natural stone, which you can find at most hardware stores and home improvement stores.
If your travertine gets etched despite your best efforts to use coasters and catch spills as they occur, all is not lost.
You may be able to remove the etching with a store-bought, etch-removal product, or you can bring in a professional to repair the damaged area.
Because it is natural stone, it can also absorb oil (or blood or other organics), but even these stains can be removed by using a poultice-like cleaning substance that pulls the oil from the stone.
Oil-removing cleaners are also available at hardware stores and home improvement stores.

Final Thoughts
Paving stones, in general, are a great option for folks who need surfaces that hold up well to foot or vehicle traffic, are slip resistant, and can be used for both an old-world or modern look.
If you also want to use something with a long history as a popular building material — or to use a high-end option chosen for the likes of the works of Michaelangelo and Bernini, the Getty Center and the Colosseum — then you should definitely consider travertine.
This beautiful, natural stone option will immediately enhance the look of your indoor or outdoor living areas and help you create entertaining spaces that are more inviting and comfortable for you and your guests to enjoy.
The photograph of the Colosseum is by David Iliff (Licence: CC-BY-SA 3.0). The travertine paving stone installation photographs are courtesy of Belgard. Other photo credits (in order of appearance) are: Wikimedia Commons/chensiyuan; Wikimedia Commons/M. Samaee; Wikimedia Commons/Werner Hölzl