4 Patio Makeovers for Any Budget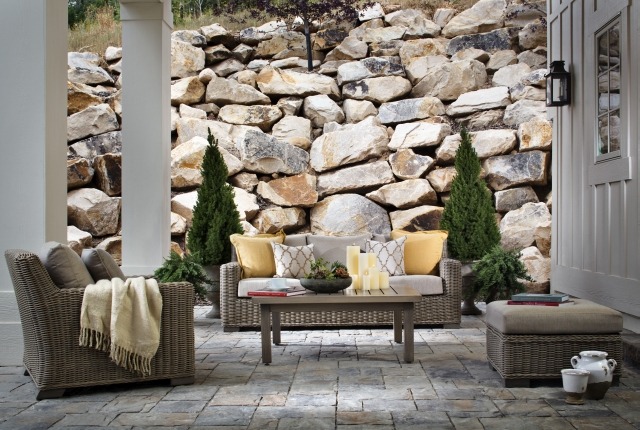 We all want outdoor living areas that are visually appealing and comfortable.
We want functional spaces that can serve more than one purpose, as well as areas that are dedicated to our favorite pastimes or as play areas for our children.
Our patios are usually the center of these outdoor living areas and are the exterior spaces where we spend most of our time when enjoying our backyards.
This is where we sit to watch our children play, enjoy our morning coffee and entertain guests.
Our patios, more than any other single feature in our backyards, define our outdoor living spaces and set the tone for our overall landscaping design.
Because of this, if you want to improve your backyard or upgrade your home's exterior areas, the patio is the place to start.
Whether your home improvement budget is less than $300 or more than $30,000 for this particular project, you have lots of options that can help you make your patio more functional, attractive and comfortable while maximizing your budget and getting the most for your money.
Here are four patio makeover ideas to help you find some inspiration and determine how you can make the most of your budget no matter how small or large.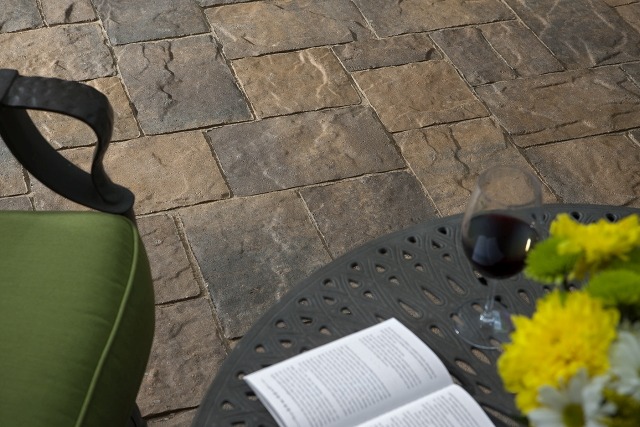 1. Basic Patio Makeover
Even with a very small budget you can make a big impact with new textiles and vibrant colors.
Spending just a few dollars on spray paint can bring new life to metal, wood or plastic patio furniture, and this is an easy, do-it-yourself way to spruce up your outdoor living area before your next party.
If your patio furniture has seen better days and paint is not enough, check flea markets, thrift shops and garage sales for used pieces that need minor repairs or a couple of coats of paint or stain to bring them back to their former glory.
Your next step for a low-budget patio makeover is to bring in texture and color with inexpensive throw pillows, an outdoor rug or patio curtains.
Placemats and tablecloths can be found at great prices at discount retailers, such as T.J. Maxx or HomeGoods, and if you are both thrifty and crafty, you can sew pillow covers from inexpensive fabrics, or you can purchase extra placemats or tablecloths for this purpose to match your pillows to your table linens.
Candles, which can even be found at dollar stores if your budget is particularly tight, help create a welcoming atmosphere, while carefully chosen, inexpensive candle holders from thrift stores or discount retailers can often look like they cost much more than you actually paid.
This type of patio makeover can often be accomplished for less than $200, but even a $50 dollar budget can score you some paint, candles, candle holders and linens if you take the time to find the best deals.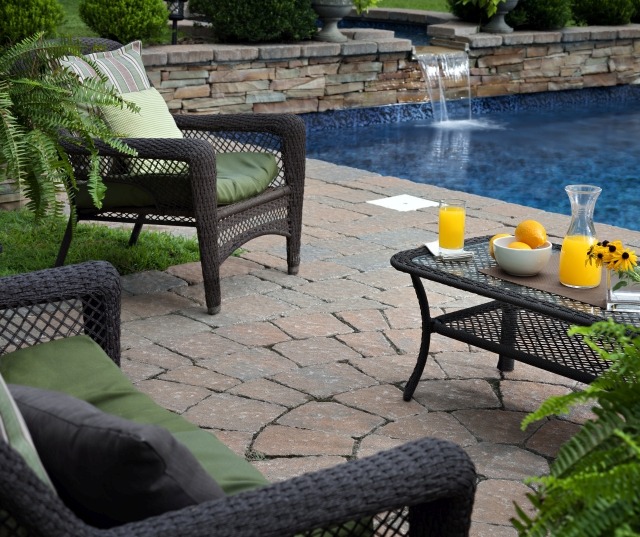 2. Low-Cost Patio Makeover
If your budget allows for a few larger purchases, you can make a significant impact on the overall appeal of your patio with new patio furniture, colorful planters, and a new barbecue grill.
Upgrading your patio furniture is an excellent way to instantly improve the look of your outdoor living area with very little effort.
If you feel like the options you see at your local home improvement stores are a bit above your budget, check online discount retailers, such as Wayfair or Overstock, to see if you might find some more budget-friendly pieces there.
While it is a bit more hit and miss, you can also try your luck at locating some great finds at brick-and-mortar discount stores, such as HomeGoods, which often has a few pieces of patio furniture in stock throughout summer.
The above-mentioned retailers are also great spots to look for colorful planters and garden stools that will immediately brighten the look of your patio with vibrant colors.
While you will find the best deals at the end of summer when they go on sale, you should be able to find a barbecue grill in your budget any time of the year.
New grills start at less than $50 and, while these lower-end options might not be your dream barbecue grill, a new, clean grill of any size and style is an upgrade over an old grill that is beyond the point of just needing some minor work or a paint job.
You might be surprised at just how much some new furniture, colorful planters and a new grill can make your patio look completely different and nicely updated.

3. Mid-Range Patio Makeover
If you have a bit more of a budget to play with, you should consider a mid-range patio makeover that will create a more functional space and can even increase the value of your home.
For example, replacing a concrete slab with a beautiful, durable paving stone patio is an upgrade that will immediately increase the visual appeal of your outdoor living area while also potentially increasing the value of your home.
The same is true of a built-in barbecue grill, which is a significant upgrade over a portable model and instantly transforms your space from a mundane patio to an entertaining area that is sure to impress your guests.
This patio makeover level is also where you should start considering other projects to incorporate into your design that will have a significant impact, such as installing a fire pit or building a roof structure to cover your patio.
Either of these patio improvement projects will make your patio more functional and more usable, particularly during the colder months of winter or when your guests need protection from the sun or rain.
Of course, you should also consider replacing your patio furniture, purchasing new table linens and other low-cost options mentioned above to complete the look and improve this all-important outdoor living area even more.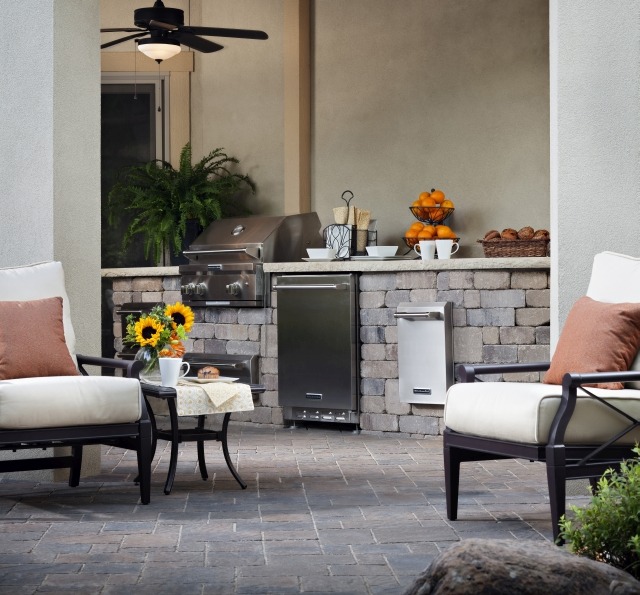 4. High-End Patio Makeover
Not everyone can afford a comprehensive patio improvement that transforms the space into a truly magnificent, completely functional outdoor entertaining area.
But homeowners who do have the budget for this type of project have the opportunity create remarkable, memorable spaces that increase the value of their homes, impress their guests and allow them to more fully enjoy their backyards.
If you are planning a high-end patio makeover, the first step is to install the right foundation by replacing your slab concrete or stamped concrete patio with a well-designed, slip-resistant, durable paving stone patio.
Of course, you may need to take into consideration the placement of electrical wiring or drains, so you should have an overall design in mind before installing it, but a paving stone patio should be at the top of your list for a true, full patio makeover.
Starting from this sturdy, attractive platform, you can then build your dream patio with an elegant patio fireplace, a paving stone sitting wall, paver walkways to guide your guests and, of course, an outdoor kitchen.
A basic patio kitchen should have, at minimum, a small refrigerator, a built-in barbecue grill and a sink.
This will allow you to perform the necessary functions for cooking and entertaining outdoors, but you will likely want to consider additional features, such as burners, counter space, storage cabinets, electrical outlets for blenders and other appliances, or a pizza oven.
If your current patio is not covered, you should also consider installing a roof structure to cover at least part of your outdoor living area.
Your Turn…
What improvements would you make to your patio if you had an unlimited budget?