12 Things You Can Do at Home to Protect San Diego's Oceans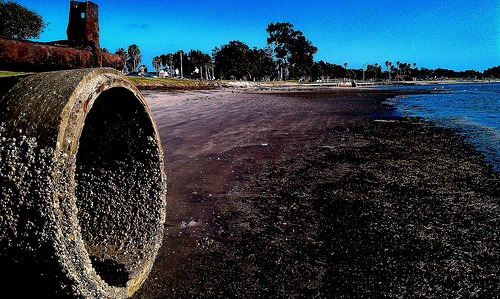 The gutters in front of our homes sometimes get neglected as leaves pile up, trash blows in and soap from washing our cars gets washed away.
Experts from the San Diego Regional Water Quality Control Board state that toxins, sewage and trash that pose a risk to human health regularly flow to San Diego beaches and rivers by way of storm drains after a heavy rain.
So, imagine what these toxins can do to wildlife. The good thing is that there is plenty we can do and homeowners should know that any seepage running off their property into a storm drain is their responsibility, not the city's.
What is Storm Run-off?
When it rains (or snows) only so much water can soak into the ground and the rest needs to go somewhere. The answer is that it usually winds up in a storm drain while carrying debris, dirt, chemicals and other pollutants picked up along the way. Storm run-off winds up in rivers, lakes, wetlands, beaches and ocean without being treated. A huge misconception that Southern California homeowners have is that storm drains and sewers that are treated are one in the same, when actually they are totally different. And, on a daily basis, millions of gallons of water enters the ocean via storm drains in Southern California.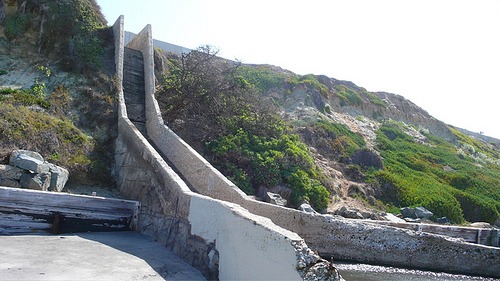 Remember, we swim and fish in these areas. When you hear about local beach closures due to pollution, storm run-off is a big reason why. The above photo is a storm drain at Torrey Pines State Beach.
The Impact of Storm Run-off
Needless to say pollution impacts our health and economy, because when our water is polluted, it can't be enjoyed by residents and tourists who visit Southern California in order to take advantage of our fine weather and gorgeous beaches. Some beaches in San Diego have been closed for months at a time.
Also, swimming near a storm drain is not recommended and most California counties issue a warning against swimming in the ocean for 72 hours after it rains due to storm run-off. It is assumed that the public knows this information so signage is often not posted. Surfrider Foundation is currently advocating more public outreach surrounding this issue.
There are a variety of human illnesses linked to storm run-off that are linked to bacteria exposure not only from potentially swallowing ocean water,  but from the bacteria entering the body via cuts and wounds, so imagine what the bacteria does to sea life.
Things we can do to Prevent Storm Run-off
1. Scoop the Poop —
It goes without saying that pet waste in a storm drain is a bad idea and if there's a ton on the lawn during a heavy rain, it can wash into the storm drain.
2. Keep Trash and Litter at Bay — 
Plastic bags and paper can suffocate wildlife as can cigarette butts when swallowed.
3. Ease up on Fertilizers — 
Composting is the best way to go but if possible, switch to organics. The bottom line is to omit chemical-based fertilizers that can wash off of lawns and gardens into our gutters.
4. Be Careful with Paint —
Store paint carefully and take care to avoid spills on to the garage floor or any other outdoor surface where it may wash into storm drains. Though it may seem trivial, paint is a big issue for our oceans.
5. Be Mindful of Home Improvement Waste —
In the midst of renovations where drywall dust that can cloud oceans and other construction material can be washed in a rain-storm, try to keep it all contained in a covered dumpster or in the trash and off the ground by sweeping it up.
6. Check Your Car —
Don't let your vehicle leak oil or other chemicals on to the driveway or near the curb in a manner that allows chemicals to be washed into the lawn or storm drains.
7. Wash the Car Responsibly —
Use environmentally-friendly soaps and minimal water if you must wash the car at home. Some experts recommend doing it on top of a landscaped surface as the soaps and water won't kill plants. Install a trigger nozzle on the hose that will stop water when not needed.
8.  Know Where Your Drains Are —
Sure, they're usually easy to spot, but if you're planting a new vegetable garden be mindful of where your drains are as to avoid getting any loose dirt into them. This also goes for mulch and other debris that may pile up in your yard drains. However, you probably know where your yard drains meet the street so it is possible to catch larger debris there when flushing the system during routine maintenance.
9. Use Rain Barrels —
Rain barrels, if implemented correctly can reduce the amount of water run-off in the yard while also providing less of a need for irrigation. They catch excess rain water naturally or even from rain gutters, depending on installation. Then, homeowners repurpose the water in the yard in lieu of watering manually with a hose or by other means. This caught water lessens the burden on storm drains, potentially washing less debris into the ocean.
10. Swap Mulch for Herbicides —
Keep weeds under control by using a good mulch instead of chemical weed killers.
11. Sweep Leaves and Trash —
Though technically the city's domain, it's prudent to keep leaves and other debris out of the gutter by occasionally sweeping it yourself.
12. Don't Hose the Driveway —
Leaking oil, dirt and debris on the driveway will just wash into the storm drain so sweep instead of spray.
Interestingly enough, San Diego is one of the only remaining cities of its size that sweeps streets on a regular basis. It's estimated that street sweeping removes about 220,000 pounds of debris from storm drains annually. The city's goal is to sweep residential streets once per month and commercial areas once a week.
Report Storm Drain Pollution and Vandalism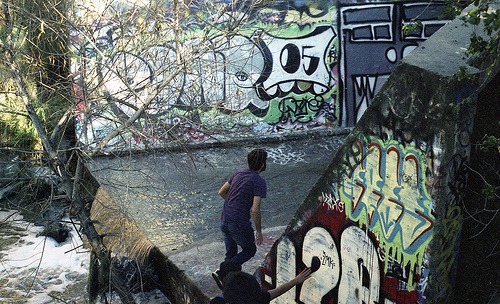 If you see something unusual, you can file a storm water service request online. However, if it's an emergency (in the event of hazardous waste, for example) call 911 immediately. Non-emergency issues during business hours are handled on the Storm Water Hotline (619) 235-1000. Vandalism of storm drains is also a common occurrence and illegal, so residents are encouraged to report it.

Your Turn…
It's easy to think that one household isn't going to make a difference in pollution, but if we all work together we can prevent beach closures due to pollution and enjoy San Diego the way the weather allows. Visit the city's Think Blue website for more helpful tips.
Photo credit: storm drain, Flickr/Keoni Cabral; Torrey Pines storm drain, Flickr/chrislee-cm; Del Cerro storm drain, Flickr/Matt Hoffman