10 Outdoor Kitchen Essentials
The ultimate outdoor kitchen has everything you need for al fresco entertaining and everyday outdoor living without taking over your entire patio. Your existing kitchen – or your design, if you are installing a new kitchen or remodeling – probably already includes counter space for prepping food, a grill for cooking, a refrigerator, and a sink with hot and cold water. These are the basics that make your outdoor kitchen functional and make cooking outdoors much more convenient.
If your primary use for your patio kitchen is to prepare occasional meals for your immediate family, this may be all that you need. However, if you regularly host larger gatherings of family or friends, there are other amenities you may want to consider. With fun additions, like pizza ovens, or features that add function, like ice makers, you can impress your guests, make party hosting more convenient and enjoy your outdoor living areas more.
To get you on the road to the ultimate al fresco entertaining space, here are 10 essentials to add to your outdoor kitchen checklist.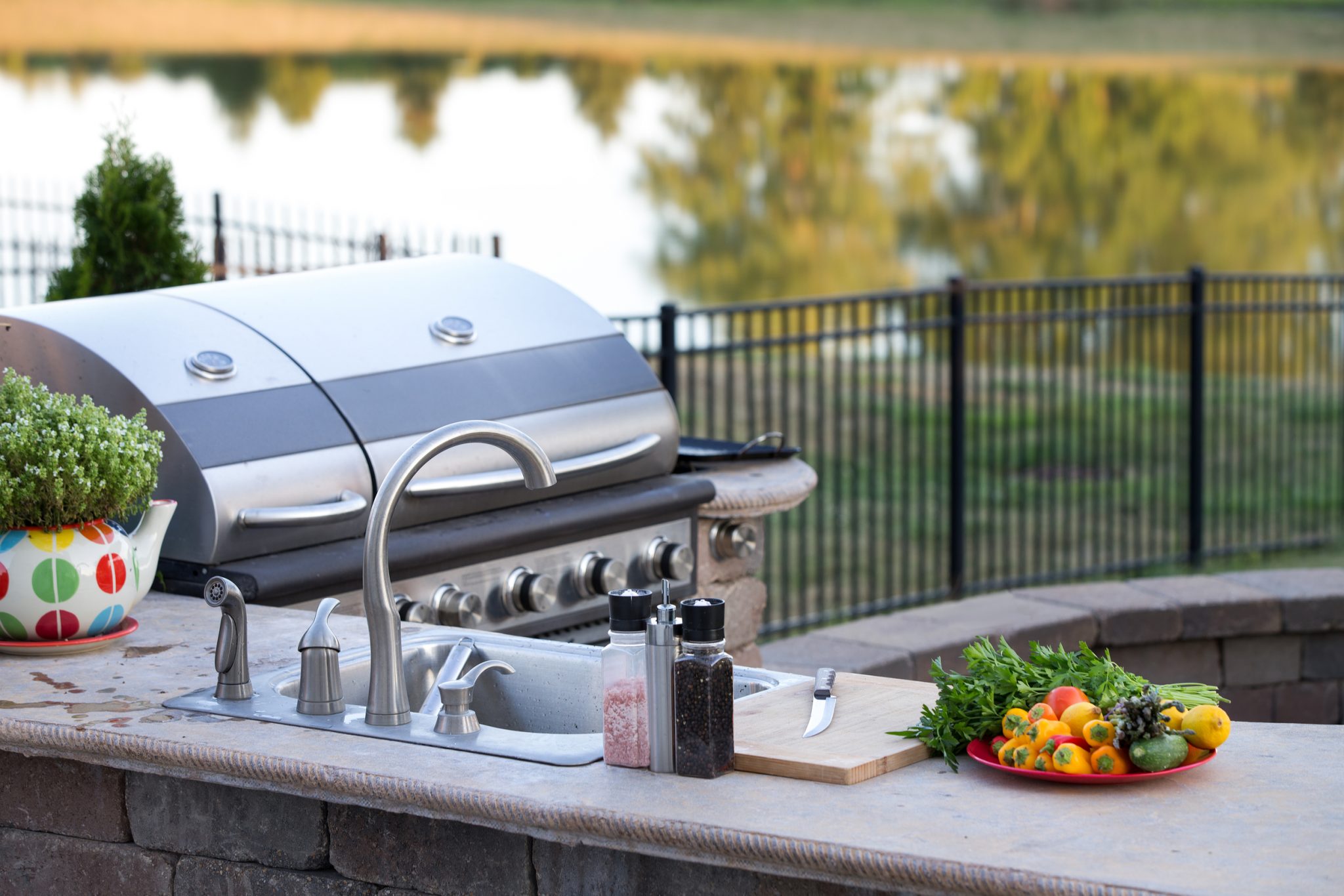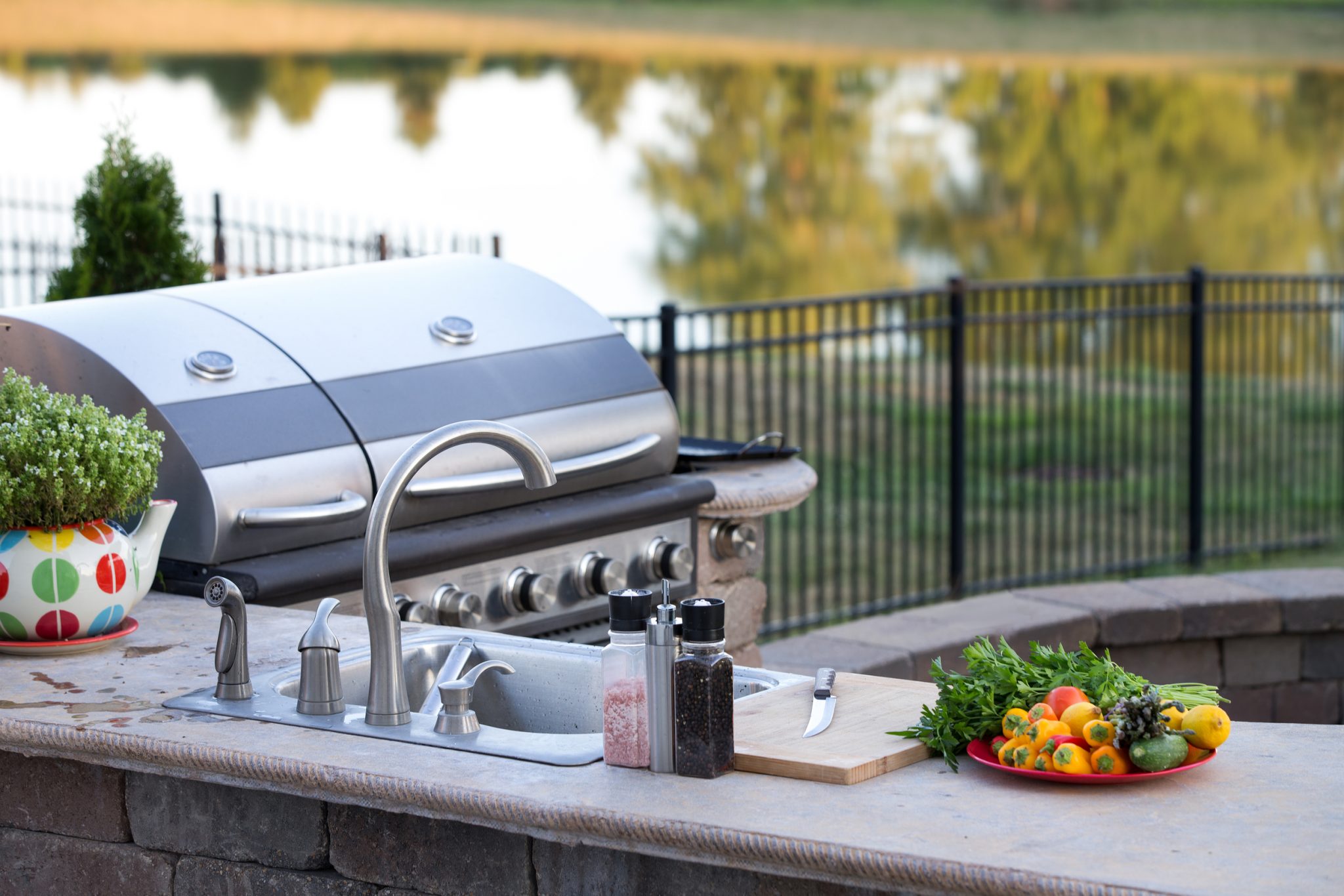 1. Task Lighting
If you are adding your patio kitchen to an existing outdoor living area, you probably already have ambient lighting perfect for setting the mood for an evening soiree. However, now that you will be cooking, making drinks and prepping food, you will need adequate lighting to safely complete these tasks. The best way to illuminate your work areas without taking away from your overall outdoor lighting setup is to install task lights. Task lighting allows you to focus light on areas where it is needed without brightening your entire patio.
2. Ice Maker
No list of outdoor kitchen essentials is complete without an ice maker. This feature is particularly important if you entertain frequently, since it will save you from running to the store to purchase bags of ice before every party or having to repeatedly fill your ice bucket from your indoor freezer. If you are still in the design stages, you can include an under-counter ice maker so that it will be tucked out of the way and not take up counter space. If you are looking to enhance an existing patio kitchen, you can purchase a portable, counter-top or free-standing unit, which will take up a little more room but will make outdoor entertaining easier and more convenient.
3. Wine Refrigerator
This is another must-have item for frequent entertainers. A patio wine refrigerator allows you to stay outdoors with your guests and saves you from running to the wine cellar every time you need another bottle of wine. An under-counter option is your best bet if you are building or remodeling your outdoor kitchen. If you would like to add an outdoor wine refrigerator to an existing kitchen, there are also free-standing options that you can easily roll into position near an electrical outlet. Free-standing wine refrigerators are also a good choice for small patios, since you can store it in your garage or pantry to keep your everyday wine perfectly chilled between parties.
4. Warming Drawer
If you have remodeled your indoor kitchen within the last 10 years, you probably have at least one warming drawer and already know just how convenient this handy appliance is when your family gathers for holidays or when hosting a dinner party. Warming drawers are perfect for warming up bread for an al fresco dinner party, keeping sides warm while you grill main dishes, warming up dishes brought by guests, or keeping foods that were prepped in your indoor kitchen warm until is time to serve them to your guests.

5. Pizza Oven
A patio pizza oven should definitely be on your ultimate outdoor kitchen checklist. Whether you spring for a built-in, wood-fired oven or give your budget a break with a countertop model, your family and friends are sure to want to hang out at your house more once you start making pizzas right on your patio. An outdoor pizza oven is a draw all on its own, but it is also the perfect way to take your backyard movie nights or watching the big game on your patio television to the next level.
6. Beer Tap
If you frequently serve beer at your social gatherings, a beer tap with a kegerator will save you money, save time on post-party cleanup and even make your parties a bit more eco friendly. Rented kegs are generally less expensive than buying cases of beer and there are no bottles or cans to recycle, so this outdoor kitchen addition will not only impress your guests, it will also make your role as the consummate party host much easier.
7. Patio Bar or Bar Cart
If you have the space and the budget, opt for a built-in wet bar with counter space, a sink, ice maker, blender, beer tap, and wine refrigerator. This will allow you to hire a bartender, assign a guest to bartending duties or at least not leave the gathering to go inside to make drinks every time folks start running low. You can also have your guests make their own drinks if you have a patio bar. Some hosts find this to be the most convenient option and most guests will not mind making their drinks. If you do not the space or budget for a full bar, you can also go with a bar cart, which you can use both indoors and outdoors and that can be stored when not in use.
8. Coffee and Tea Bar
If you have the space to create a dedicated coffee and tea bar, you can set up your outdoor kitchen with an espresso machine, tea kettle, pour-over gear, and an assortment of coffees and teas. If not, you can always go with a portable coffee cart. This is one of those outdoor kitchen essentials that you can enjoy every day – not just when you are having guests over – since enjoying your first cup of coffee outside on your patio is always the best way to start the day.
9. Trash, Recycling and Compost Bins
When it is just you and your family, you might not mind taking paper plates and empty soda bottles to your indoor receptacles or transporting food scraps to your compost pile. However, if you frequently host larger gatherings, conveniently located bins for trash, recycling and compost are definitely outdoor kitchen essentials. Make sure they are clearly marked to save yourself from sifting through trash and kitchen scraps to fish out the bottles and cans.

10. Dishwasher
A dishwasher may not seem like a necessity for your patio, but anyone who regularly cooks outdoors or hosts dinner parties is sure to see just how convenient this outdoor kitchen essential would be. An outdoor dishwasher can be particularly convenient if you have dedicated dinnerware or serving dishes that are only used for outdoor entertaining. An added bonus is that you can always use your patio dishwasher along with your indoor dishwashers to increase the number of dishes you can wash concurrently after holiday gatherings or dinner parties. So, if you would like to make your life easier, you might want to add a dishwasher to your outdoor kitchen checklist.