What is KoolMax Technology for Artificial Grass?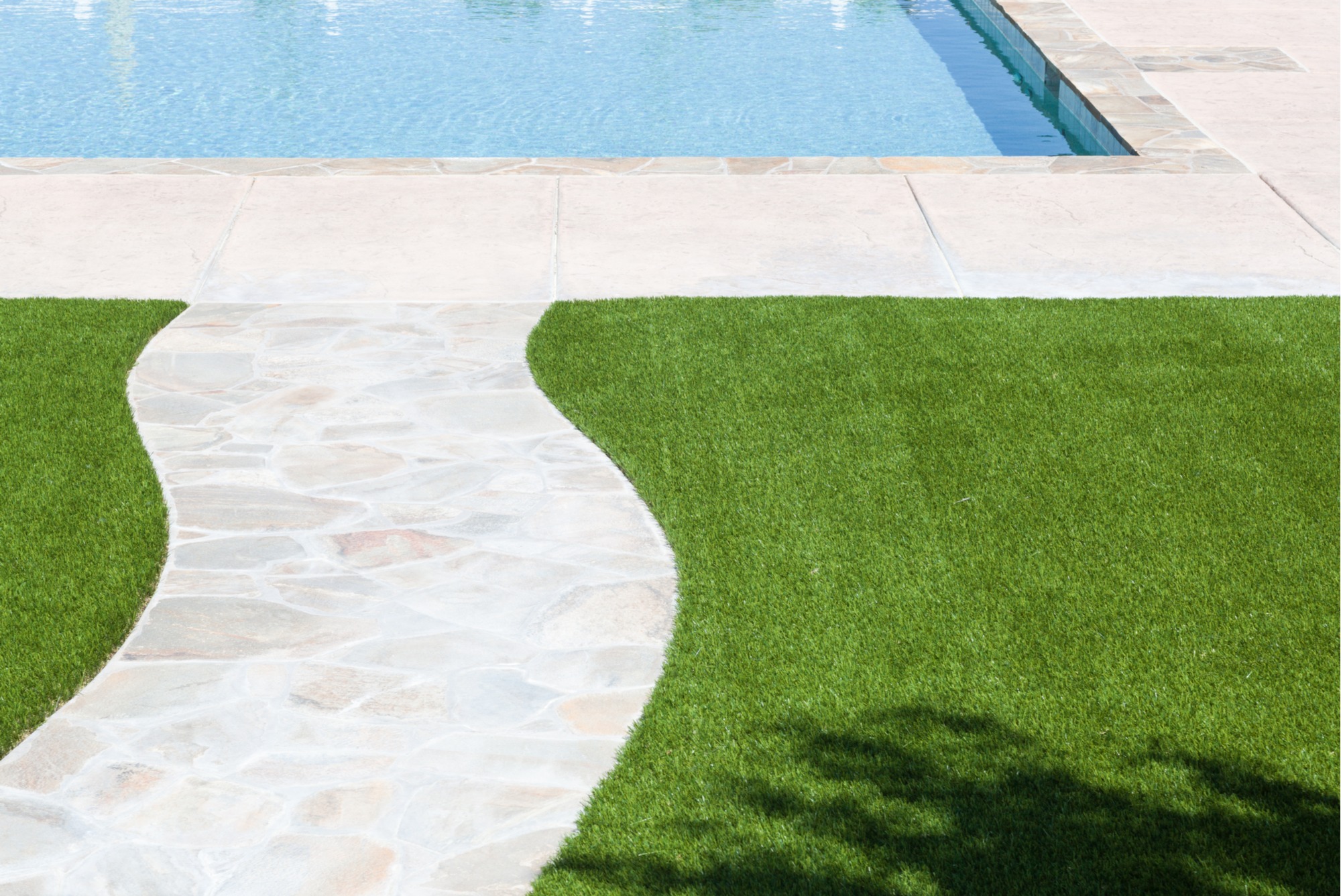 One of the main concerns homeowners have before installing artificial grass is whether or not it will get hot on sunny days. This is of particular concern to families with children or pets who will be using the synthetic turf lawn and those who plan on using their lawn for activities, such as outdoor entertaining, sunbathing or playing backyard sports.
This is a valid concern, since artificial grass is known to get hotter than natural grass when the sun is directly on it on hot days. However, this is actually to be expected – particularly with older synthetic grass options – since natural grass and artificial grass are two different landscaping features with different properties. It is also important to note that artificial grass does not get as hot as other hardscape options, such as brick or asphalt.
Most importantly, folks who are considering artificial grass need to know that not all turf is created equal. There are lower-quality options and higher-quality options, and part of what differentiates the two are the technologies used by the fake grass manufacturers. This is an important consideration for folks who are concerned about their artificial grass getting hot, because advances in artificial grass technology have significantly changed the way artificial grass absorbs and distributes heat. Therefore, choosing the right turf product can make the difference between a lawn that is usable on hot days and one that is too hot for comfortable use.
Of course, you can always cool off any artificial grass by spraying it down with a garden hose or adding shade, which will provide an immediate drop in surface temperature. But why not choose a turf product made with technology that keeps it cooler in the first place?
What is KoolMax Technology for Artificial Grass?
Install-It-Direct uses high-quality turf products manufactured by Global Syn-Turf, which has its headquarters right here in California. GST KoolMax Technology is one of the next-generation technologies that are changing the artificial grass industry.
KoolMax artificial grass technology was introduced in 2013 with the purpose of keeping fake turf cooler in some of the hottest climates in the country, which includes Southern California. KoolMax technology has been tested in controlled environments and proven to keep artificial grass 15 degrees cooler, even on the hottest days. This means that a synthetic turf lawn with KoolMax Technology stays 15 degrees cooler than artificial grass lawns without KoolMax.
Part of the reason that artificial lawns with KoolMax do not get as hot as other turf products is that this technology deflects light, enhances airflow and allows heat to dissipate more efficiently. This is partially achieved by the unique, W-shaped blade, which diffuses sunlight and heat.
If you are concerned about the ability to use your artificial turf lawn on hot, sunny days, you should look into the products offered by Global Syn-Turf that include this cooling technology. If this is an important factor for your installation, be sure to mention it to your design consultant so that he or she can direct you to the best artificial grass product for your project.