How to Plant an Attractive Home Vegetable Garden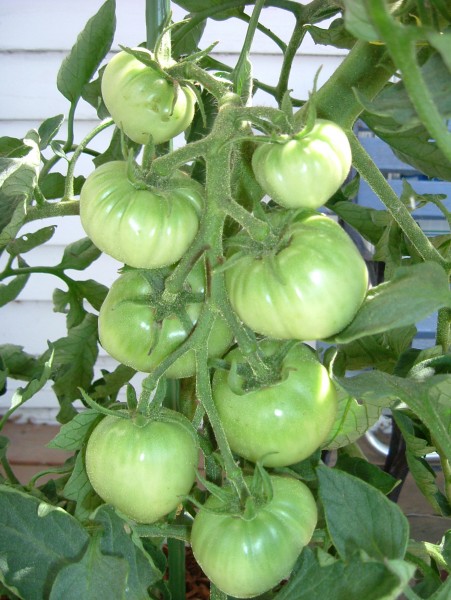 Most of us purchase our produce at our nearest chain grocery store and pay little attention to where it came from, what was used to grow it or how it may or may not be genetically modified.
Of course, for the health conscious among us, there are also farmer's markets, local produce stands and the organic section of our local health food store.
Buying from local farmers is a good way to know where your food is coming from and to lower your carbon footprint, since your fruits and vegetables will not need to be trucked thousands of miles to reach the produce bins of a grocery store near you.
Buying organic – either at a chain store or from local vendors offering organic foods – is another great way to reduce your environmental impact and to avoid chemical fertilizers and pesticides that are used to grow the conventional produce we find in most markets.
However, not everyone has a year-round farmer's market with local produce readily available, and buying organic produce is not always an option for folks who might be shopping on a budget
But you still may be concerned about the harmful effects of chemical exposure or would prefer buying vegetables and fruits that were at least grown on this continent.
One fantastic way to go a little greener, lower your food expenses, teach children about how food is grown and know where your food is coming from is to begin to grow some of your own produce.
This does not mean that you need acres of land where you can plant a family farm that provides every vegetable you will ever need.
In fact, you can begin to grow your own food just by planting a simple herb garden on your kitchen windowsill or a container garden on your patio.
If you have room in a back or side yard for a small plot of land dedicated to growing fruits and vegetables, your options for growing your own food expand even more, and you can grow enough produce to reduce your grocery budget and feed your family nutritious foods throughout the year.
Of course, just because you would like to grow some tomatoes or squash at home does not mean that you are at all interested in having rows of unattractive bare dirt, scraggly plants and more pests in your backyard.
The good news is that it is possible to create a garden space that is both functional and attractive.
Depending on your garden design, the plants you choose to include, and the walkways and borders you use, your home vegetable garden may even become a visually appealing focal point that you will be proud to show off to guests.
Why Should You Grow Your Own Food?
The benefits of growing your own food include saving money, living a more eco-friendly lifestyle and avoiding harmful chemicals used in food production.
There are many reasons why someone might decide that they want to grow their own herbs, fruits, vegetables, grains or legumes.
To provide a better understanding of some of the best reasons to start a home vegetable garden, here are 10 benefits of planting a garden at home:
1. When you grow your own food, you know exactly where it came from.
2. You can lower your carbon footprint by reducing your reliance on foods transported hundreds – or thousands – of miles to reach your local store.
3. You can lower your food expenses while feeding your family healthier foods.
4. You get fresh air and exercise every time you tend to your garden.
5. You know exactly what was and was not used to grow your food, including fertilizers, herbicides and pesticides.
6. You know whether or not your family is consuming foods that have been genetically modified.
7. You can teach your children where food comes from and how it is grown.
8. You can spend quality time with your family as you work together to grow and harvest produce.
9. You and your family will be more connected to your food source and to nature.
10. Growing your own food and getting your hands dirty to provide nutritious foods for your family is good for the soul and a satisfying experience.
Aside from these obvious benefits, you also get the convenience of simply stepping out your back door to pick a few tomatoes or basil leaves for the pasta you are making for dinner, rather than needing to run to the store just because you forgot a single ingredient.
Plus, there is a growing movement to buy locally, particularly when it comes to produce and other food items.
You may not be able to purchase all of the foods you need for your family from sources that are near your home, but you can take an important step in the right direction by planting your own garden.
After all, it doesn't get any more local than your own backyard.
Choosing a Garden Design
The reason many people are not interested in having a vegetable garden at home is because they have an image in their head of unkempt, dusty rows of seemingly random plants, much like the utilitarian backyard gardens many of our grandparents may have had.
While this is still a popular way to grow food in a small space at home, you can also choose to create a beautifully designed garden that fits with your overall landscape design and is an attractive feature in its own right.
For example, raised garden beds that can be easily constructed by handy sorts or professionally installed, are a popular option in modern gardens and allow you to avoid the look of rows of dirt.
Raised garden beds are also easier to maintain, easier on your back and provide segregated areas where you can organize your plants and plant them in an attractive manner according to colors and textures.
This is also a great way to create garden sections to place certain plants together in order to have a garden that requires fewer or no chemical pest control methods, or to create a designated space for your children's garden, if you would like to limit them to just a few hardy, easy-to-grow plants while they learn how to grow food.
You may also want to consider some type of fencing, particularly if there is abundant wildlife in your area, you want to keep your own pets – or children – away from the garden or you want to keep your vegetable garden separate from the rest of your yard.
A white picket fence will give your garden a country look and help keep out wild rabbits and skunks, but this option may not be as helpful with animals that are more prone to climbing, digging or jumping, such as deer, gophers, opossums or raccoons.
If you live in an area where these animals might become an issue, consider including sturdy fencing in your garden design that goes below ground level to help stop diggers and burrowers.
Alternatively, if you choose raised garden beds, you can include a thick layer of gravel underneath the soil to keep burrowing animals away from your plants.
Raised garden beds are a great place to start when it comes to designing an attractive garden.
You can also beautify your garden space by choosing well-made, attractive tomato cages, potato cages and trellises for your climbing plants.
If critter fencing is not necessarily required, but you would like to somehow separate your garden from the rest of your yard, you could also consider planting a row of fruit trees as a border.
This living border can provide oranges, lemons, apples, avocados or other fruits for your family while providing an attractive screen to block the view of your garden.
Once you have determined which basic, functional elements to include, you should also consider what you will use for walkways, borders or other areas.
For example, to keep down dust and make the walkways between your garden beds attractive enough for guests to walk on to view your backyard hobby, you might consider using paving stones.
Pavers come in a variety of shapes and colors and can be used to create a basic walkway or an intricately designed pattern for enhanced visual appeal.
Paving stones are easy to sweep clean of dirt and debris, and are a durable, slip-resistant option, which is important if children or guests may be on wet walkways to help you water your plants.
If you prefer lush, green walkways that provide a softer look, you could also use artificial grass.
Synthetic turf is much easier to care for than a natural grass lawn and will not require you to try to mow and edge the grass between your planters.
With fake grass, you can simply provide some minimal maintenance, such as cleaning and brushing, and never have to worry about pulling weeds, or using fertilizers or pesticides, which are part of regular maintenance for natural lawns.
Artificial turf is a low-maintenance option for garden spaces and allows you to save the water for your food-producing plants while still having the verdant look and feel of conventional grass.
If you have limited space in which to garden, keep in mind that you can create a beautiful and bountiful container garden on a paving stone patio or synthetic grass lawn as well.
Deciding What to Grow
What you grow in your vegetable garden is largely up to you, but you will want to at least know your USDA Plant Hardiness Zone to help inform plant selection.
For example, if you are planting a backyard garden in Southern California, you might consider including peppers, tomatoes, squashes, onions, beans, kale or eggplant.
It is also possible to grow your own corn, spinach, broccoli, cauliflower and a host of other flavorful vegetables in California.
When choosing what to plant in your garden, you should also consider which produce items your family eats on a regular basis and which fruits and vegetables you would like to eat more of regularly.
These are the plants you should focus on when choosing seeds or plants for your backyard garden.
For example, if salads are a regular menu item in your home, you could plant lettuces, carrots, tomatoes and cucumber.
If pizza or pasta is a family favorite, then tomatoes, oregano and basil are a great place to start.
If you do not want to use chemical pesticides in your garden, you should also consider incorporating plants that ward off pests, such as marigolds, lavender or peppermint, which can also add color to your garden.
Adding Finishing Touches to Beautify Your Garden Space
Coming up with an attractive layout, choosing the right fruits and vegetables to grow for your family, and warding off pests naturally are important parts of creating an attractive home vegetable garden that will serve its purpose and enhance the look of your yard or patio.
For a finished look, you can also add additional touches, such as seating, ground covers or a water feature.
There are several attractive ground cover options that will beautify your garden space by covering any bare earth while also serving practical purposes.
For example, if you choose mulch, wood chips or bark for your ground cover around the plants in your garden, it will keep down the dust, limit weed growth and conserve water by improving moisture retention in the soil.
If you have included paver patio areas in your garden design, you can add a wooden or concrete bench for seating, or a small bistro set, which would allow you to enjoy your morning coffee or afternoon tea in your garden.
Most importantly, be sure to add some finishing touches that personalize your garden space and make it an outdoor living area where you will want to spend time on a regular basis.
Gardening is a relaxing, rewarding hobby, but it does take commitment and the motivation to tend to the needs of your growing plants.
If you make it an inviting outdoor living space where you and your family will want to spend time, then tending your garden will be a much more enjoyable undertaking.