How to Incorporate Color Into Your Backyard
With more people choosing to spend time…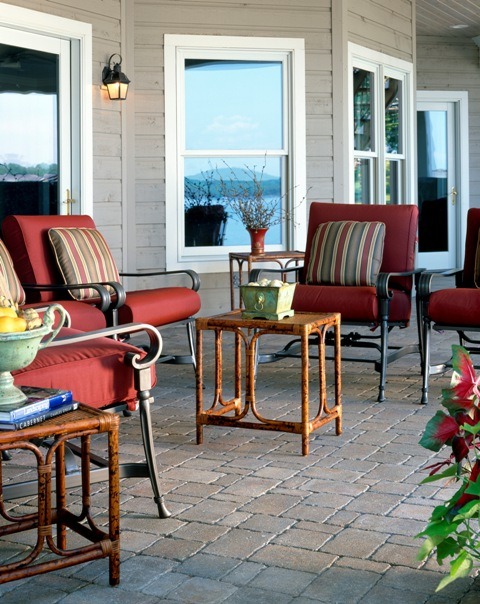 …in their own backyards, outdoor living décor has rocketed to new levels recently.
Design elements are bolder, and colors are more expressive than ever.
While the neutral shades found in nature can be beautiful and tranquil,
adding dynamic tones will set your yard apart from your neighbor's.
Incorporating color into your outdoor living space is easy once you evaluate your personal needs.
Extend Your Indoor Space
When creating a cohesive living space, it's best to use components that will blend seamlessly from inside to the outdoors.
Choose colors, patterns and themes that complement your main living spaces inside the home.
You can easily define the overall story behind your style by adding just a few key colors. Consider the main features of your home, and select matching shades for your outdoor cushions, floral arrangements or light fixtures.
Conversely, you can use contrasting tones as a way to ignite the senses and create eye-catching surprises in your yard.
If your home is filled with neutral elements, produce visual points of interest by adding bright, intense colors to your deck, patio or garden. Taking a creative and unique approach to designing your yard will allow you to maximize the results with very little effort.
Avoid Color Confusion
One of the biggest mistakes homeowners make when trying to add life to their backyards is using too much color. It's easy to overdo things once you get started.
The key is to keep things simple by adding splashes of color around the entire area. Your outdoor living space should be relaxing and inviting. Don't overwhelm the senses by turning your yard into a carnival midway.
Color is powerful, and it can elevate your mood when it's used correctly. Whether you want to create an exciting, fun entertainment zone or a peaceful, quiet getaway, the proper use of color is essential.
Before adding new tones, consider the surrounding foliage and landscaping as well as the way the sunlight hits various points throughout the day. If certain areas are already packed with color, move on to other sections.
Some major ways to balance tones in specific areas include:
installing two-tone paving stones to your deck or patio
using unique design layouts in a brick or stone wall
adding a patterned privacy curtain or screen around your lounging area
installing an awning or other form of protection that matches shutters or window treatments
planting complementary colors of blooms around a sitting or entertainment area
Think Outside the Box
Most people know how to add color to a yard by using flowers or throw cushions.
Hanging colorful plants or adding pillows to your chairs, gliders or sofas gives you plenty of options for decorating in all seasons, but there are many more inventive ways to add pops of color.
When considering your options, use the element of surprise to spark visual interest in main areas.
One way to integrate color without overdoing it is to place interesting pieces in unexpected places. A hanging plant filled with exotic blooms looks charming right outside the sunroom door, but it will stand out more over an end table.
You can also paint pottery to match other shades in your yard and fill it with simple greenery. Positioning your floral arrangements in an unsystematic order will liven up the area further.
When it comes to using color as an unpredictable focal point, do the opposite of what comes naturally. Instead of hanging multicolored artwork on the exterior of your house, let it stand freely next to a loveseat.
Replace a water feature with a fire element like a hearth or fire pit. Paint wooden chairs, tables or fences with striking tones instead of traditional neutrals.
Essentially, anything you can do to make an item stand out against the colors of nature will be effective.
Express Yourself with Color
Colors resonate differently with different people. To create a welcoming ambiance, consider what colors you identify with the most.
Once you know your color personality, you can work on different parts of your yard.
Determine what you want to accomplish in each area before you start shopping around. If you want a cozy nook in one spot, adding soft colors will enhance its warmth.
If you prefer a lively, eclectic environment, intensify the aesthetics by using various vibrant, electric tones.
The best way to turn your backyard into an extension of your beloved home is to make a smooth transition from indoors to the outside world.
For more tips on incorporating color into your outdoor living space, contact the experts at Install It Direct.
If you keep things simple and represent your personal style in your color choices, you can build an outdoor escape to be proud of.