Creating a Perfect Hardscape Means Breaking it Up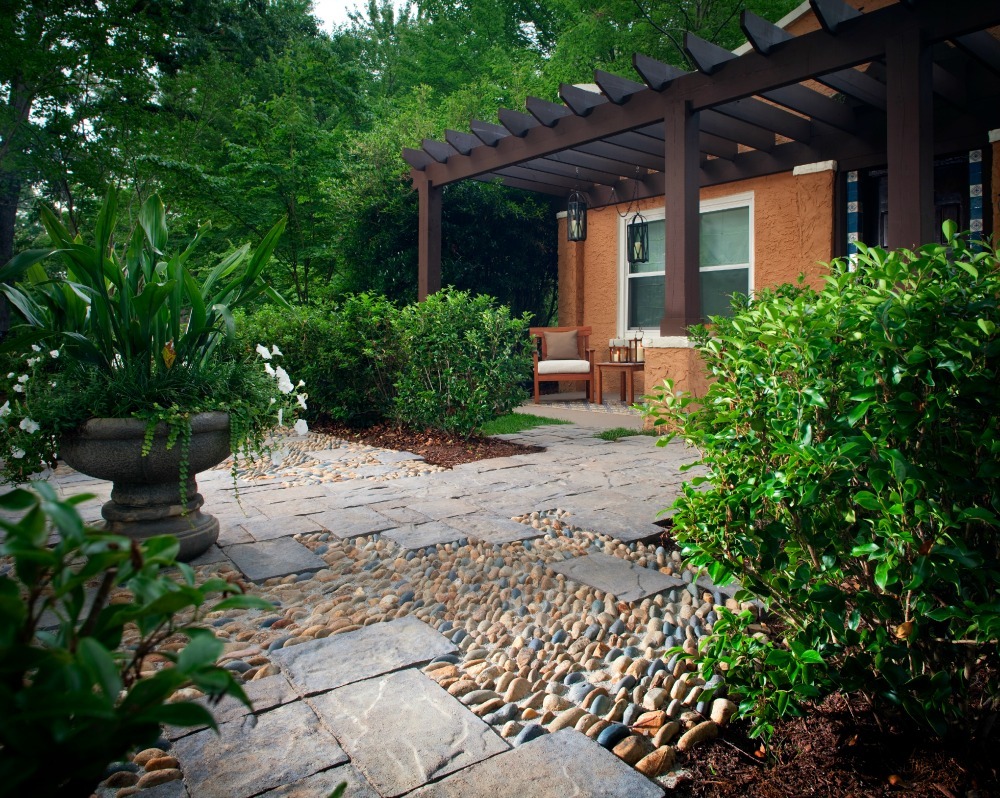 With homeowners across Southern California rushing to replace their lawns, many are turning to the convenience of hardscape patios, driveways, walkways, steps and walls. For large or more creative installations, mixing in element of surprise like ground covers, decorative stones and other materials help to add visual interest.
We'll give you examples of what you can plant between pavers and provide creative examples of what homeowners have done with other materials.
Reasons to Break Up Hardscape
It Looks Better – 
First and foremost, it helps break the monotony in both large and small areas of hardscape. Plants do a great job of softening the look of hardscape materials like concrete pavers, brick and stone. They can flow over edges, be planted in small pocket gardens or grown in between any natural or intentional dividing lines or cracks.
It Guides Traffic – 
Breaking up hardscape also helps guide visitors in the right direction by outlining walking paths. The homeowner below chose succulents to keep people from deviating off the pathway.

To Create Balance – 
Areas that are too linear create an unnatural feel because straight lines are rare in the wild. You can create a sense of balance by creating curves in your design and by allowing plants to flow over the edges of your patio.

Things to Consider Before Planting Between Pavers
How Will You Water the Area?
This is especially important given the California drought. Long strips between pavers can be irrigated via perforated drip irrigation hoses that are installed under the soil. If there's a larger strip, water-wise microspray sprinklers could be an option.
Will it Experience Foot or Vehicle Traffic?
If so, choose ground covers that are hearty enough to handle traffic or perhaps go with a material like decorative gravel. If the latter is loose, keep in mind that it may get kicked out of place so consider whether or not you have the patience to sweep it back into place.
Do You Have the Patience for Seeds?
A cost-effective and easy way to plant small spaces includes sourcing seed packets of whatever ground cover you choose. Sprinkle the seeds and wait for growth.
Are You Looking for Color?
Keep in mind that flowers bloom seasonally, giving these spaces a different color for several months of the year. You'll have to eal with the color of the plant's foliage during the rest of the year. Keep in mind that green isn't the only option. Dymondia is a sturdy groundcover with silver leaves, black mondo grass is useful in modern applications and yellow sedum brightens up an area.
Does the Area Receive Sun or Shade?
If the area is large, the odds are that it receive some combination of both. Do not try to force a sun-loving plant into the shade (and vice versa) in order to maintain uniformity, because it will ultimately look less robust and probably patchy.
How Is the Drainage?
If the area doesn't drain well, consider adding a drain or using plants that can handle excess moisture. Gravel may also be a great option here, too.
Materials to Use
Artificial Grass – 

One of the easiest things to do is to put artificial grass in decorative lines between paving stones. Not only does it add consistent color and soften the overall look, homeowners won't have to water, weed or fertilize the area. Weeding is a big concern as pesky seeds can root in even the smallest of spaces, which can be incredibly difficult to remove weeds from. As a result the area can also start to look a bit scrappy if you or your gardener doesn't have the bandwidth to stay on top of the situation.
The same principles apply to artificial grass, too. It's very easily laid in large areas that can be broken up with little pocket gardens and flowing plants.

Decorative Gravel –

Loose gravel adds a sensory component to a landscape, from the variation in material to the sound it makes when a shoe hits it. Decorative gravel doesn't require much care other than keeping it from being kicked out of place and out of the mouths of young kids.
It is also possible to set decorative rock in mortar so that it doesn't move. This strategy can be seen in the very top post photo.
Succulents – 
Some succulents can grow in the smallest of cracks like the hens and chicks filling the natural spaces in this wall. While they to need water, make sure they aren't in a spot where it accumulates.

Of course, succulents large and small thrive in the ground in a variety of planting areas and are a preferred water-wise option for San Diego gardens. Some succulents can handle shade, too.
Groundcover – 
Find a groundcover to meet the growing conditions of the area. Popular choices that can handle foot traffic include various thymes, moss, dymondia, and even dwarf mondo grass.
Turfstone – 

Add a bit of color to your driveway by adding turfstone, which are permeable pavers that can allow grass or groundcover to grow between them. However, some homeowners prefer to add gravel between the stones.
Break Up Existing Hardscape
The best way to break up existing hardscape is by integrating container plants that suit your design scheme. Group them into multiples using a variety of shapes and sizes to create focal points that will deter the eye from long stretches of hardscape.

Group patio furniture into "rooms" to break up larger patios and tie the space together with a decorative outdoor area rug. You can also add a focal point like a modular fire place or barbecue station. These kits are easy to assemble in a day and sit right on top of your existing hardscape.
Your Turn…
What strategies do you use to break up the hardscape in your outdoor living space?