5 Celebrity Backyards and How to Copy Them
If your outdoor living areas could use a bit of an upgrade or a full remodel, find all the inspiration you need in these celebrity backyards.
1. Lilly Singh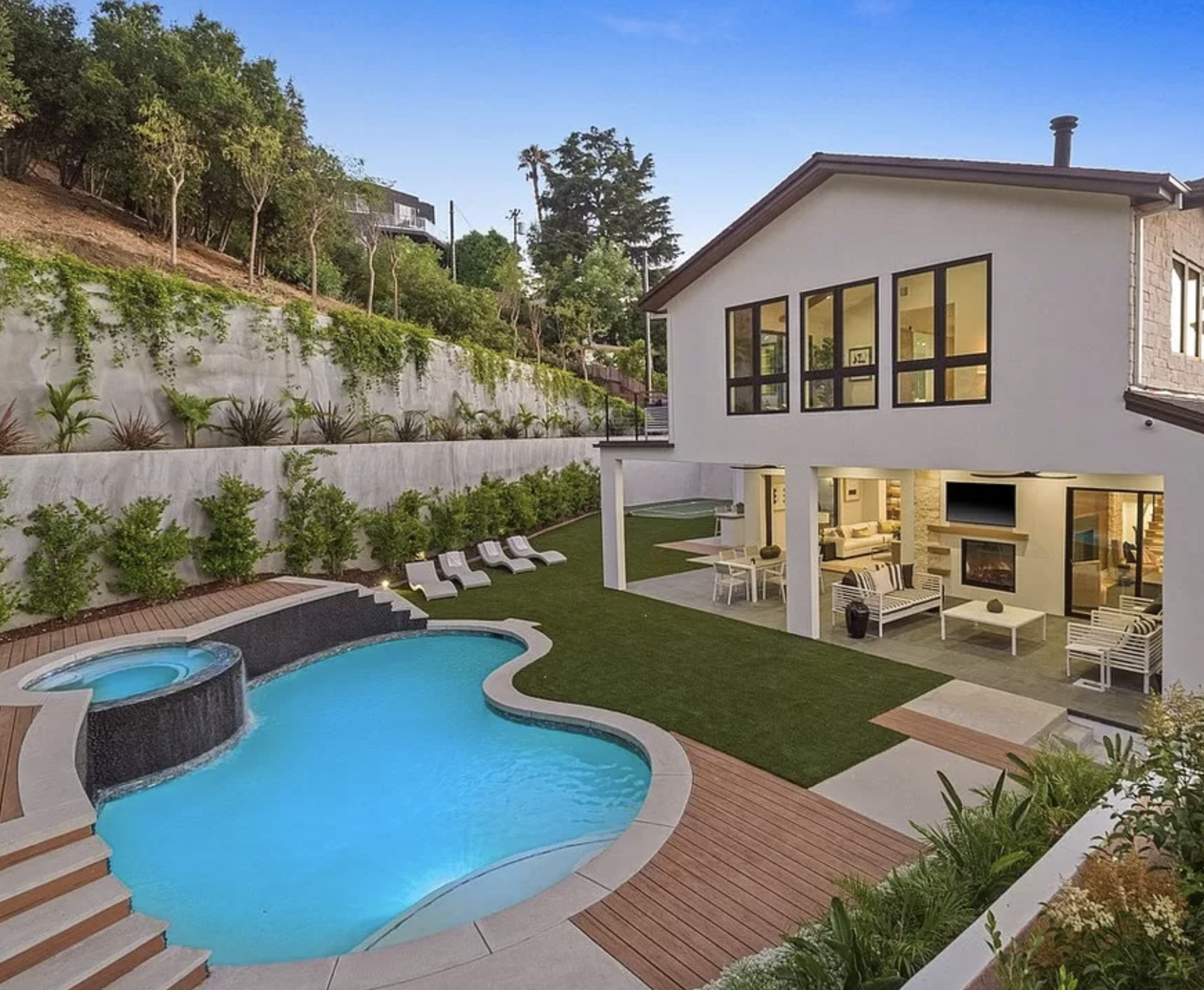 Photo Credit: TheMLS.com & Zillow.com
Lilly Singh's Studio City home has gorgeous outdoor living areas with fantastic views. Multiple seating areas make dining al fresco or entertaining easy, while low-maintenance landscaping means less time maintaining the yard and more time enjoying it. Of course, she probably has landscapers that handle the maintenance for her, but even folks who don't have gardeners can still have beautiful backyards like this.
To copy the look, start with your hardscapes, which is just about everything in this case. For easy-care, slip-resistant patios and pool decks, use paving stones for your main hardscape material. Pair this with small areas with wood or composite decking to enhance visual interest while maintaining the clean lines shown here.
On the covered patio you will notice both an outdoor fireplace and a patio television. Make sure to purchase a television designed for outdoor use and discuss fireplace options with your landscape designer.
The designer here also made good use of the side of the house with a sports court and a simple outdoor kitchen with a bar.
For the lawn area adjacent to the paver patio, opt for artificial turf for a low-maintenance option that always looks lush, green, and perfectly manicured. Synthetic grass does not require watering, mowing, aerating, or fertilizing, so you can spend less time keeping your lawn beautiful and more time enjoying your backyard with your family.
2. Martha Stewart
View this post on Instagram
Martha Stewart is considered by many to be the gold standard of home décor, gardening, baking, and keeping an overall-amazing home. It is no surprise that her yards and gardens are impeccably landscaped, but do not let this intimidate you. Whether or not you are working with a landscape designer, you can achieve some of Martha's looks in your own outdoor spaces. For example, in this photo taken at her East Hampton home, a gravel path leads through lush landscaping to a gate with an arbor. You can do this too.
Doing a scaled-down version of this pathway would be a great option for a side yard. The key to copying this look is laying out a pea gravel walkway down the center of your side yard ending at the front gate. If there is room, you could add an arbor over the gate to get closer to this look, or you could create an extended entrance with a pergola. Add a pergola cover for protection from the elements, and your side yard will be able to do double duty by having a seating area or dog run.
Once you have your hardscapes in place, it is time to add all of that lush greenery. Consider using native plants to conserve water and save time on maintenance. The key is to plant taller items in the back and work your way down to shorter items in the front along the gravel path. Notice how Martha's yard has different textures and colors to add visual interest. You will want to do the same to achieve this look.
There are also several trees in this section of her yard and many of them are smaller, well-manicured trees that blend with the surrounding plants and bushes. Choose Japanese maple, crape myrtle, weeping redbud, or dwarf magnolias to pair with hydrangeas, hostas, and natives that offer great color and texture.
3. David Beckham
View this post on Instagram
To copy some celebrity backyards, you would need quite the budget, but this simple spot that David Beckham's family clearly loves can be achieved without breaking the bank. This is particularly true if you already have a mature shade tree to work around.
To get this look, start with a paving stone walkway that leads from this area of your yard to a paver patio. Around the tree, opt for fake grass, which will provide a smooth, level spot for playing, hanging out, or even some backyard camping. Artificial turf is a particularly good choice if you are working around an oak tree or a similar variety that does not do well when overwatered. A natural grass lawn requires regular irrigation to keep it looking green and lush, but that amount of water can cause problems for oak trees. Synthetic turf is also easy to rake, so if your shade tree loses its leaves, it will be easier to clean up.
Note the privacy hedges around the yard that help create the feel of a secluded oasis. Choose dense, evergreen hedges, such as boxwood or English laurel for a fast-growing option.
To complete the welcoming, festive look they achieved in their backyard, include hanging lanterns and fairy lights wrapped around the branches. Then make it cozy with outdoor poufs and cushions and an inexpensive teepee your kids are sure to love.
4. Oprah
View this post on Instagram
If you are looking for celebrity backyards for formal garden ideas, Oprah's rose garden might offer the perfect inspiration. This formal garden is filled with color and even offers a shaded seating area where you can spend a quiet afternoon enjoying your blooms.
To create this space in your backyard, start with rock or paving stone walls and low, manicured hedges to define the area. Next, build a long pergola over a paving stone patio with enough space for a seating area or a table for dinner parties. Add additional arches and trellises to give your garden height.
Since this is a rose garden, use climbing roses to cover the pergola, arches, and trellises. Oprah chose white for hers, and that provided a lovely backdrop for the colorful blooms found throughout the garden. Roses are great for cutting and arrangements, so choose colors you would like to have in your home or to give as gifts in homemade bouquets.
Be sure to include gravel, mulch, or paver walking paths that allow easy access to your rose bushes.
5. Brooke Shields
View this post on Instagram
Brooke is having a bit of fun with the willow deer as dinner guests, but even those of us without her sense of humor can copy the beautiful look of her backyard. One of the best things about this celebrity backyard look is that anyone with any size yard can achieve this or something similar. You can also get this look with almost any budget.
Planters with privacy screens or trellises can be easily found and ordered online. Plant some hydrangeas in the planters, and you are already well on your way to getting Brooke's look. Use your existing outdoor dining table to save money or splurge on a new one in anticipation of the dinner parties you will surely be hosting after your backyard upgrade.
The next step is to add some simple raised garden beds along the edge of your yard. To stay true to this look, plant topiary or other manicured bushes that will allow you to achieve a clean, somewhat formal look. And, as Brooke did here, you can style your raised garden beds even more with obelisk trellises. Note that she carried the hydrangeas from the patio into the yard for a cohesive look.
For the lawn area, you can opt for natural grass if that is what you prefer, or you could choose lower-maintenance artificial turf. It looks like she is working with a poured concrete patio here. You could do the same, or you could upgrade that with a stamped concrete or paver patio.
To complete the look, you can even add faux columns to your patio.