Celebrating Halloween in San Diego – Party Ideas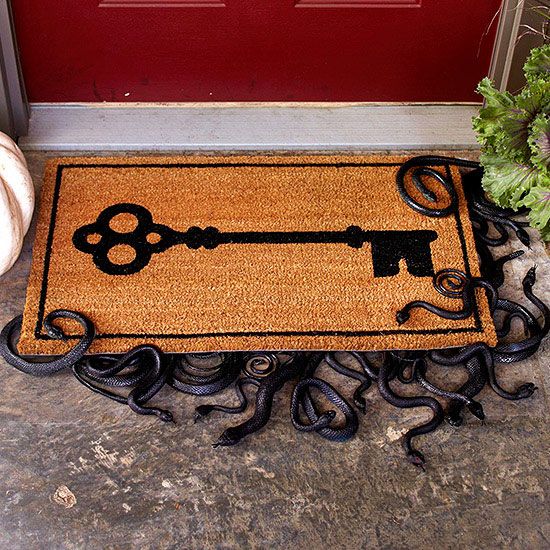 One of the great things about living in San Diego is that it's possible to have holiday parties outside. It's not unusual to host Christmas on the patio or New Year's by the pool, which is a feat most of the country can't claim.
Now with autumn in full swing and Halloween on its way, an outdoor party might be just the thing to kick off the holiday season (you know, if you live where the sun shines 95% of the year).
If you do plan to host an October party, it's not too early to start planning now, so below are some ideas to get you started:
Outdoor Decor —
We went to Pinterest, the great bulletin board of the Internet, for these festive ideas.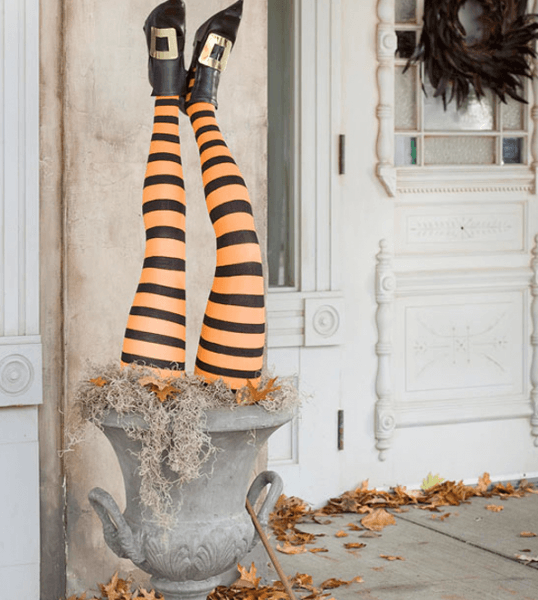 (Pinned by Morgan Kenny, from Interiorholic.)
Everyone has an urn by their front door, right? A planter will do, too. Take some mannequin legs (or pool noodles), wrap them in Halloween tights and cheap black shoes and stick them in your planter.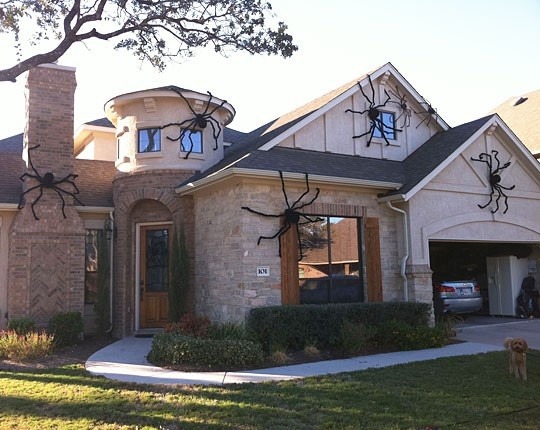 (Pinned by Jenny Turner-Talley, from the Meta Picture)
You can often buy giant spider decorations at drug stores or Spirit Halloween, and then attach the creepy-looking things to your home using command strips of fishing wire if you want the spiders to hang.
And along the lines of the house spiders, there's: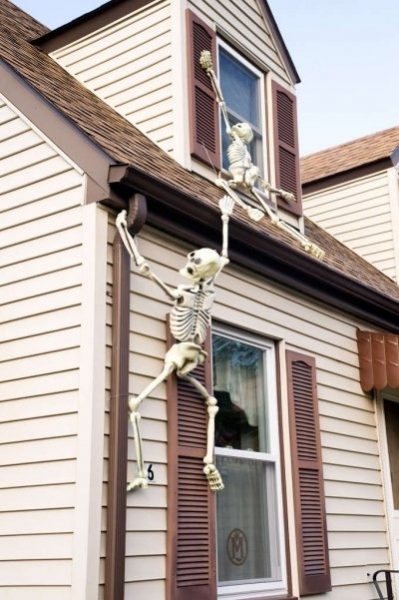 (Pinned by Jentle Jin)
Try Amazon for the skeleton decorations and attach to shutters or roofs with thin wire or use command strips to affix and pose the bony hands.
Here's another tongue-in-cheek scene: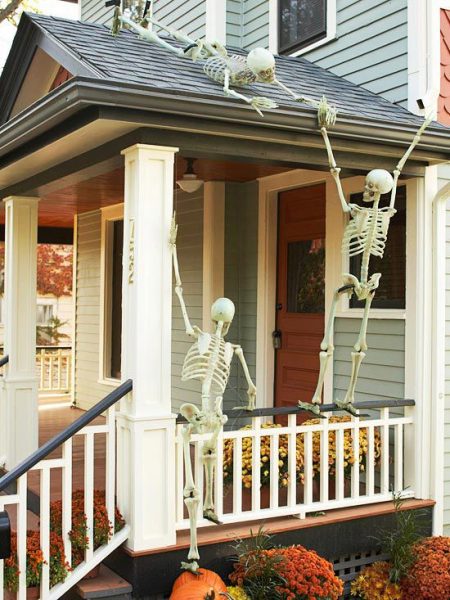 (Pinned by Karla Gray, from BHG.com)
If you're looking for something a little simpler, there's always the slithering snake mat…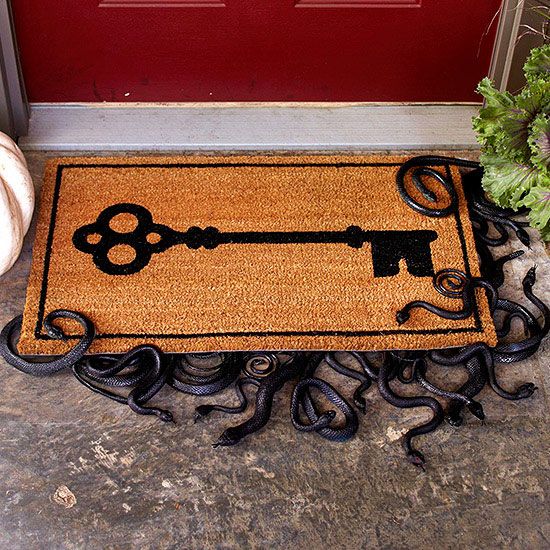 (Pinned by Your Ghost Host, and originally from BHG.com)
All you really need for this look is a welcome mat and some rubber snakes.
If you're going for a more elegant Halloween look, dress up your outdoor lights with the colors of the season: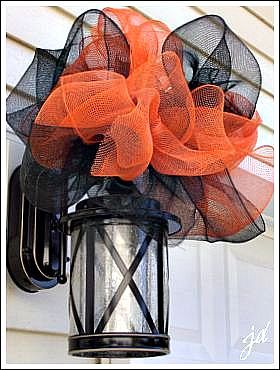 (Pinned by Your Ghost Host, and originally from Decorating Ideas Made Easy)
Halloween Tablescapes —
Set the party mood with table decorations that literally scream Halloween. Some fun (and easy) ideas include centerpieces like: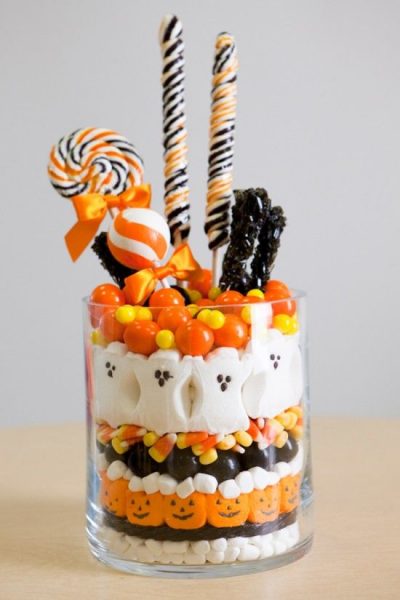 (Pinned by Carly Sabins, and originally from OneCharmingParty.com)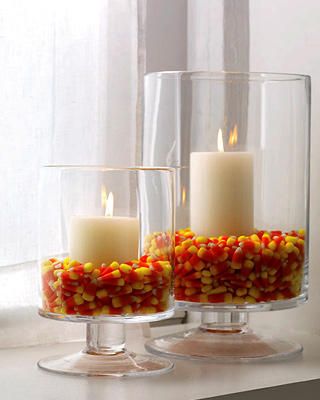 (Pinned by Jennifer Wilcoxson, and originally from YourPartyHotline.com)
A more macabre centerpiece is softened with cake pops: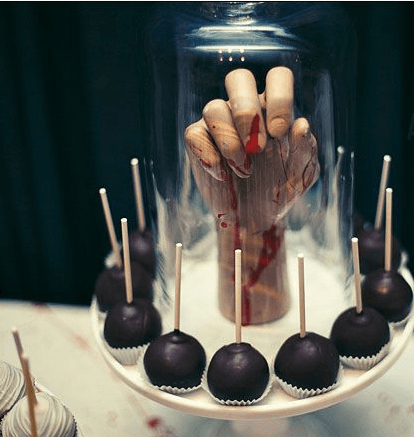 (Pinned by Mandy Groom, and originally from amelialyon.net)
And if you want to go all out: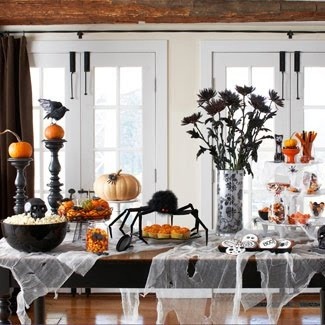 (Pinned by Mandy Groom, and originally from gordongossip.blogspot.com)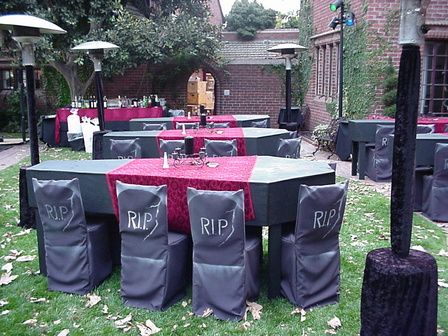 (Pinned by Mandy Groom, and originally from halloweenforum.com)
Halloween Food and Drink —
First of all, how cute is this idea: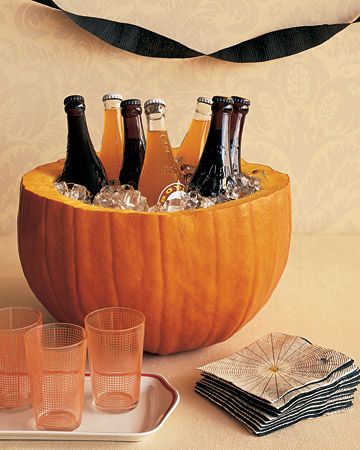 (Pinned by Carl-Ann Stewart, and originally from MarthaStewart.com)
Second of all, if you have kids at the party, let's face it, most of them are only interested in sweet treats like this: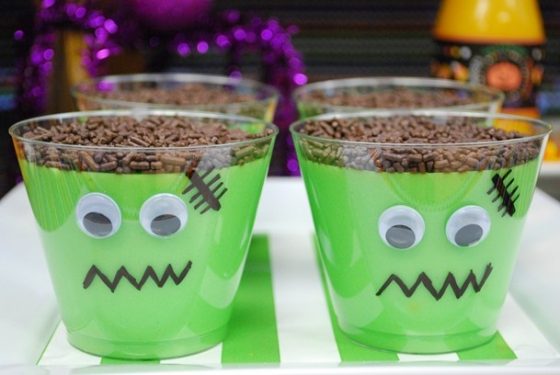 (Pinned by Kelsey Graves, and originally from WeHeartParties.com)
Those adorable Frankenstein cups are simple plastic cocktail cups with Sharpie mouths and scars and googly eyeballs (although you could Sharpie the eyes on, too), and filled with vanilla pudding colored with green food coloring (you can also use pistachio pudding) and topped with chocolate sprinkles (or use ground Oreo crumbs).
If you want to provide some healthy treats, try these: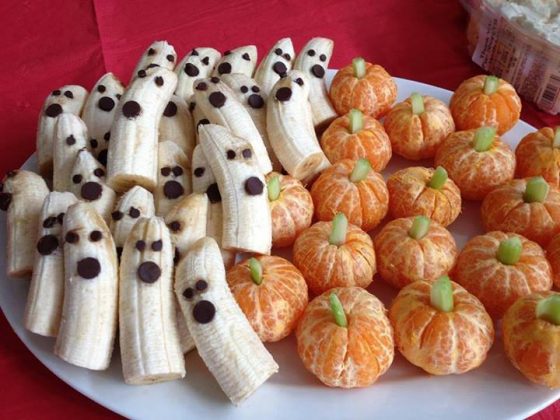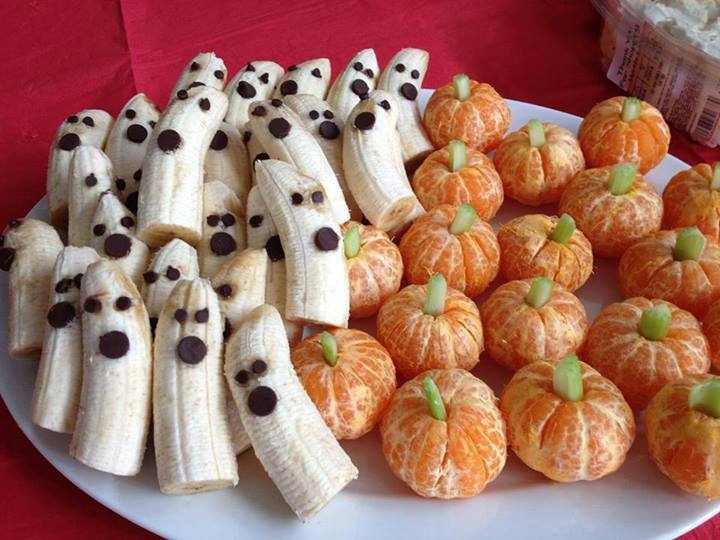 (Pinned by Christine Shepard)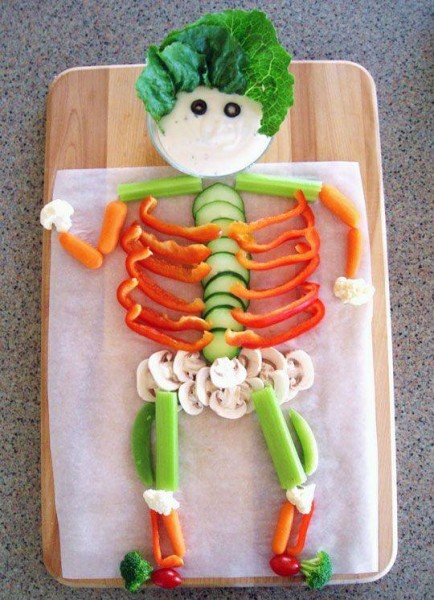 (Pinned by Susan McIntire)
For quick and easy grab and go party snacks, this is a good one to have on hand: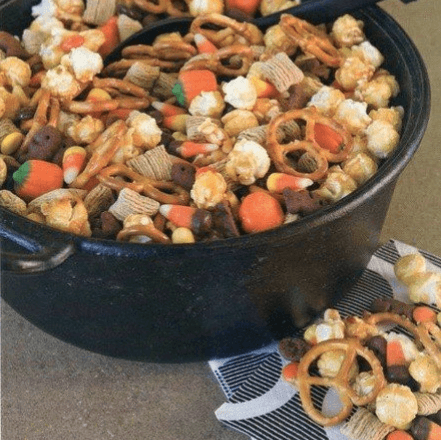 Find a similar recipe here.
 For adults, barbecue up some ribs, prepare some deviled eggs, and throw out this goat cheese log, guaranteed to freak out any arachnophobes: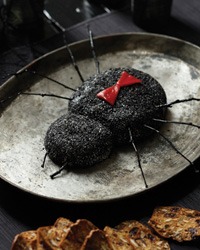 (Photo and recipe from FoodandWine.com)
Fun, Halloween-themed cocktails include Bloody Marys, red sangria, red wine, and this cool pumpkin sangria served out of cauldrons, in test beakers, or mason jars.
Here is the recipe: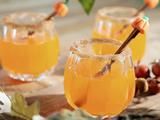 — 2 tablespoons sugar
— 1 teaspoon pumpkin pie spice
— 2 tablespoons maple syrup
— Six 4 to 5-inch long cinnamon sticks, for garnish
— 6 pumpkin candies, for garnish, such as Brach's
— 1 bottle white wine, chilled
— 3 cups mango peach juice blend or tropical juice blend, chilled, such as V-8 Splash
— 1 cup pumpkin spice liqueur, chilled
(Photo and recipe from The Food Network)
More Fun Stuff —
For kids, make sure there's something for them to do. Set up a Halloween cookie decorating table or a "dance floor" where they can jump along to Halloween favorites like "Thriller," and "Monster Mash."
Other activities can include "make-your-own treat bag," pumpkin carving (or pumpkin painting), or crafts like this one from Parents.com: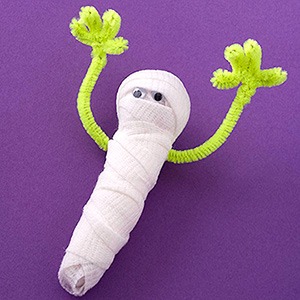 Later, plan a good old-fashioned game of Ghost in the Graveyard. And if you have a fire pit, gather everyone around it for spooky stories and roasted marshmallows as the party winds down.
Your Turn…
Planning a party takes a lot of work, but it's also good fun. Plus, with any luck, planning your party for outdoors will make clean-up that much easier (theoretically). What time of year is your favorite for parties? Any ideas to share?