24 Fun Backyard Staycation Ideas
Staycations allow you to enjoy some downtime without having to leave your house. Choosing to vacation at home can help you save money, avoid increasing your environmental impact, and avoid crowds of people on beaches, at resorts, or in campgrounds.
Backyard Staycations Ideas
Of course, if you are planning a staycation, you are going to need some fun things to do and creative ways to relax that will make your time at home feel special and different from your everyday life. To inspire you to plan an at-home vacation to remember, here are 24 backyard staycation ideas to get you started.
View this post on Instagram
1. Backyard Camping
As staycations become more common, backyard camping is becoming quite a trend. For couples and families looking for something fun and different to do without leaving home, camping in your backyard makes a lot of sense. You have the convenience of a refrigerator and bathroom just steps away while getting to enjoy time outdoors and sleeping under the stars. For a more authentic experience, pitch a tent and bring out the sleeping bags. Of course, you can always just sprawl out on your patio furniture on your covered deck as well.
2. Gather Around the Campfire (or Fire Pit)
A night around the campfire goes perfectly with backyard camping but can also be enjoyed separately if you prefer the comfort of your bed. If you do not have a fire pit or patio fireplace, you can order portable options online or pick one up at your local garden center. Once you have your fire feature figured out, stock up on all the fixings for hotdogs and s'mores. Bring out some throw blankets to curl up under after your fire-roasted feast so you can hang out around the fire with your family or friends.
3. Stargazing
Stargazing is an educational, fun activity to partake in with your family whether you are sleeping under the stars or just have a little spare time after dinner. Download a stargazing app to help you identify constellations and, if your budget allows, you might also consider buying a telescope to take your stargazing to the next level.
View this post on Instagram
4. Backyard Movie Night
Any night is a good night for a backyard movie. You can organize an at-home date for dinner and a movie, bring out cushions and throw blankets for a double feature with your family, or get your friends together for a night of classic films and wine. The most important thing you will need to order beforehand is a projector. While you can also get a projector screen and speakers, you probably have things at home – like a bed sheet — that will work for those in a pinch. To make your next backyard movie night even more fun, pick up or order candy in boxes, make hotdogs and nachos, and maybe even order a popcorn machine.
5. Birdwatching
This is a staycation activity you can enjoy alone, with your partner, or as a family. Download an app or order a birdwatching book to help you identify local birds, and then head to your backyard for a birdwatching adventure. Consider keeping a journal of the birds you see or taking photos. You may also want to spring for a pair of binoculars if your yard is big or you want to get a closer look.
6. Scavenger Hunt
No list of backyard staycation ideas for families would be complete without including a scavenger hunt. There are two ways you can do this: You can stock the yard with items you plan to put on the list, or you can create a list of things to find based on things already in your backyard. The latter is usually better. The list might include certain types of leaves, dog toys, bird feathers, or rocks in different colors. This one can be just for fun, or you can turn it into an educational activity to help your kids learn about and appreciate nature.
7. Karaoke Night
There's no need to head to a karaoke bar when you can have your own karaoke night right in your backyard. Plus, backyard karaoke nights are appropriate for all ages and fun for the whole family. You can purchase a karaoke machine complete with a microphone, or you can host an impromptu night of singing with a free karaoke app on your phone.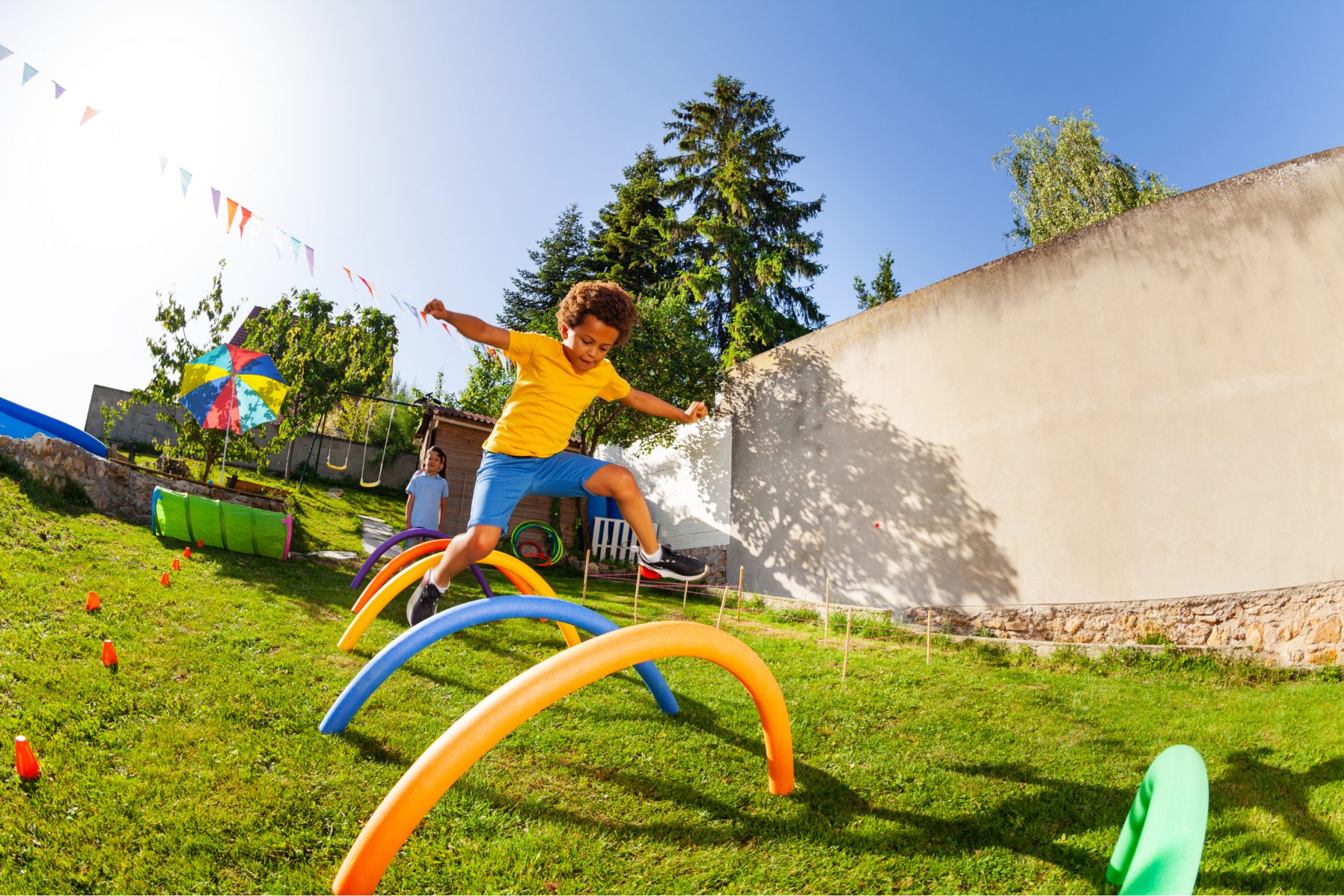 8. Obstacle Course
When you are spending lots of time at home, it can be difficult to find new, fun ways to get your family off the couch and outside for some physical activity. One way to bring a little excitement to your backyard is to set up an obstacle course, which you can do with things you have around the house or in the garage. To make it even more fun, create award certificates or buy small prizes to give out for the fastest time, most spectacular fall, or best cheerleader.
9. Board Games
There are board games appropriate for any age group or occasion, so this one is an easy staycation activity to organize. If you do not have a stash of board games in your hall closet, you can easily order a variety of board games online that can be delivered within days. Make sure to pick some classic options that most folks will know how to play, as well as some for younger participants that are easy to teach. This way, it will be easy to host an impromptu game night that everyone will enjoy.
10. Talent Show
Host a backyard talent show where each participant prepares a performance to share with the rest of the group. If you have a few folks with stage fright, appoint them as judges or set builders so that they can still be involved while staying in their comfort zone. For extra points, make a stage area on your patio or deck with stage curtains made from bed sheets or curtains.
View this post on Instagram
11. Lounge by the Pool (even if you don't have one)
You can bring a little piece of resort living to your backyard by spending an afternoon lounging by the pool. Of course, this is easiest if you actually have a pool but, if you don't, you can still dip your toes in the water and lay out a towel beside an inflatable pool, stock tank, or other above-ground pool option.
12. Create Your Own Meditation Retreat
You do not need to head to a high-priced meditation retreat in the middle of the desert or on a tropical island to get in a little introspection and practice mindfulness. You can create your own meditation retreat right in your backyard. You can make it last one day or an entire week, and it can be a solo experience or something you share with friends. It is your backyard and your retreat, so you are in charge and can get as creative as you would like. Consider a fountain or outdoor speaker to block noise, grab some comfy cushions, and maybe add incense or healing crystals to your backyard meditation area to help set the mood. To create a richer experience, you could plan healthy meals or a detox diet during your retreat, fill your YouTube playlist with guided meditations, and create a dedicated space that you can leave set up throughout the retreat.
13. Spa Day
Turn your backyard into a relaxing spa with a fountain or outdoor speaker with soothing music, comfortable seating or lounging options, and a spot protected from the sun. Then, gather your favorite facial masks, make some cucumber or lavender water, and dedicate a few hours or a whole day to self-care. While applying your facial masks, you might also give yourself a manicure or pedicure, read a favorite book, or enjoy a glass of wine.

14. Create Your Own Yoga Retreat
All you really need for this one is a yoga mat and a spot in your backyard where you can unroll it. But you can enhance your experience with music, additional yoga equipment (such as blocks or straps), and maybe a new yoga outfit to help you get motivated. Whether you are new to yoga or have been practicing for years, there are lots of free yoga videos online that you can incorporate into your backyard yoga retreat. You might also want to combine the meditation retreat, spa day, and yoga retreat into one truly relaxing, refreshing staycation.
15. Backyard Carnival
If you are looking for fun backyard staycation ideas to do with kids, consider creating a backyard carnival. Some activities you might want to consider include carnival games with prizes, a hotdog- or pie-eating contest, and face painting. You could make themed cocktails for adults and rent a popcorn machine or cotton candy machine for the kids.
16. Cornhole or Bean Bag Toss
If you do not want to go quite as far as setting up a carnival, you could always opt for a fun afternoon playing games outside. Cornhole is incredibly popular, easy to learn, and fun for folks of all ages. You can make your own cornhole boards or order a cornhole set online. You can also make a simple bean bag toss game with things you probably already have, such as bowls or buckets to use as targets.
17. Lawn Games
Spend an afternoon outside with your family and get some physical activity in by playing lawn games. This might include croquet, badminton, lawn bowling, or bocce. Artificial grass lawns provide a smooth, level surface that is perfect for these games. For lawn bowling and bocce, you can use the same sets you would use on any other surface. If you plan on playing croquet on synthetic turf, be sure to purchase a croquet set designed for use on fake grass. For badminton, choose a net with a stand that sits on top of the surface and does not have poles that need to be hammered into the ground.
18. Beach Day
Dedicate a day of your staycation to relaxing at the beach even if your miles from the nearest shore. Grab your beach towel, sunglasses, floppy hat, sunscreen, favorite beverages, snacks, and something good to read, and then head to your backyard to set up camp for the day. Pack your drinks and snacks in a cooler to keep them close at hand. You might even want to set up an umbrella or a pop-up shelter to really make it feel like a day at the beach.

19. Backyard Picnic
You probably already spend plenty of time in your backyard grilling and eating with family and friends. Staycations should involve activities you do not do every day, so why not switch things up and have a picnic instead? Instead of sitting at your patio dining room table, spread a blanket on the ground for a backyard picnic. Instead of dining on hamburgers or steaks, make sandwiches or a charcuterie board to take outside. You might want to bring out some floor cushions to make things a bit more comfortable or some games to have a fun activity to do while you eat.
20. Themed Dinners
To make your regular cookouts a bit more interesting and different, choose themes for different nights of your staycation. This could be something as simple as having a funny hat or sweater night or it could be an educational experience where you choose recipes and décor that represent different countries or cultures and spend the evening learning about that culture. You could also combine your themed dinners with backyard movie nights by choosing a movie and designing your meal, décor, and dress code based on the movie you will be watching.
21. Craft Projects
Craft projects are perfect for keeping kids busy, learning new skills, and making something fun or functional while spending time outdoors. You could spend your staycation learning a new craft, such as decoupage or needlepoint, or you could curate kid-friendly craft projects to keep your family busy while staying at home. You might consider using some of your crafting time to make things for other activities on your staycation list, such as cornhole boards to play cornhole or funny hats for your funny hat themed dinner.
22. Reading Nook
If you already have a nice spot for reading on your patio or in your garden, then you can immediately start enjoying your favorite books outside. If not, you can make it an easy, fun staycation project to create a reading nook. If you are particularly handy, you could build a bench or an arbor, but you can also just create a cozy corner on your patio with a comfy chair, cushions, and a light source that lets you read into the night. If you plan on doing a lot of reading outside during your staycation, you may want to set up your reading nook near your patio fireplace or fire pit for a cozy reading spot you can enjoy any time of the year.
23. Instrument Jam Session
Task each family member with finding or making something that can be used as an unconventional musical instrument. You can make simple instruments with items you likely already have at home. For example, you can glue two paper plates together with beans in the middle to create a tambourine, or you can simply put beans in jars to create maracas. A metal pie plate and a wooden spoon makes a great percussion instrument, as do two pans you can bang together. Once everyone has their instruments, gather on the patio to make some music.
24. Family Fitness Classes
If you are concerned that everyone is getting a bit too sedentary while spending time at home, make some fun, family-friendly fitness classes part of your staycation. Getting outside and stretching, doing yoga, or partaking in some moderate exercise is a great way to start the day before enjoying your other staycation activities.