Backyard Improvement Projects: Transform Your Guest House into a Rental or Retreat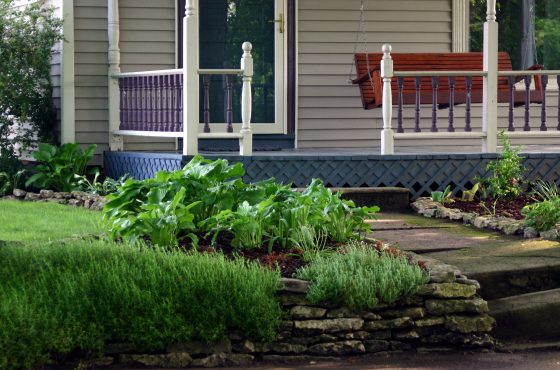 If you have one or more guest houses on your property, you have the perfect opportunity to create an inviting oasis for visiting friends and family members, a studio for writing or painting, or a rental unit that can supplement your income.
Whether your backyard improvement plans include turning a lackluster guest house into a welcoming retreat for visitors or transforming it into an appealing rental that will generate income, the basics of what needs to be accomplished are the same.
While you may want to include more upgrades in an outbuilding intended for use as a guest house, either project will need to include increasing the curb appeal, ensuring safety and adherence to building codes, making the interior more appealing, and enhancing privacy for both you and the resident in your guest house.
This blog post will walk you through some of the basic steps you will want to take to create an attractive unit for either purpose, as well as some improvements you may want to consider to enhance the luxury for short-term visitors or increase the potential income you can receive from a rental.
Let's begin by making sure having a rental in your backyard is a viable option for your particular situation.
Are You Ready to Have a Rental in Your Backyard?
When you live in Southern California, particularly in areas of San Diego County or Orange County that are just minutes from the beach and outdoor recreational opportunities, you can be pretty sure that friends and family members living in less desirable areas of the country are going to want to visit you.
Having a guest house in your backyard for these short-term visitors is an ideal situation that allows you to host guests in a separate space so that you and the guests can enjoy increased privacy and comfort.
Using your guest house as a rental unit that will be occupied by long-term residents you likely did not know before signing the lease is a very different thing.
Here are six questions you should ask yourself before renting out a house on your property:
1. Is the distance between your home and your guest house enough to allow for at least some privacy and noise control?
2. Is there a separate entrance renters can use that is not attached to your home?
3. Are you willing to share your outdoor living spaces with renters? If not, can you easily configure your backyard in a way that allows you to use your home's exterior space as you wish without being imposed upon by your renters?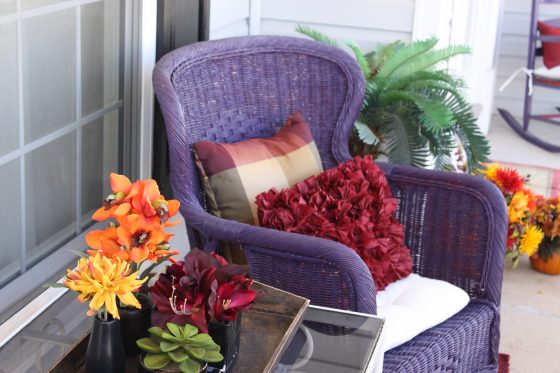 4. Are you prepared to have your renters knock on your door in the middle of the night or interrupt family gatherings with plumbing emergencies or because they lost their house keys?
5. Do you have small children or pets that may wander off if a renter forgets to close the gate?
6. Are there lifestyle changes you will need to make to accommodate having renters on your property? If so, are you willing to make these changes?
These are just a few basic questions to help you determine if renting a unit on your property is a situation you can live with long term.
There are clearly other things to consider as well, particularly if your regular activities include things like skinny dipping in your swimming pool every Sunday or hosting noisy parties that go late into the night.
It is your property, and you can always be upfront with potential renters about certain things you do at home to try to avoid them becoming an issue later on, but keep in mind that renters have lots of rights and protections once they move into your guest house – and this is particularly true in California.
Before you rent out a house on your property, you should also consider how long the eviction process can sometimes take.
In most cases, you will likely get great renters – or at least renters who will willingly leave if things are not going well – but there is always the possibility that you will get a bad renter in your unit and have to deal with sharing your property with them during the months-long eviction process.
While this will likely never happen to you, it is a potential scenario to consider before advertising your guest house for rent.
You can also expect the cost of your homeowner's insurance policy to increase once your insurance company finds out you have renters living on your property and will see an increase in utility bills if you do not install separate meters.
These additional expenses can be included in the rental rate to cover your costs.
Most people who have a rental on the same property as their primary residence do not use a property management company to find renters, collect rent and handle maintenance issues; however, this is an option if you would like to pay a professional to take care of these things for you.
Keep in mind that even if you do hire a property management company, your renter will likely come knocking on your door when the toilet overflows, since you are will be just steps away.

Backyard Improvements for Your Guest Retreat or Rental: The Basics
Here are 10 basic things you will need to do regardless of whether you are preparing your guest house for use by your personal guests, as a short-term vacation rental or as a long-term rental unit.
1. Make sure the walkway to your guest house is clear of debris, including low-hanging branches or bushes that may be taking over the path.
If you do not currently have a walkway leading to your guest house, consider installing a concrete, brick or paving stone walkway to provide guests or residents with a stable walking surface that will also help keep them off your grass and out of your garden.
2. Clear all debris and clutter from shared areas, including patios, seating areas and swimming pool decks.
3. Make sure the path to the guest house is well lit and that light fixtures are in working order.
Replace light bulbs, if necessary, and consider installing solar-powered path lights that will guide your guests and reduce the chance of injuries from tripping their way home in the dark.
4. Check all of your guest house's major systems and appliances, such as the water heater, heating and air conditioning units, kitchen appliances and plumbing.
Make necessary repairs and make sure the property is up to code, such as installing an earthquake strap on the water heater.
5. Make sure windows, gutters and doors are in good shape and working properly.
6. Remove personal belongings from the interior of the guest house and outdoor areas that are part of the unit.
7. Paint the interior of the guest house a neutral color.
8. Make sure all interior light fixtures are working properly, and replace light bulbs as needed.
9. Perform a deep cleaning on the unit to prepare it for guests or renters, or hire a professional cleaning company to complete this task.
10. If you plan to use the guest house as a short- or long-term rental, do a walk-through inspection and note the condition of the home prior to renting it.
Many landlords and property management companies will also take pictures during this inspection, which can then be used later to determine damage to the unit during the rental period or to help prove your case if you seek compensation for property damage in court after an eviction.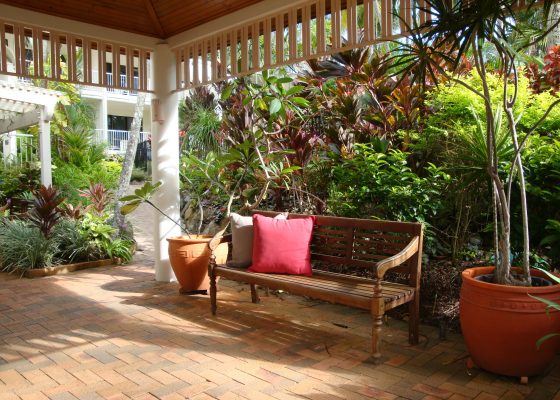 Backyard Improvements for Your Guest Retreat or Rental: Increasing the Appeal
If you want to create a guest retreat that your visitors will truly enjoy or significantly increase the potential income you can generate from renting out your guest house, you will want to go beyond the abovementioned basics to increase the appeal of your unit.
Here are 10 easy, affordable ways you can make your guest house more appealing to visitors and potential renters:
1. Replace door and cabinet hardware with attractive, updated options.
2. Replace bathroom and kitchen faucets with brushed nickel or oil-rubbed bronze fixtures.
3. If you have a tile tub surround or shower with older grout, consider replacing the grout or having it professionally cleaned.
If you have a tub or shower insert, consider refinishing it with an affordable, DIY refinishing kit available at your local home improvement store.
4. If carpets are in good shape but have a few stains, have them professionally cleaned.
5. Replace old, damaged or worn fixtures, such as toilet seats, towel bars and bath tissue holders.
6. Replace wall, floor or ceiling register covers with updated, clean options.
You can also upgrade this feature with decorative register covers, which can be purchased at home improvement centers or online.
7. Install inexpensive, attractive window coverings.
Cut-to-fit bamboo shades make an affordable option and are available at some home improvement stores.
8. Make sure hinges and latches on gates and screen doors are working properly and well oiled to avoid being woken up every time a guest enters the property or guest house.
9. For properties intended for use as guest quarters or short-term vacation rentals, it is a great idea to stock them with the basic necessities, such as a coffee pot, drinking glasses, pots and pans, dishes and dining utensils.
10. Refresh the exterior of your guest house by hanging a potted plant near the door, filling the flowerbed with colorful blooms or arranging a small container garden on the porch.

Backyard Improvements for Your Guest Retreat or Rental: Upgrades Worth Considering
If you have the budget for some larger home improvement projects, you can significantly increase the visual appeal of your guest house and shared outdoor living spaces with one or more of these upgrades that are worth considering:
1. If you have concrete walkways leading to outdoor areas or your guest house, consider replacing them with attractive, durable paving stones.
2. If you do not have a patio or deck that can be used by your guests or renters, consider installing one to enhance the appeal of your guest house.
If your current patio is concrete, consider upgrading to a paving stone patio, which is a far more attractive option and will appeal more to visitors and potential renters.
3. If possible, create a separate entrance to the property for users of your guest house.
This will make the unit feel more like an independent property and will appeal to a wider array of renters looking for a detached home to rent.
This will also provide more privacy for you and your family, since you will not come in as much contact with your renters.
4. Off-street parking is important to many renters.
If you have the space on your property, create a guest parking area that is separate from the area you use for parking.
Installing a separate paving stone driveway leading to a garage just for the guest house is ideal and will, again, make the unit feel more like an independent property, but even a small, gravel parking area will increase your unit's appeal.
5. Consider installing low-maintenance landscaping, such as artificial turf, wood chips, native plants and hardscape features.
This will increase the visual appeal of your property while also making your life easier as a landlord, since there will be fewer ongoing maintenance tasks and expenses for you to manage.
6. Create a separate, private outdoor living space for use by your guests or renters.
This will enhance the appeal of your unit by increasing the functional space included in the rent while also providing separate areas for you and your renters to enjoy independently.
Backyard Improvements for Your Guest Retreat or Rental: Final Thoughts
A guest house is a great asset that increases the value of your home and the function of your property.
If you are looking for relatively easy ways to supplement your income, a guest house can be particularly valuable.
With just a few improvements, you can transform your guest house from its current state into an inviting backyard retreat that your future guests or potential renters will love!
Photo Credits (in order of appearance): morgueFile, click; morgueFile, jade; morgueFile, click; morgueFile, veggiegretz; morgueFile, TNichols