The Best Landscape Design Trends of 2020
Some landscape design trends quickly come and go, while others remain popular for decades before falling out of fashion. Victory gardens are a good example of a trend that boomed during the war-torn 1940s but fell out of fashion fairly quickly once the war ended and folks headed back to their local grocers to more conveniently acquire fresh produce. While there are still plenty of backyard gardens across the country, the amount of produce harvested from residential gardens is far below the level harvested as part of the war effort.
At the other end, expansive, natural grass lawns are examples of a lasting trend that first really gained popularity in the U.S. in the 1950s and were considered a mainstay in residential landscape design for more than 60 years before they recently began to fall out of fashion to make way for options that are more attractive and environmentally friendly.
When designing landscaping for your home, it is most important to consider how you want to use your yard, what functions your yard needs to have, and what you want to include. Your home is your oasis and where you will spend time and make memories with family and friends. Therefore, your lifestyle, family composition, and personal preferences are far more important than landscaping trends you may see in your neighbors' yards or read about online.
However, being aware of current trends can provide great inspiration and can inform your decisions during the design phase. This might be particularly helpful if you do not want your yard to be an anomaly, you like being on-trend in all aspects of your life, or if you are concerned about your home having a more universal appeal for a future sale.
To get you up to date on the latest trends in landscape design, let's start with the top five 2020 trends announced by the National Association of Landscape Professionals (NALP), and then move on to some of the hottest trends we are seeing that we expect to continue seeing for years to come.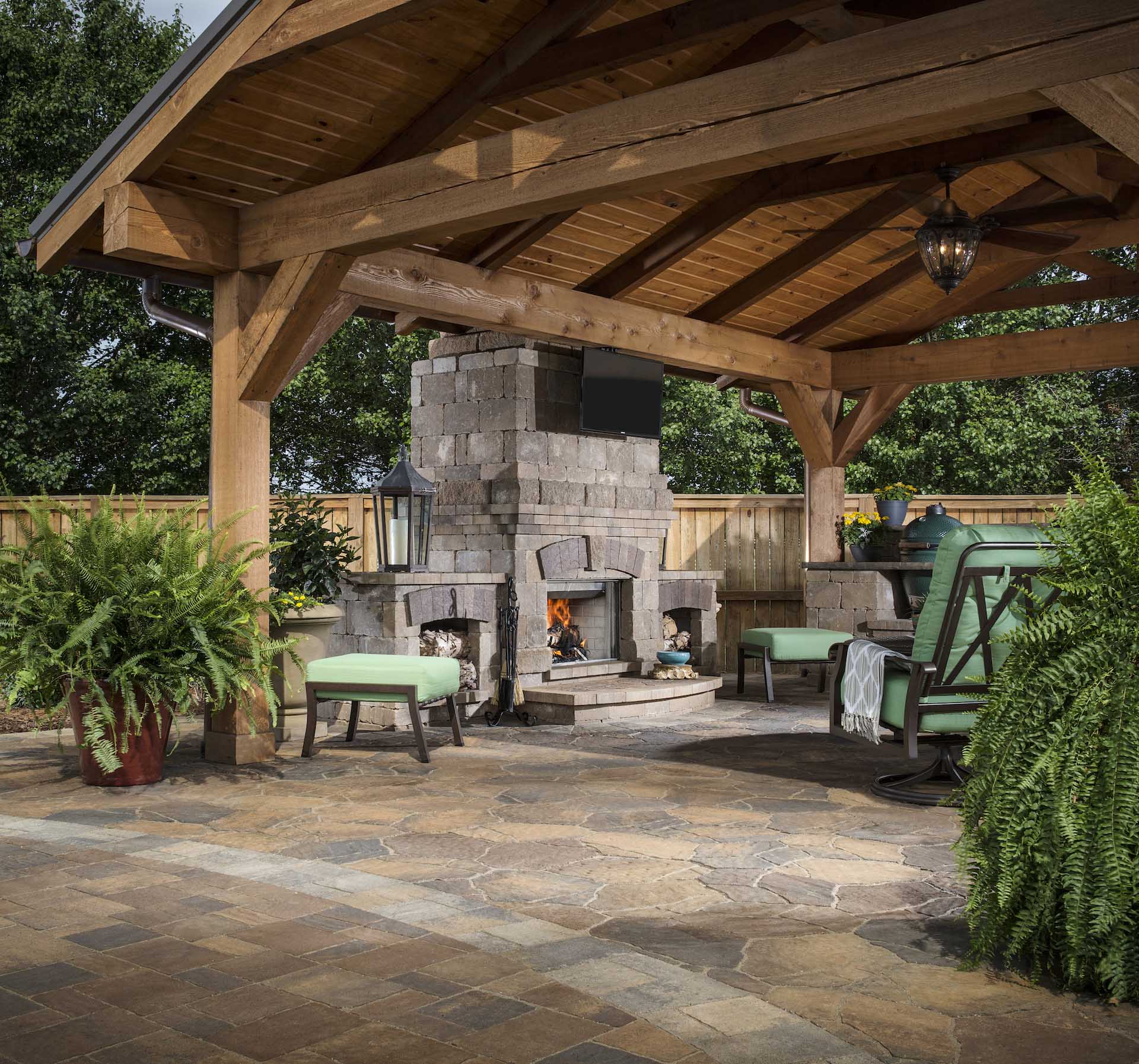 Top 5 Landscape Design Trends from NALP
1. Intricate Hardscapes –
Member surveys show that landscape designers across the country are receiving increased requests for ornate hardscapes, including paving stone patios, driveways, and walkways that include intricate designs, such as chevrons, basketweave, or waves.
2. Simpler, Functional Designs –
Homeowners are now more focused on simple, contemporary designs that focus on function and four-season living.
3. Blue, Blue, and More Blue –
Pantone named Classic Blue their color of the year, Sherwin-Williams chose Naval, and PPG picked Chinese Porcelain. All of these are shades of blue, which is expected to be the hot color for both interior design and landscape design this year. Keep in mind that color trends come and go, and next year's color of the year will probably be completely different. This means there be another hot color next year, so only include blue plants and textiles in your design if you really like blue.
4. Personalized Designs –
Homeowners are moving away from cookie-cutter designs and features they think they should include just because everyone else has them. Instead, today's homeowners want outdoor living spaces and garden areas that fit their lifestyles and are personalized to meet their needs. We think this trend is here to stay.
5. High-Tech, Automatic Irrigation –
One trend we can definitely get behind is the focus on automatic irrigation systems that help homeowners conserve water and save money. Going beyond the already popular trend towards automatic irrigation systems, NALP found that folks now want systems that maximize control and efficiency via Bluetooth and smartphone apps.

Additional 2020 Landscape Design Trends
Aside from the five trends published by the NALP, we are definitely seeing some other trends that have increased in popularity in recent years and that we believe will remain on-trend for years to come.
1. Outdoor Kitchens –
This is one trend that is not going anywhere any time soon. Homeowners want to make the most of their outdoor living spaces and want to spend more time outside. A well-designed outdoor kitchen allows you to prep and enjoy al fresco meals and significantly broadens your outdoor entertaining options.
2. Fire Features –
Fire pits and patio fireplaces allow homeowners and their guests to enjoy their outdoor living areas even when the temperature dips after dark or in the colder months of the year. They also create a warm, welcoming ambiance that makes your outdoor living areas more enjoying and inviting. So, it is no surprise that fire features are a growing trend and one that will be around for a very long time.
3. Low-Water, Low-Maintenance Landscaping –
People want to spend less time caring for their yards and more time enjoying them. There is also a growing concern for the environment and a desire to conserve water, particularly in areas like Southern California. We expect this trend to continue to grow and become even more popular.
4. Outdoor Lighting –
Landscape lighting has always had a place in landscaping, but we are seeing more attention on function and design, including an increased focus on simple, well-designed lighting plans that increase safety and security, accentuate interesting features, and enhance the visual appeal of outdoor living areas as the sun goes down.
5. Vertical Gardens –
Vertical gardens add another dimension to your landscape design, increase visual interest, and allow you to add big features in a small footprint. Vertical gardens are also a great way to take advantage of vertical space in a small backyard.
If have questions about current landscaping trends or need help turning your ideas into a cohesive design, contact Install-It-Direct for a free, onsite consultation with one of our landscape design professionals.